This winter break my friend Raunak and I went on an incredible road trip to some of California's well known and lesser known treasures. We walked in deserts, hiked on mountains, camped on beaches, and had a few run-ins with law enforcement. Read on for the details! Photos are here. You should also check out Raunak's article about all the birds we've encountered.
Tuesday, December 24: It's Christmas Eve, Man!
On the first day we took the scenic Highway 1 almost all the way to Big Sur. We stopped at Moss Landing to check out the views, but as soon as we drove through the gate, an elderly old man -- shirtless and red in the face from drinking -- told us that he was going to close the gate in fifteen minutes. We inquired why they were closing so early at 4pm, to which he replied: "It's Christmas Eve, man!"
We took a detour to Elkhorn Slough to watch the sunset. Being too cheap for motels on this trip, we were thinking of spending the night there. But unfortunately they had signs that said "no overnight parking". So we drove south to Carmel, climbed a steep residential road, parked along someone's fence, and hoped we wouldn't be disturbed. We waited an hour or so to make sure no one would come, and then tried to sleep. It was a long night, from about 7:30 pm till 6 am, and I don't think we slept at all for the first half. (At one point someone came and looked at us with a flashlight, but they didn't say anything. Or maybe I dreamed the whole thing.)
Wednesday, December 25: Pushing Our Luck
In the morning we drove down to the nearby Point Lobos State Reserve. Thinking that it would be closed on Christmas, we parked near the entrance, jumped the gate, and went to explore. The views were gorgeous, and the sound and smell of the ocean made them even better.
When we got back to the gate, we saw that the park had opened after all. We walked to our car, trying to look innocent, and nobody said anything. So we high-fived each other and drove off. It was only about fifteen miles later that we noticed the ticket on our windshield. $143 for "parking off road" and "non-payment of park fees"...
Our next destination was Big Sur. Before we got there we stopped at a gas station, squinted our eyes at the ridiculous prices, and stopped to take pictures of stellar jays, to the bafflement of the gas station attendant. (There was also a brief but memorable moment of driving on the wrong side of the road.) At Big Sur, we paid the hefty $35 for a campground, left our car, and went to hike the Pine Ridge trail. The hike was rather underwhelming, since the trail was too long to get anywhere within a few hours, but at least it was mostly in shade.
Back at the campground we found that the squirrels had air-bombed our car, which was now littered with nuts. We set up our tent and went to bed.
Thursday, December 26: Miscellaneous
The night was pretty warm, although the wind made our tent behave like a sail, and I kept dreaming I was on a ship. (Come to think of it, I've never slept on a ship. Sounds fun.) Raunak also heard raccoons at night. In the morning we did a short hike to a small waterfall, and then to a point where you could see the ocean.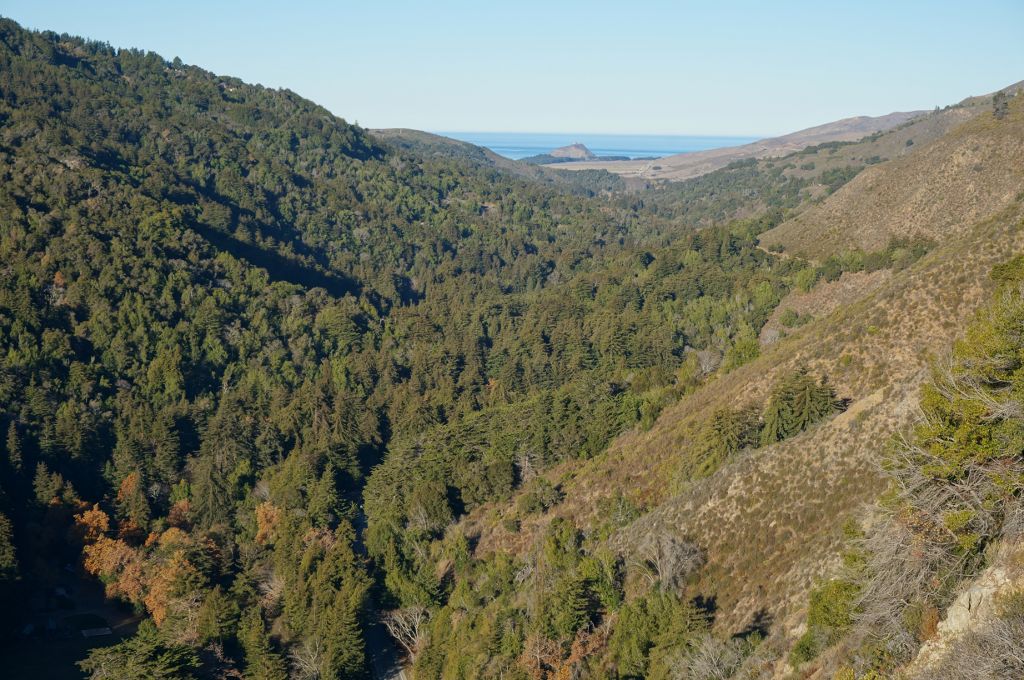 Continuing to drive south we passed through Harmony, CA, which has an amusingly detailed Wikipedia page for its total population of 18. We also saw a beach swarming with elephant seals. When we finally stopped to get gas, we were amazed that our mighty little Yaris moved us 250 miles on only 8 gallons.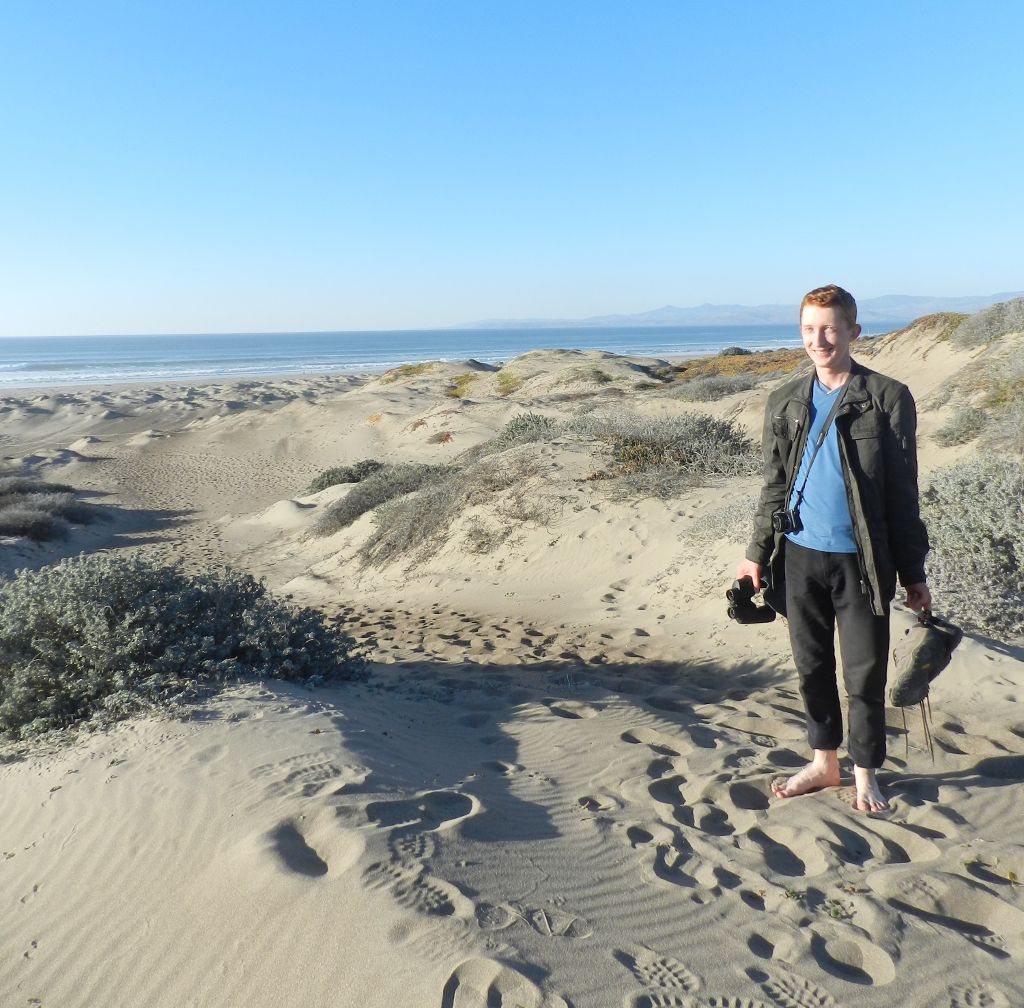 We stopped to see the beach at Montaña De Oro, with its magnificent dunes of clean white sand. We saw something on one of the dunes, which Raunak thought was a seagull, and I thought was a piece of trash. Then the piece of trash raised its head and revealed itself to be a woman with a hat. She couldn't figure out why we were laughing so hard.
We stayed on the beach to watch the sunset, drove to Morro Bay for dinner, and then took off for our next destination: Carrizo Plain. That night we slept in the car, on a dirt road between two hills. The sky was bright enough to see the Milky Way.
Friday, December 27: Walking on the Moon
It was 3°C (38°F) when we got up. As we drove downhill trying to get a closer look at Soda Lake, the temperature dropped to -8°C (17°F). Eventually we got to a dirt road that was too much for our little Yaris. We put on all our extra layers and decided to walk the rest of the way. Despite the early-morning sun and the vigorous walking, our fingers and ears nearly fell off from the cold.
This was by far the most surreal part of our trip. There was no one else as far as the eye could see, and if we stopped moving, the silence was all-enveloping. (You never get real silence in a city, and even if you go to the forest, there is the sound of birds chirping or leaves rustling. Here, there was nothing.) The earth under our feet was soft and gray, and our shoes sank an inch into it with every footstep. It was like walking on the Moon.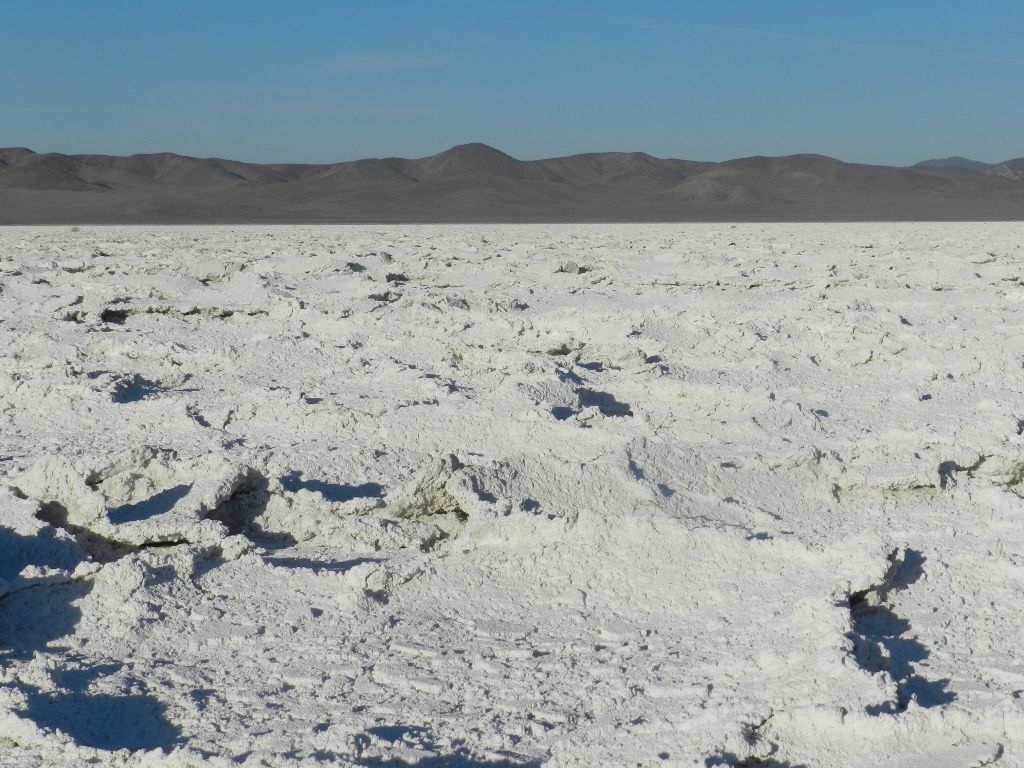 The pools of water around us were covered with a hard, white substance that crunched when we stepped on it. At first we thought it was ice, but upon further reflection we realized it was salt. All the water had dried, and only the salt remained. When we got to Soda Lake it was the same -- a large expanse of dry, white salt. Even on Google Maps, it looks otherworldly.
(Later we found the park's visitor center and learned some more details. Apparently, after the rainy season, the lake fills with water and the entire plain is covered with flowers. But we didn't get to see this, because there was no rain this year.)
After a few short hikes, we started driving towards our next stop, Mount Pinos. The road traversing Carrizo Plain turned out to be mostly unpaved, but despite this lack of development, we saw signs about a trans-continental AT&T cable. Who knows why they decided to route it through the middle of nowhere.
After a small incident involving stopping on the highway to photograph a bird, we did a short hike in the Mount Pinos area, where parts of the trail were covered with snow. It was already past sunset. We decided we'd drive to Castaic Lake and find a place to sleep there. Google Maps led us straight into a power plant, where an armed but friendly guard informed us that we'd taken a wrong turn. We turned around and drove a few miles, stopped at a turnout, and slept in the car.
Saturday, December 28: Blame Everything on L.A.
Castaic Lake was gorgeous in the morning. Boaters were lining up as early as 6:45 am. We went down to the lake, met some fishermen, and then found a trail so steep that it required a rope (thoughtfully left there by previous adventurers).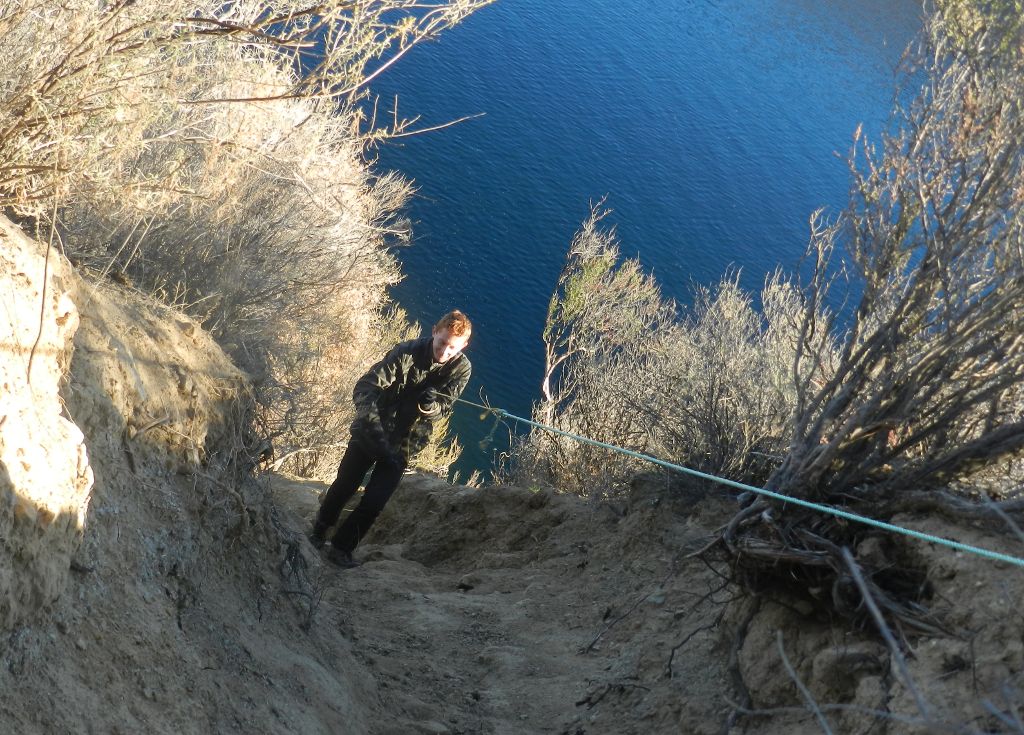 Next, we briefly stopped at a McDonald's to shave (oh, the luxury) and to use the bathroom. After that we found our way to CA 23, a very bendy mountain road popular with cyclists, which took us all the way to Malibu. The beach and the water there were beautiful.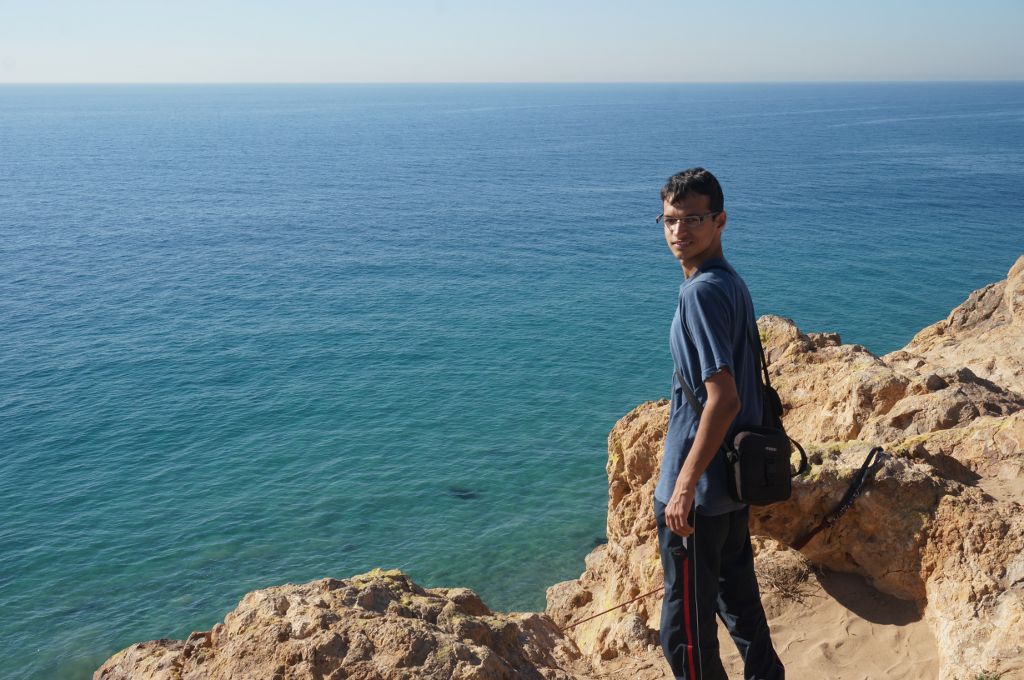 Across the road from the beach was a string of expensive-looking houses. On one end of the beach, there was a cliff where people rock-climbed.
Our next destination was Griffith Park, which had been recommended to us by someone we met that morning. Getting there proved to be quite an adventure. We circled around half of L.A. because we couldn't manage to get off the freeway, since as soon as we took an exit, it somehow brought us back onto another freeway. After so much time gloriously away from civilization, we were not thrilled to find ourselves in a traffic jam at Griffith Park, nor in the swarm of people photographing the Hollywood sign. It was then we decided that whatever bad things happened on our trip, it would all be L.A.'s fault. We had no idea that our troubles were just beginning.
We needed an ATM, so we decided to go see downtown. We parked our car at a multi-level garage. (It was probably then that my tablet got stolen from the passenger seat pocket -- a fact that did not become apparent until the end of our trip. Argh.) Downtown L.A. looked to me just like Manhattan, and just as dispiriting. We quickly discovered that GPS didn't work so well among skyscrapers, and when we finally found the ATM, it was at the opposite end of the block from where Google Maps thought it was.
We met up with some of Raunak's labmates for dinner. Then we drove to Laguna Coast Wilderness Park, hoping to find a place to sleep. But everything there was behind closed gates. We were still too close to L.A., and under its bad karma. So we drove to Palomar Mountain State Park, stopped on a turnout, and slept in the car again. At this point it was past midnight -- one of our longest days driving.
Sunday, December 29: Dodging the Bullet
At Palomar Mountain we had one of the best hikes of our entire trip. I couldn't get enough of the changing scenery -- pond, oak forest, grass clearing, evergreens.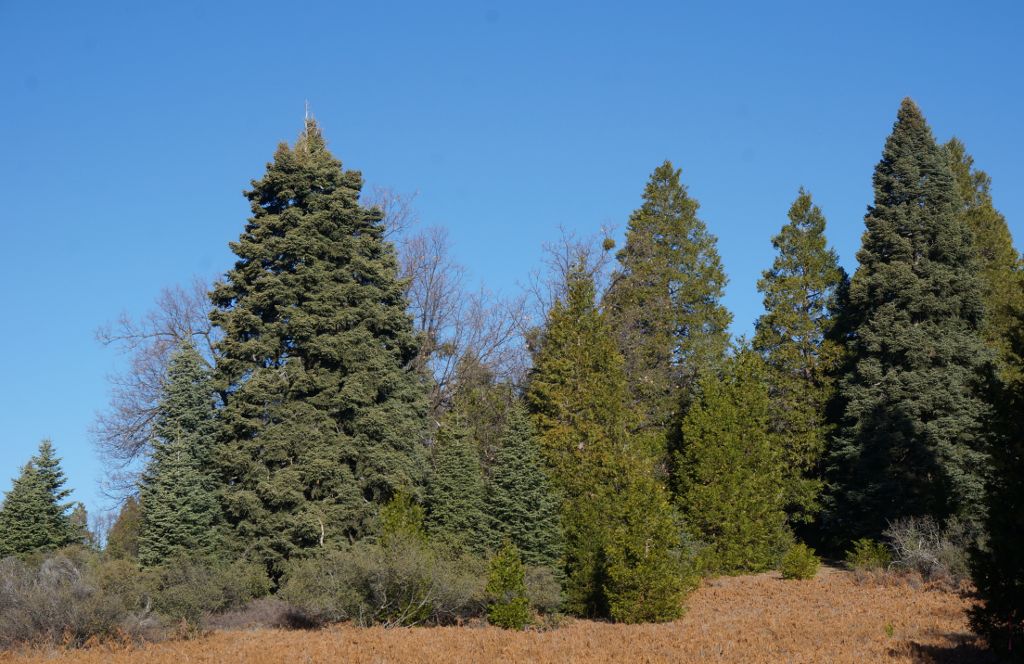 We also found a fire lookout tower with a long vertical ladder. There was a fence around it, but the gate was unlocked, and there were no "no trespassing" signs. So, naturally, we decided to climb it. I went up first. One minute into my climb I heard noises below. I looked down and sure enough, a fire truck and a park ranger car were coming up the road. I quickly got off the ladder and onto one of the tower's platforms, then ducked so they hopefully wouldn't see me. I was already rehearsing what I would say if caught. ("Fire tower? What fire tower? I thought this was an observation deck! No signs down below, so how was I supposed to know?")
Luckily, they didn't come up to the tower to look. They just waited a few minutes, then left. I sat up for just a second to enjoy the amazing, unobstructed 360° view. Then I climbed down quickly, knowing that I was also very visible from 360°. Later Raunak told me that the fire people looked and looked, but that when I sat on the platform, I was invisible from below. Good thing I don't wear bright colors.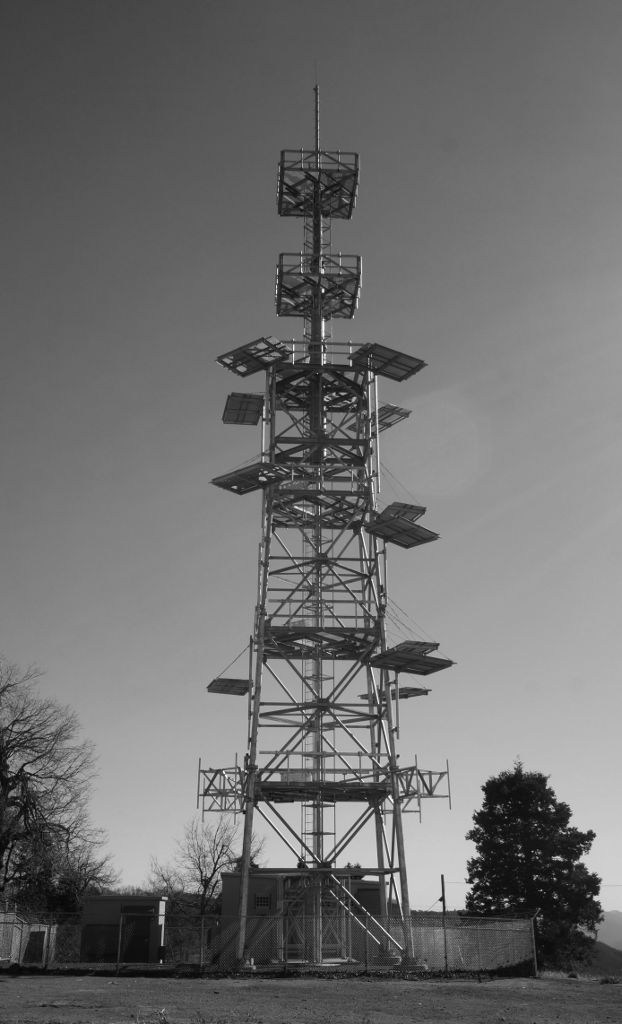 Just to be safe, we took an alternate road out of the park, which turned out to be narrow and unpaved for most of the way. But the views were nice, and we saw a lot of lemon trees. (And casinos. In Indian reservations. The peculiarities of US law never cease to amaze me.)
While driving to San Diego, I saw two things for the first time: a 70 MPH speed limit, and a 9-lane freeway. We booked a motel for the night (with some resistance from the lady on the phone, who wanted to add me to some $19/month "advantage" program, and who wouldn't accept no for an answer until I said it three times). We then drove down to the Border Field State Park, threw a stone over the fence to Mexico, came back to the motel, took our first showers in 7 days, and then slept for 10 hours straight.
Monday, December 30: Night Hike to Oasis
We got up at 6, picked up Raunak's birding pal, and spent the first half of the day watching birds at the San Diego River. Then we restocked on food (bread, cheese, and cold cuts mostly), and got on the road towards Anza-Borrego. The road through the mountains was bendy and made our heads spin. We got to Borrego Springs about half an hour before sunset, and promptly decided to do a short hike while there was still light.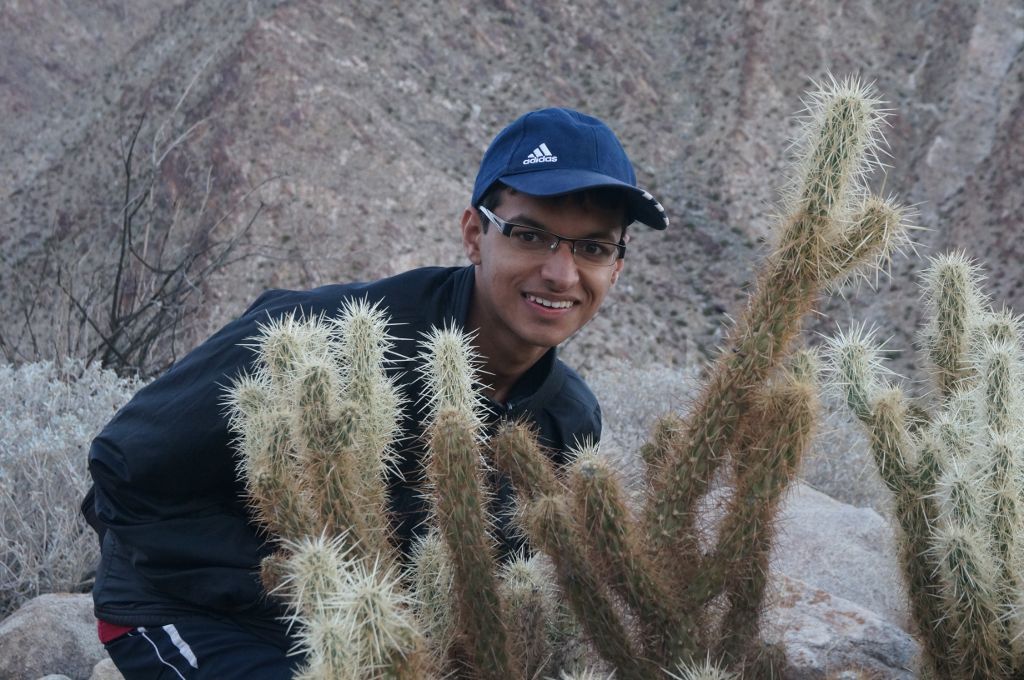 At the beginning it was really dry, with rocks, sand, cacti and brownish desert shrubs all around us. Then we saw trees and shrubs that were actually green. Then we heard the sound of water, and soon enough we found a small stream. We followed it up and found an grove of thick-bearded palm trees. (This was definitely not a mirage.)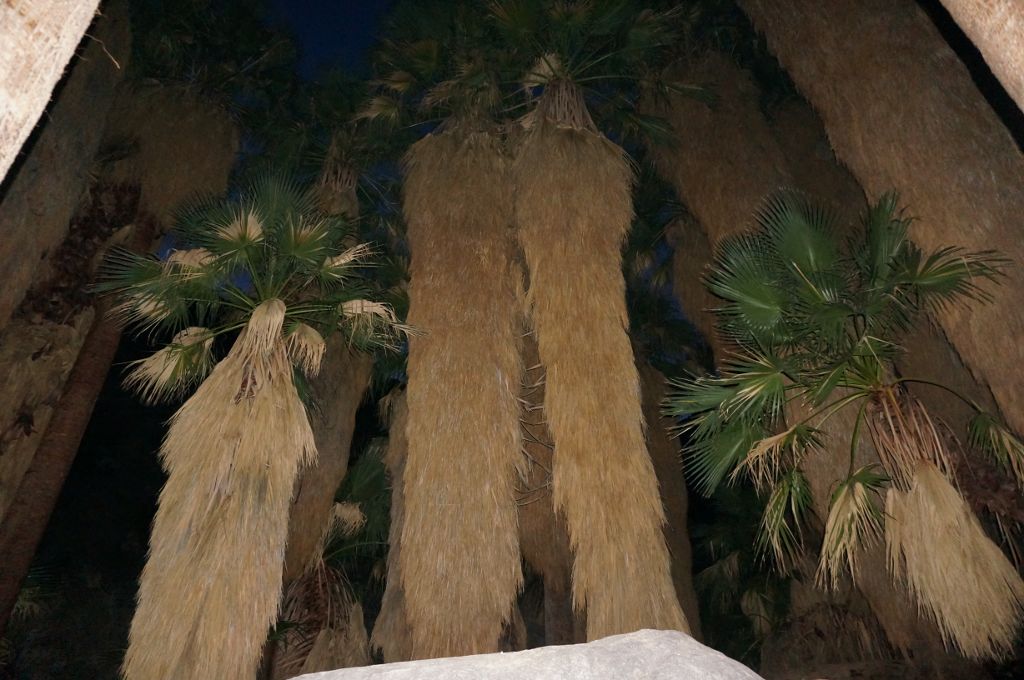 The way back was interesting. It was already dark, and we had a flashlight. But the narrow cone of light that the flashlight created meant that we could see very little around us, and so we lost the trail multiple times before finally getting back to our car. We drove to the east side of Anza-Borrego and set up our tent on a turnout, grateful that this park, at least, lets people camp anywhere without a permit.
Tuesday, December 31: Popcorn Beaches
The first order of the day was to do the Palm Slot trail. Of course, we missed the trailhead and had to walk an extra mile each way, almost giving up before we found it. But it was absolutely worth it! The trail got narrower and narrower, until we were walking between the walls of a deep, narrow canyon.
We walked the long walk back to our car, ate some brunch, and headed towards our next destination: Salton Sea. While still in the desert, we saw a lot of people having fun with off-road cars and motorcycles. (Note for next time: Bring a dirt bike.)
Salton Sea has an odd history: it's a man-made lake created by accident, at an elevation of 69 meters (226 feet) below sea level. The beaches are made of a thick layer of barnacles, instead of sand. Imagine walking on miles and miles of popcorn.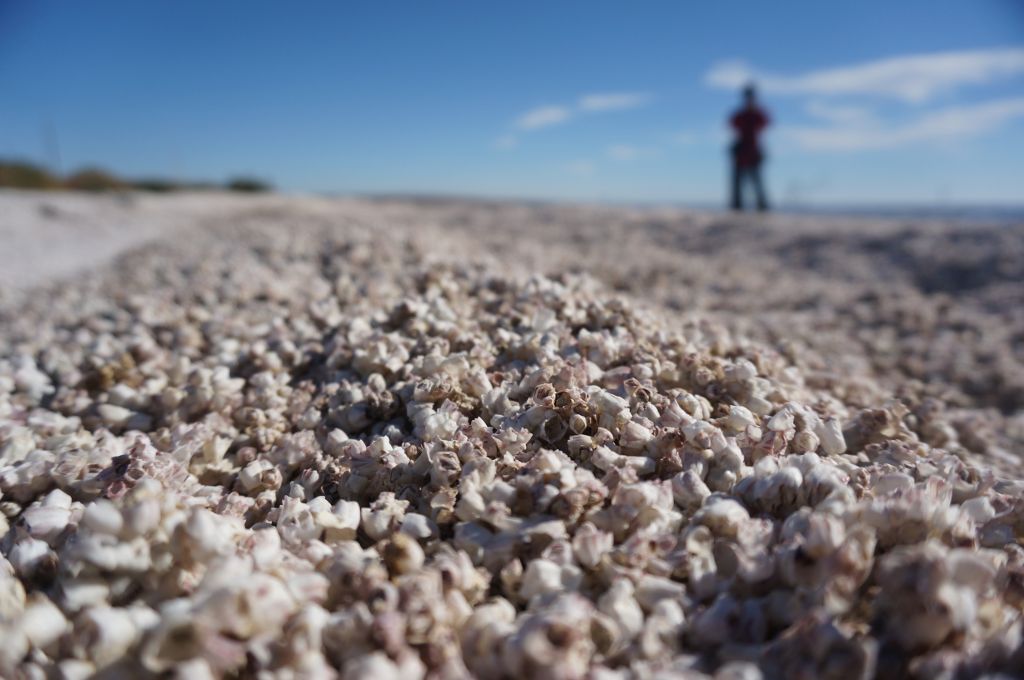 This sea is already saltier than the ocean, and it's getting saltier as time passes. Despite the increased salinity, the sea is still teeming with fish, and it is also a haven for birds. We spent a long time watching the hundreds of geese, gulls, pelicans, and so on. There was a railroad nearby, and we saw quite a number of freight trains pass by. The longest had 117 cars. Living in the city, it's easy to forget that freight railroads are still a huge part of the transportation economy.
And so we watched the last sunset of 2013 on the shore of Salton Sea. We then ate some of Trader Joe's carrot cake to celebrate the new year, set up our tent on the beach, and got into our sleeping bags. There were maybe five other people there altogether. I could not imagine a more perfect end to the year.
Wednesday, January 1: The End / The Beginning
The slight wind at night made our tent rustle, and I kept thinking I heard footsteps. But the night passed uneventfully, and we got up at 6 am to drive a bit further south and catch the sunrise.
We visited a few more places on the south shore of Salton Sea, marveling again at the number of birds, and also at the number of geothermal plants around the area. We found a part of the beach that was full of obsidian. Nearby in the water was a dead tree with at least seven nests on it.
We then drove to Calexico, a small town bordering the much larger Mexicali across the border. We saw the fence that runs between the cities, and the green-and-white border patrol cars swarming all over the place.
When it was time to drive back to San Diego, we took highway 98 and then 94, which promised a more enjoyable drive than the crowded Interstate 8. We were rewarded with a succession of unusual scenery: flocks of sheep, then large installations of solar panels, then wind turbines, and finally some enormous hills made of small rocks. We passed through a border patrol checkpoint, where an unsmiling officer reminded us that we must carry our passports at all times, or else they might revoke our student status.
Finally, eight days and 1,100 miles later, Raunak dropped me off in San Diego, where I wanted to stay for a few days. He then drove all the way back to Berkeley in one heroic, 9-hour, 500-mile stretch of Interstate 5. This was the end of our road trip, but we felt that we've started 2014 on the right foot. Who knows what other adventures the year will bring?