(This trip happened at the end of March, but it took a long time to write the blog post.)
After last year's road trip through California, Raunak and I got more ambitious and went to Ecuador this spring break. We broke a car, drove through a cloud, explored the rainforest, and found the most beautiful beach in the world. Keep reading for the full details, see some pictures here, and check out Raunak's post for all the birds we've seen on our trip.
Day 0: An inauspicious beginning
After a few hours in the company of an exceedingly cuddlesome couple seated next to me, and a flight attendant who looked like Hitler, I landed in Quito around midnight. Raunak had arrived an hour earlier, and had to wait for me while I slogged my way through border control, and was finally wished bienvenido.
At the car rental office, we had our first taste of interacting with the locals using our non-existent Spanish. (Hint: It takes a good dictionary and lots of gesticulation.) We signed the paperwork and were on our way. But we didn't even get out of the parking lot, because we couldn't figure out how to put the car in reverse. We pulled the gear shift every which way, until it got kind of slack, and it wouldn't even switch between the forward gears anymore. That is how you break a car in ten minutes. The rental guy gave us another one, and showed us how to reverse -- you had to pull up a ring on the gear stick.
Because the airport had recently moved to a new location, the hotel we got for our first night in Ecuador was quite far away. The nighttime and the heavy rain made it difficult to orient ourselves, and we took a few wrong turns that put us on divided highways in the wrong direction. After a huge detour, we finally got to our hotel around 2 AM. We were a bit dismayed with the weather forecast, which showed solid rain for ten days. But our luck was about to turn.
Day 1: Mindo
The hotel's complimentary breakfast was surprisingly delicious -- croissants and fruits and queso fresco -- nothing like the stale bagel and cream cheese you get in the US. We went to buy SIM cards, and then hurried out of town. Gas was only $1.50 per gallon -- half the price in California at the time. (Petroleum is Ecuador's largest export.) We stopped at a supermercado to get some fruits -- bananas were $1 per dozen. (Bananas are Ecuador's second largest export.) The "supermarket" was little more than a farmer's market under a roof, which reminded me of the bazaars back home.
Our first destination was Mindo -- a town that was recommended to us for birdwatching. The road was beautiful, with a wall of green on each side. Traffic was slow, but we made it fun by reading off license plates to practice our Spanish numerals.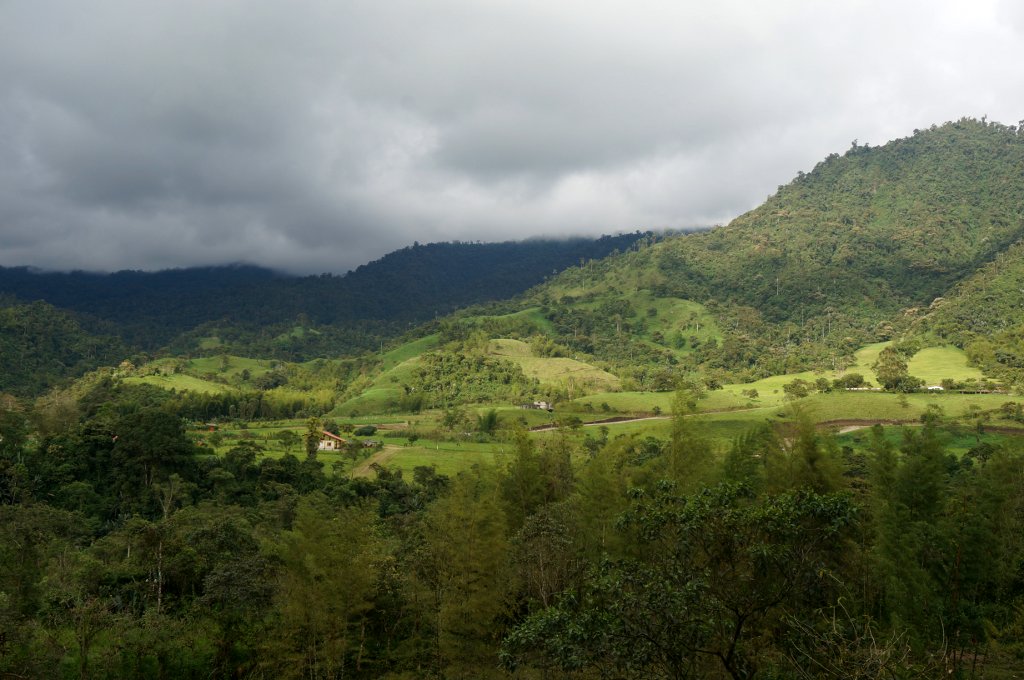 Mindo turned out to be quite touristy, with places for rafting and ziplining, and English-speaking guides that charged American prices. We spent the afternoon hiking up a hill, accompanied by three friendly canine guardians with too much time on their paws. None of the vegetation looked familiar, and even the ordinary grass on the ground was different from the one I was used to. We saw a few species of birds, a red centipede, and an agouti scurrying across the trail. Mosquitoes were miraculously absent, perhaps because of the elevation.
When we got back to town, it was already dark. (Ecuador has long nights, with the sun rising at 6 AM and setting at 6 PM all year round.) We hired a birding guide for the next day, and, being cheap, slept in our car in front of his house.
Day 2: Papallacta
We slept pretty well, despite the rain outside and the insomniac rooster crowing at 1:20 AM. We got up before sunrise, and our guide Alex directed us to a cock-of-the-rock lek -- a place where male birds came together to show off in the hopes of attracting a female. We gained some trust in our Chevy Aveo, as it braved the unpaved roads without complaint. For the rest of the morning we went to more birdwatching spots, seeing a quetzal with bright red and green feathers, and an adorable potoo sleeping on a stump.
On the drive back from Mindo, we learned how things worked on Ecuadorian highways. A bird's-eye view would show a slow-moving truck, with a long chain of smaller vehicles stuck behind it. After that, a refreshingly empty stretch of road, until the next truck, with its own procession of frustrated tailgaters. We quickly decided that driving in Ecuador was a game, where you got points for overtaking such trucks. At first we were quite cautious, following the dashed and solid lines like we would do in the US. This meant losing a lot of points. Later on in our trip, as we learned more about Ecuadorian driving, we would get much better at this game.
Our next destination was the Antisana volcano. Despite being an ecological reserve, Antisana is surrounded by private property, which requires written permission to pass through. We spent a few hours in Quito trying to reach a certain señor José Delgado, but we could not find his current phone number, so we gave up on Antisana and moved on. (This lack of transparency and online information about access to national parks proved to be a recurring theme on our trip. It's very profitable for the tour agencies that take care of everything for you, but it sucks for the independent tourist.)
On our way east from Quito we ended up on a toll road. We didn't know what the toll was, so we handed the attendant a $20 bill, thinking it should be enough. She handed us back $19.40. (Ecuador does not have its own currency, and uses the US dollar instead. Currency substitution is a fascinating topic that was completely off my radar before this trip.)
We drove to Papallacta, a hot-springs town with access to the Cayambe Coca Ecological Reserve. For dinner we stopped at a local family-run restaurant, where the owner insisted that we take a picture and post it on Facebook to advertise her establishment. We were planning to sleep in the car again, but then she made us an offer we couldn't refuse: a room upstairs for $20, with a hot tub in the backyard. We spent the evening in that tub, fantasizing about retiring to a place like this, where the faucets have only one lever, and the water that comes out is hot.
Day 3: Cayambe Coca
In the morning we drove up the long dirt road to the Cayambe Coca entrance, and then hiked towards one of the nearby lakes. The dry, shrubby vegetation reminded me of California. But the ground under our feet was soft and muddy, and there was moss all over the place. We also found a strange plant that grew in patches, and some of them looked like perfect pillows: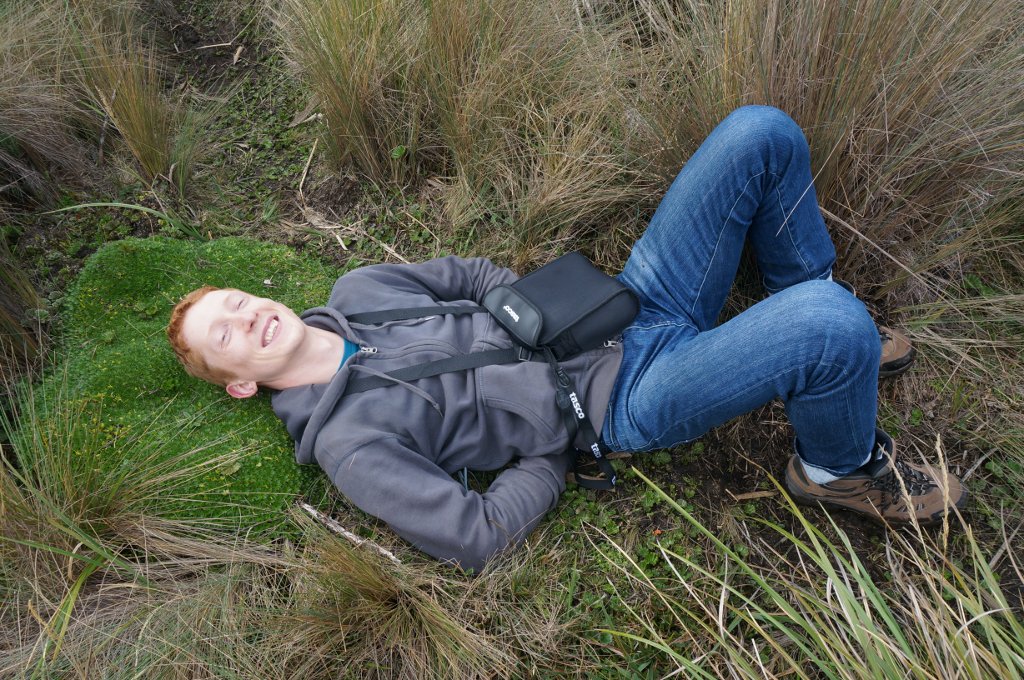 We were at an elevation of about 3600 meters, and I was surprised at how weak I felt. Even a slight uphill made my heart beat heavily, and my lungs struggle for air, with an unpleasant panicky feeling that forced me to slow down. (I never thought about it before, but I've lived all my life in cities less than 100 meters above sea level.)
The clouds cleared on the way back, and we got a magnificent view of Antisana in the distance: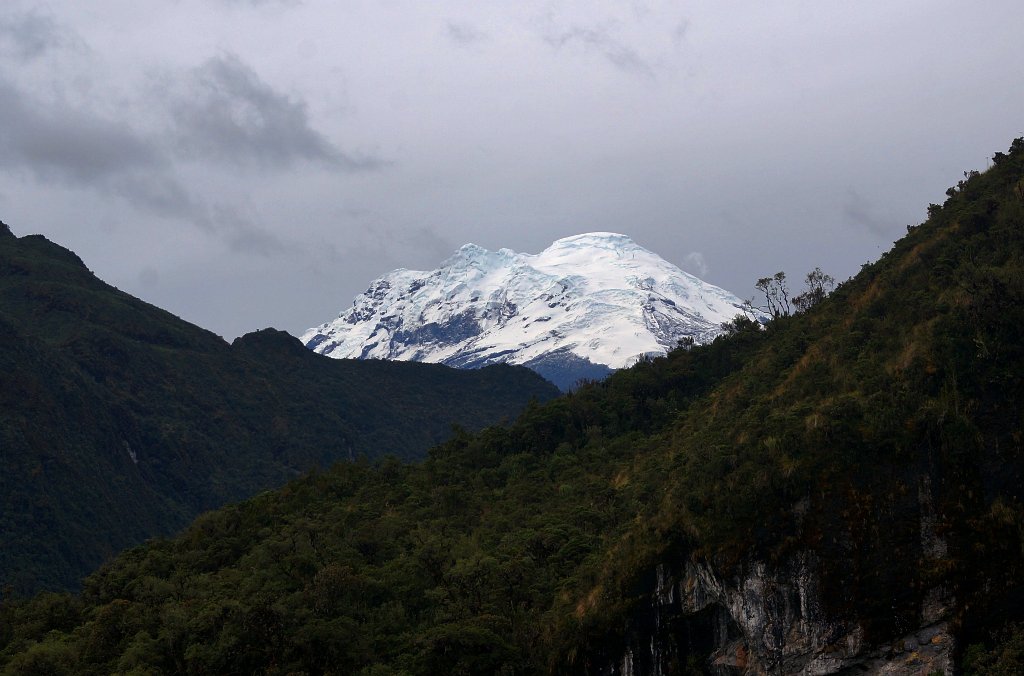 We decided to camp in Cayambe Coca the following night. Going to nearby Baeza for food and gas, we learned more about Ecuadorian driving: A big bus kept cutting into the wrong side of the road to avoid slowing down at the curves. Back at Cayambe Coca, we did another short trail to a waterfall: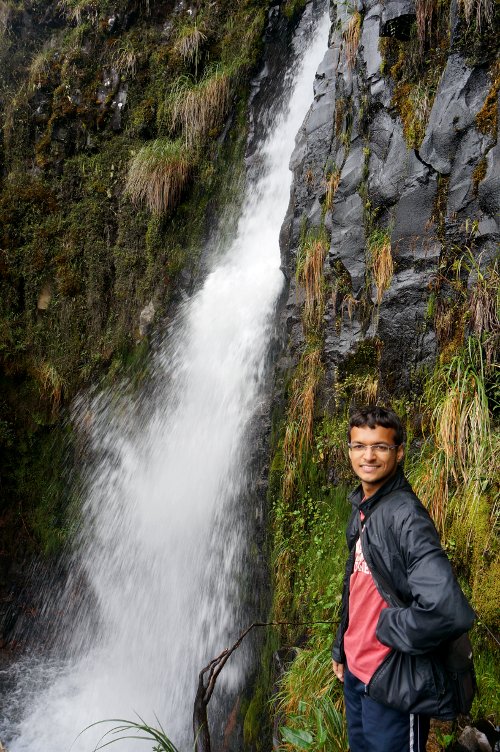 The area near the waterfall looked like some kind of alien landscape, where every inch of every branch was covered with moss: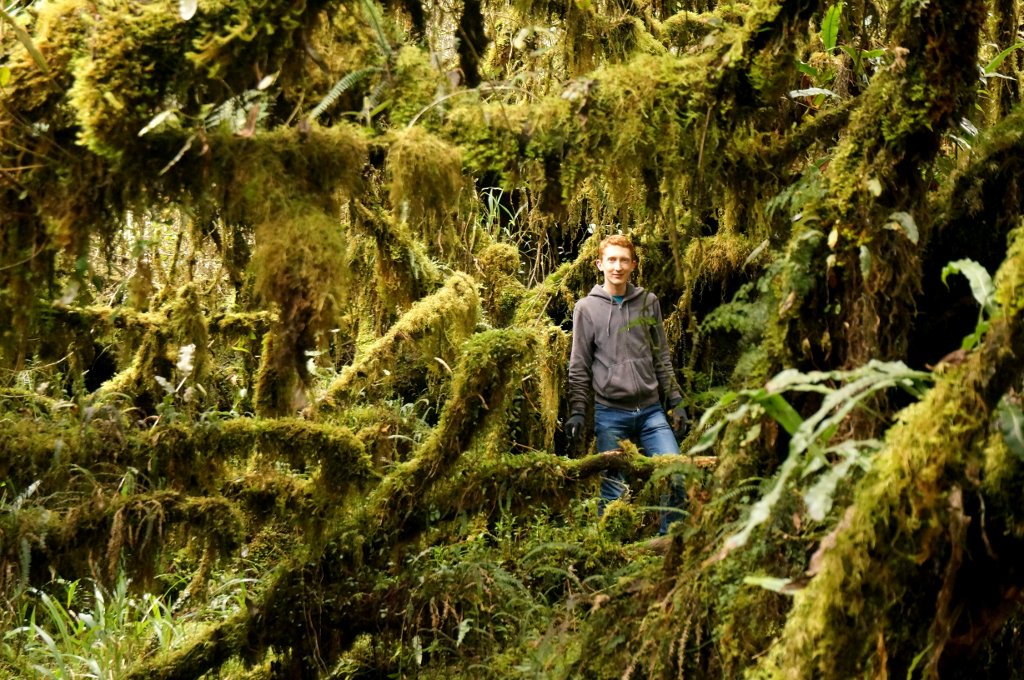 We picked a camping spot near one of the lakes, and set up our tent. It had drizzled earlier in the day, and we were expecting heavier rain at night. That's when we discovered that we didn't have a tarp to cover the tent. We figured we would use Raunak's poncho in place of a tarp, but securing the poncho against the wind took a bit of ingenuity. We put apples inside Raunak's gloves, which had velcro straps, and attached the gloves to two corners of the poncho. In the remaining two corners we put mangoes, and tied them up with a pair of cables that I happened to have in my backpack. We felt very accomplished.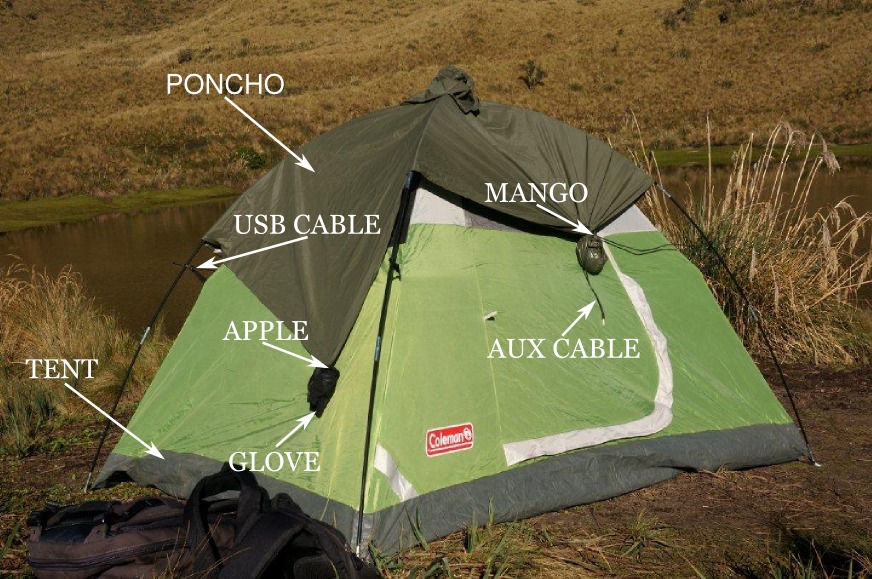 Day 4: Driving to Coca
That night my stomach decided to stop working, and I had to go outside and do a manual restart. Luckily I felt better the next morning. After all our worrying about rain, it never actually more than drizzled. It was the cold that we should've worried about -- when we awoke, we found ice on the inner seams of our tent.
We hiked to another lake, reaching an elevation of 3950 meters. The clear sky changed the scenery completely. Here is what it looked like yesterday:
And here is what it looked like this morning:
After the hike, we got on the road towards Coca, our next destination. From there we hoped to enter the Yasuni national park, which is part of the Amazon rainforest. I drove all the way there -- my first time driving a manual car! It wasn't as complicated as I had thought, except for starting the car... more on that later. At first we were on windy mountain roads, and then we got to the flat, straight roads on the east side, where even 100 km/h felt slow. We saw the vegetation change several times as we descended from nearly 4000 meters to about 400. My eyes couldn't get enough of that verdant abundance; there were even people with machetes chopping off the greenery to prevent it from invading the road. (Ecuador has impressive first-world highways, but all the other roads are third-world like you'd expect.)
Once in Coca, we thought we'd take some small roads out of town and end up in the rainforest. Instead, we found that all the green stuff on Google Maps was just boring countryside. We returned to Coca, got a hotel room for the night, and went out looking for a map. We found lots of people selling guided tours, but no information about how to get to Yasuni ourselves. (Some people have pulled it off, but it's not nearly as easy as going to a national park in the US. I got the impression that most tourists went to one of the uber-expensive "eco lodges", and we did not want to consume a pre-packaged experience like that.) After some deliberation, we decided to spring for a three-day tour with a local guide, who was willing to take just the two of us, instead of a larger group.
Day 5: Monkey Island
We met our guide, Sandro, at the ferry terminal in the morning. Our boat was long and narrow, made of wood, and it had a sun shade. The motor fed directly from a big barrel of oil sitting behind us. As we headed east on Rio Napo, Sandro was at the back, steering, while we kept our eyes peeled for birds and other creatures.
Our first stop was the "monkey island", a sort of halfway house for ex-captive monkeys being reintroduced to the wild. We met the family living on the island and running the project. There were a bunch of wooden huts with thatched roofs, big plastic barrels to collect rainwater, and chickens running freely all over the place. We put on rubber boots and went for a tour of the island. First we noticed the insects: The cicadas making an incredible racket, the two-inch mosquitoes shimmering in the sun, and the large colorful butterflies posing for a picture:
Sandro called our attention to the walking palm trees around us -- something straight out of Lord of the Rings. At first the rubber boots served us well, but then we reached a part of the trail where the water was up to our thighs. We plowed through, letting our boots fill with water, and then continued our hike with comical sloshing sounds.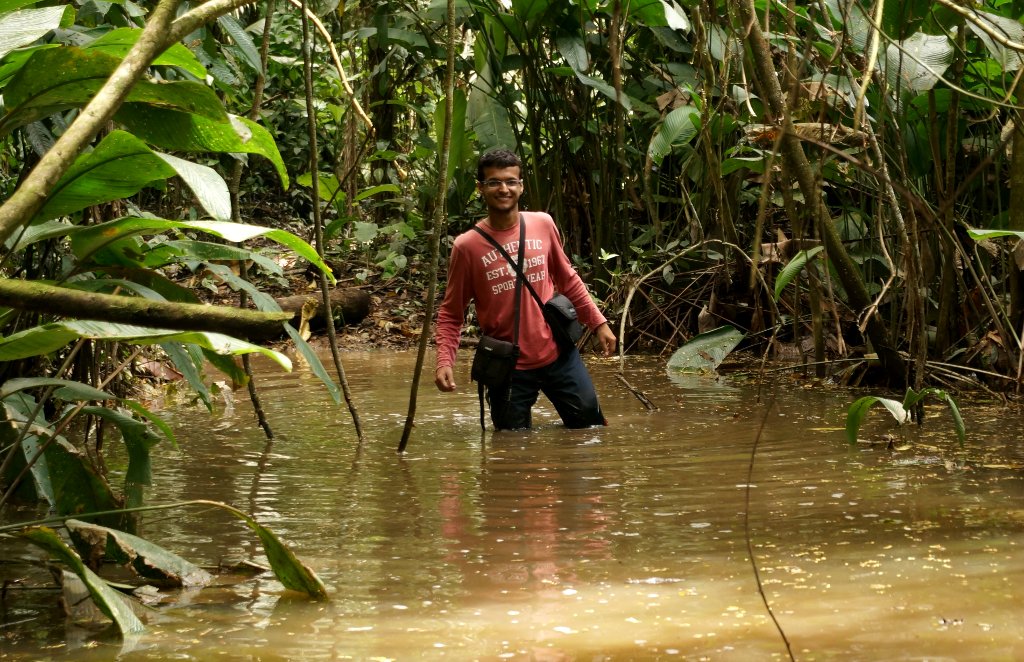 Despite the relatively large number of monkeys, the island was not at all like a zoo. We went a long way without seeing any of them, until finally we spotted a pack of woolly monkeys jumping from tree to tree. Even then we needed binoculars, and the view was obscured by the very dense vegetation. This was my first time seeing monkeys in the wild.
Food was part of the tour, and when we got back to the wooden huts, Sandro made a delicious tuna salad. We learned that he was part of the Kichwa tribe, and that his wife was Russian. Sandro spoke a little English, and with the help of a dictionary, we spoke a little Spanish, so we managed to communicate surprisingly well. After lunch, we got on the boat and continued to travel east.
We briefly stopped by Sandro's cousin's house north of the river, but other than that, we were on the water for a few uninterrupted hours. Sometimes Sandro would steer the boat near the shore and slow down, and we'd see all kinds of birds, including the bizarre-looking hoatzin. The landscape was strikingly flat: there were no hills or mountains in any direction, and even the bottoms of the clouds looked like someone had taken them and squashed them against a pane of glass.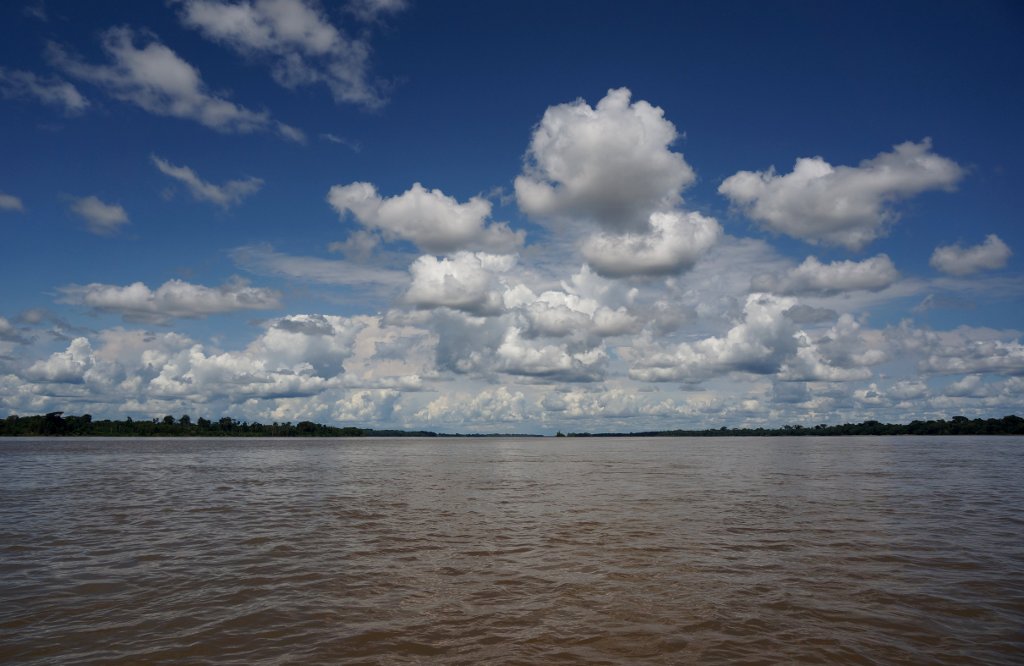 We reached an area where the water was very still, and Sandro showed us how fishing was done on the Rio Napo. You take a bamboo stick, and fix it into the shallow bottom. Then you tie a long and narrow fishing net to the stick, unroll the net, and tie the other end to another stick. Sandro was incredibly deft rolling out the net and steering the boat with a paddle at the same time, which made it clear that he'd done this many times before. We hadn't known that fishing was part of the trip, so we had a lot of fun watching the entire process.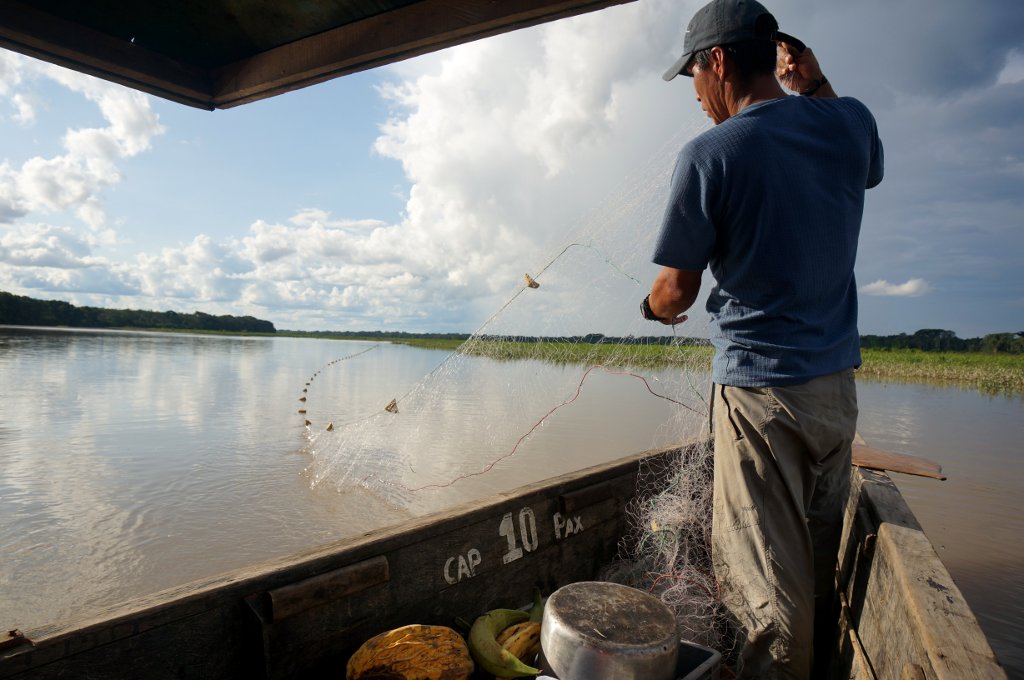 Shortly after that we arrived at our home base for the following two nights, the Guardiania Añangu inside Yasuni. We set up our tents in the special area they had for visitors -- a raised cement platform with a roof. The guardiania had water running constantly at high volume from a tap that was never shut off, probably because it was connected to a nearby spring. They also had a generator that provided electricity at night.
With only an hour of daylight left, we traveled by boat to a nearby mirador, a 42-meters high observation tower ascending above the treetops to afford a panoramic view. We climbed the tall spiral staircase and felt the tower wobbling in the wind, despite the steel cables that anchored it to the ground. The view from the top was breathtaking: a 360-degree ocean of green extending to the horizon in all directions. I've never felt as small as when I was up there looking at that vast, untamed landscape.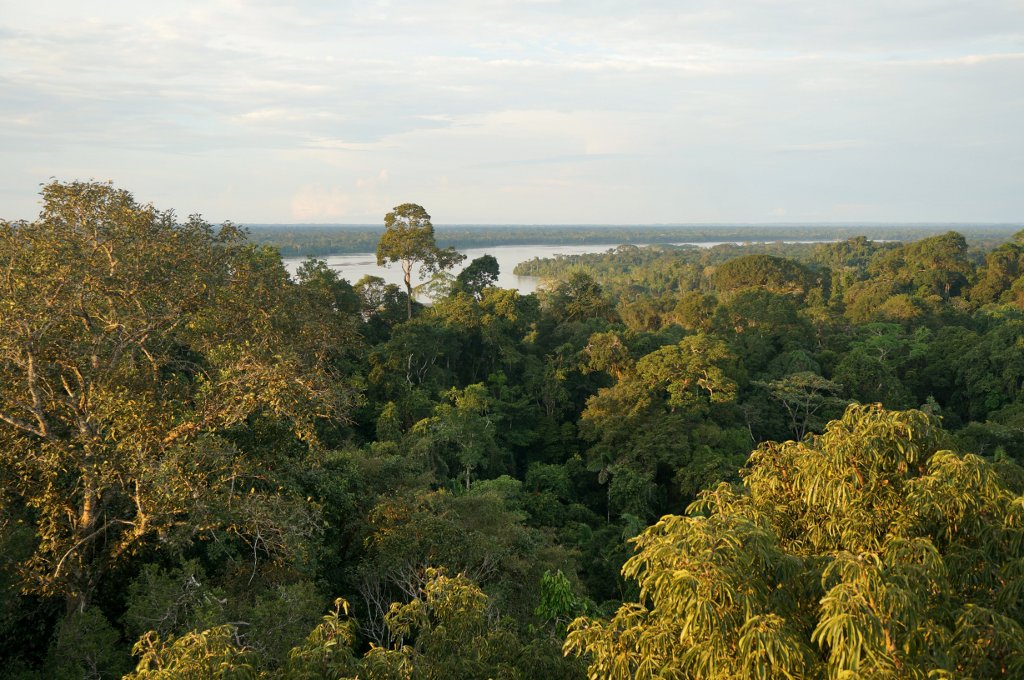 Green-feathered parrots were flying among the trees below us, abundant and unselfconsciously loud, as common here as crows or pigeons in a European city. We watched the sunset from the mirador, and then boated back to our tents. Using a portable gas stove, Sandro cooked a delicious dinner of lentils, rice, and fried chicken. We had two helpings each and settled in for the night.
Day 6: The Jungle
By the time the sun rose, we were already on the boat.
We went to check our fishnet, and found nine fish of five different species.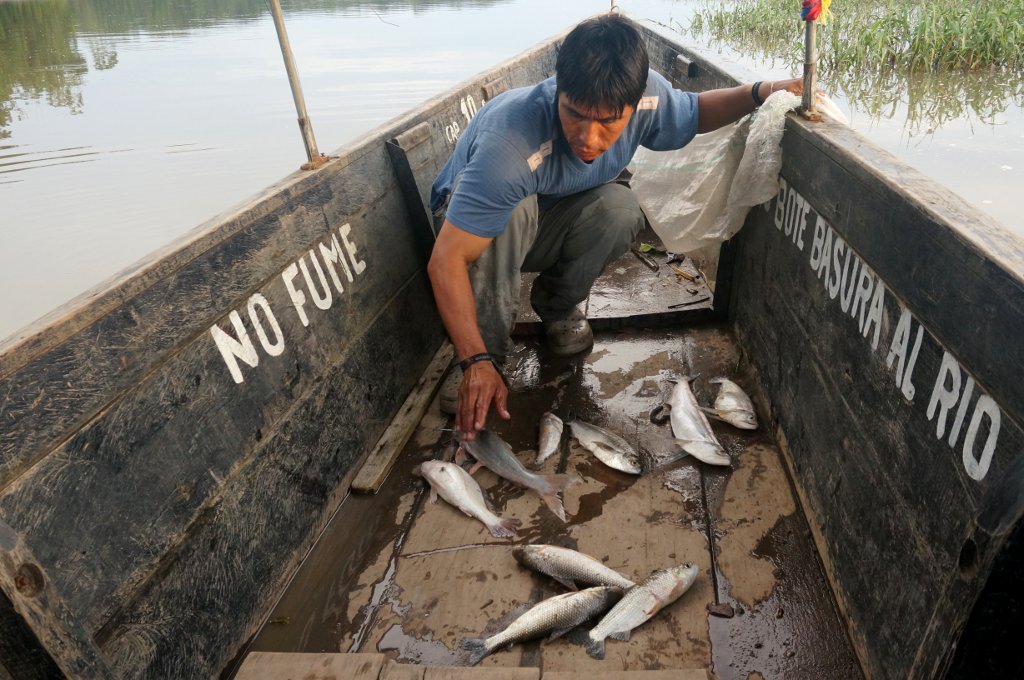 Sandro then took us to a clay lick -- a place where parrots go to eat clay, which helps their digestion. A dozen parrots were swarming around a particular spot on the shore, gurgling and chirping with enthusiasm.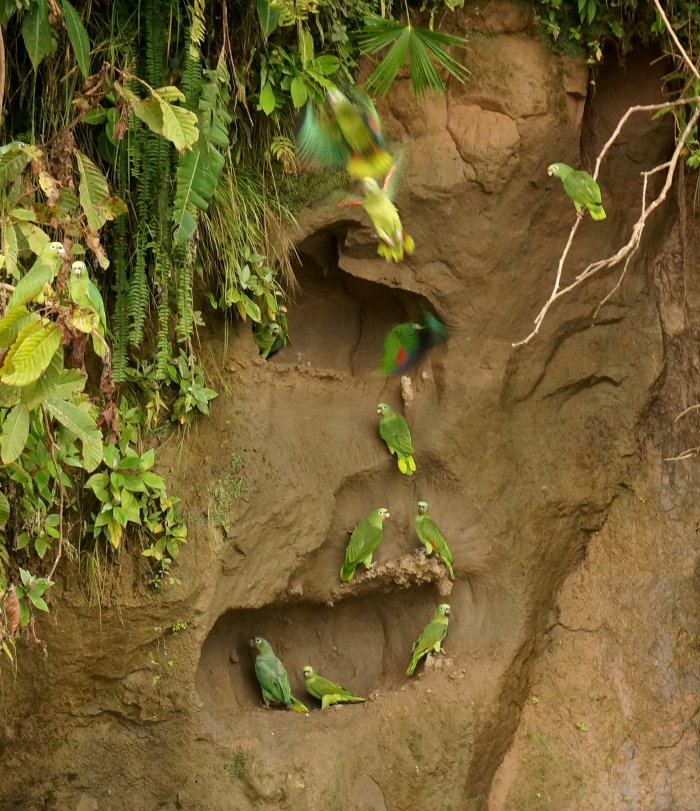 After that we ate breakfast, laid the fishnet again, and went to another clay lick where we hoped to see macaws. This lick was deeper inside the forest, and there was a wooden rotunda with about a dozen other birdwatchers sitting and waiting. The lick was noisy with lots of small green parakeets. They looked like fairies with their bluish, fast-moving wings.
A scarlet macaw hung around the trees above the clay lick, hesitating to descend. When it finally did, all the parakeets fled the scene. The macaw was majestic, much larger than the parakeets, with bright red and yellow and blue feathers. Around this time, a vicious wind started blowing, and pretty soon we found ourselves under torrential rain. The weather had been great until then, and we were not expecting such a sudden change, so we had left our rain gear back at the tents. We waited for about half an hour, but the rain had more patience than us. So we ran back to the boat, getting completely drenched, but miraculously staying warm (this being Ecuador).
When the rain was over, we went to check our fishnet once more, and this time Raunak and I helped Sandro untangle the fish that got caught. I have to admit that when I held the fish in my hand, and felt it wriggle and squirm violently, my first instinct was to loosen my grip. But I did not, and I did not become vegetarian either.
That evening we went to the observation tower again, and saw a pack of howler monkeys, as well as many species of birds. At dusk, Sandro took us for a night walk in the jungle. We saw more monkeys while the sky was still lit, and then it got dark and scary and awesome. Our flashlights carved cones of light into the thick darkness, which was alive with cicadas and other noises that were harder to identify. On trunks of trees we saw spiders as big as my hand.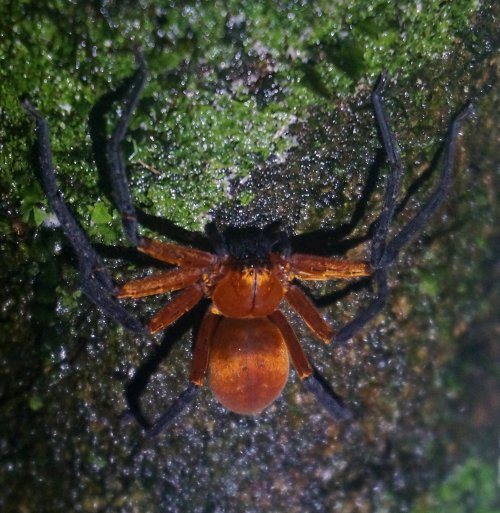 With his eagle's eyes, Raunak also spotted a stick insect: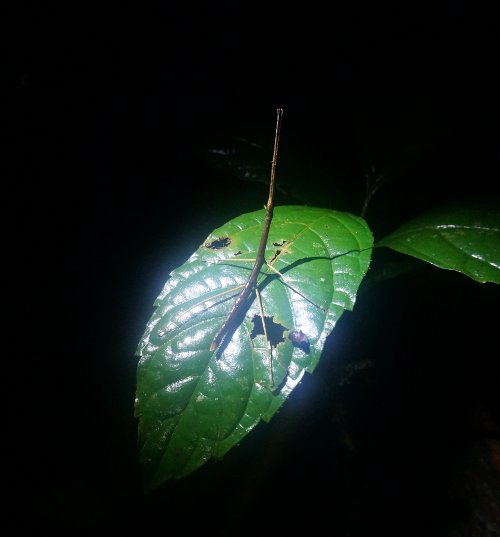 For dinner that night, Sandro fried the fish we had caught earlier. They were much tastier than supermarket-bought fish, but they also had a lot of small bones to reckon with. As we ate, lots of insects swarmed to the bare electric bulb above our heads, but there were surprisingly few mosquitoes. Maybe we went there at a lucky time of year, but we barely got bitten throughout our trip.
Day 7: Level Tena
That night, a frog had decided to lodge itself on one of the roof beams of the structure we were sleeping under. All night we heard it talking to its relatives in the forest, the roof acting as a perfect amplifier.
In the morning we went for a final 3.5-hour hike through the jungle. Sandro spotted a tree with hollow stems in which lemon ants dwelled. He proceeded to open up the stems and eat the ants, which Raunak tried, but I didn't dare. We saw more monkeys, spiders, and even a forest turtle.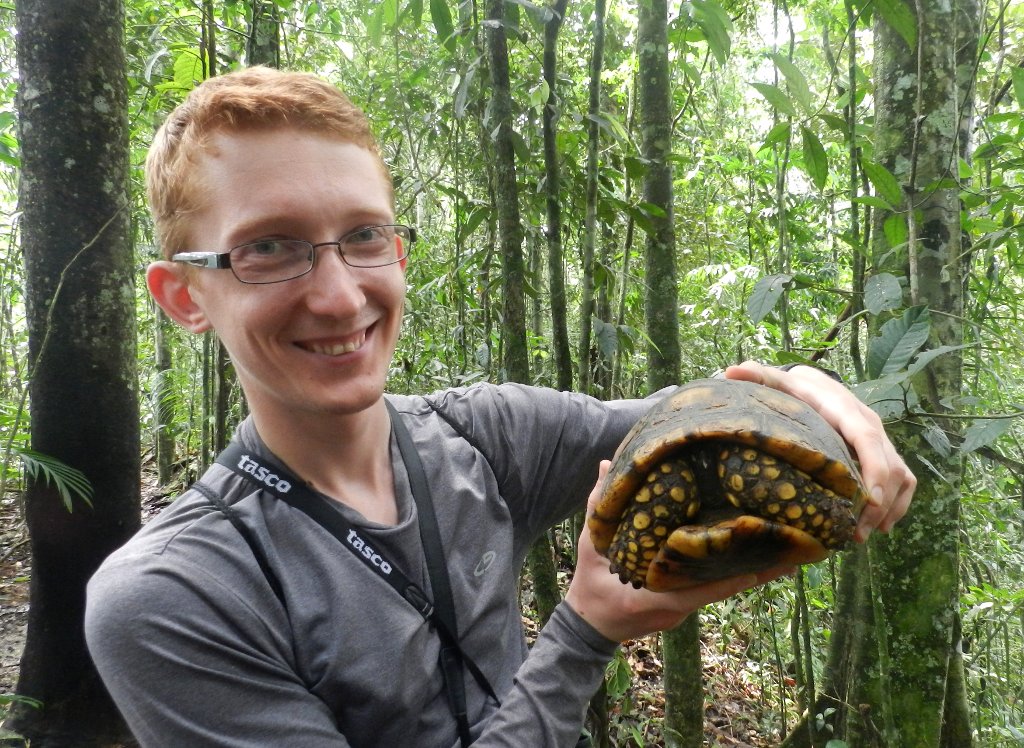 At the end of the trail we reached a watering hole for wild pigs. There were at least fifty of them, maybe even a hundred. We got to observe them in silence for a minute or two, and then they smelled us and bolted, with the sound of hundreds of hooves hitting the ground at the same time.
On the way back, we noticed paw prints of tapirs and jaguars on the trail. We saw more large butterflies, but most of them were too quick to catch on camera.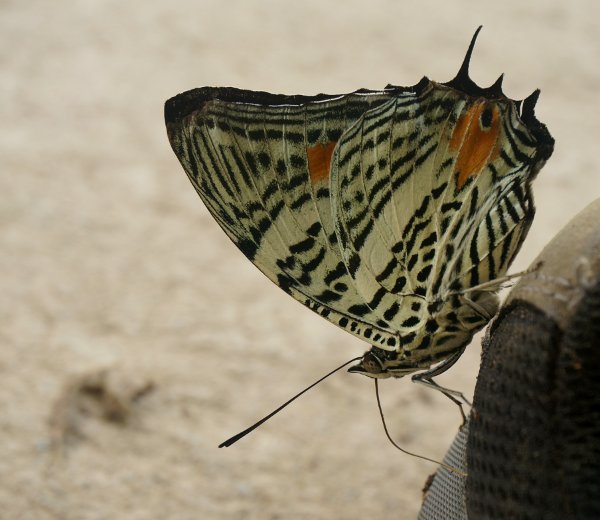 After that we spent 3+ hours on the long boat ride back to Coca. We said goodbye to Sandro, and decided to drive to Puyo during the night, so that we'd have less driving to do the following day. It was a good thing that Raunak was at the wheel, because the game of Ecuadorian driving had stepped up a few levels in difficulty. There was Level Speed Bumps, Level Bikes and Motorbikes without Lights, Level Taxi Coming in the Wrong Direction, and Level Dogs Sleeping in the Middle of the Road, all of which Raunak navigated expertly. But of course, when you pass a level, you get a harder level, and so we got Level Tena. This was a pretty big town that was completely missing from Google Maps, and where we got lost for about 20 minutes before we found the highway again. When we reached Puyo, we crashed at the first hotel that we saw.
Day 8: Llamas and Fog
After a long-awaited hot shower at the hotel, we drove to the city of Baños nearby. Baños was very touristy, with lots of private tour companies and little information about public trails. We got breakfast and decided to go to the Volcán Tungurahua directly south of the city. We drove up a dirt road until our car couldn't handle the slope, and from there we went on foot. The farmland around us looked strange; every greenhouse and every cow was tilted to accommodate the steep gradient of the terrain. We hiked a few more kilometers, the visibility getting worse and worse, until we found ourselves inside of a cloud.
With no hope of seeing anything more than 10 meters away, we turned back. We were eager to get to the coast, so we continued driving west. On Google Maps we saw a big blob of green called Reserva de Producción Faunística Chimborazo, so we decided to take the road through that. All went well on the highway, until we got into a maze of smaller and smaller roads. We persisted for about half an hour, because the Google directions promised to take us to a straight road very soon. But when we got there, we found that it was not a road at all, but a railroad. So much for trusting Google Maps in Ecuador! We went back to the highway, took a detour, and finally found the road through the reserve.
The terrain was getting increasingly gray and barren, like something out of Mordor. I checked my GPS and realized that we were above 4000 meters altitude. Raunak said that we should be seeing llamas, and sure enough, pretty soon we saw packs of them.
I got out of the car and walked closer to one, to take a picture. It was very cold, and even that short walk left me breathless because of the elevation. We reached 4400 meters before we started descending -- the highest on this trip, and also the highest in my life so far.
Coming down from the Andes we passed through another cloud, with fog so dense that it made driving a surreal experience. In the picture below there is a car ahead of us -- can you spot it?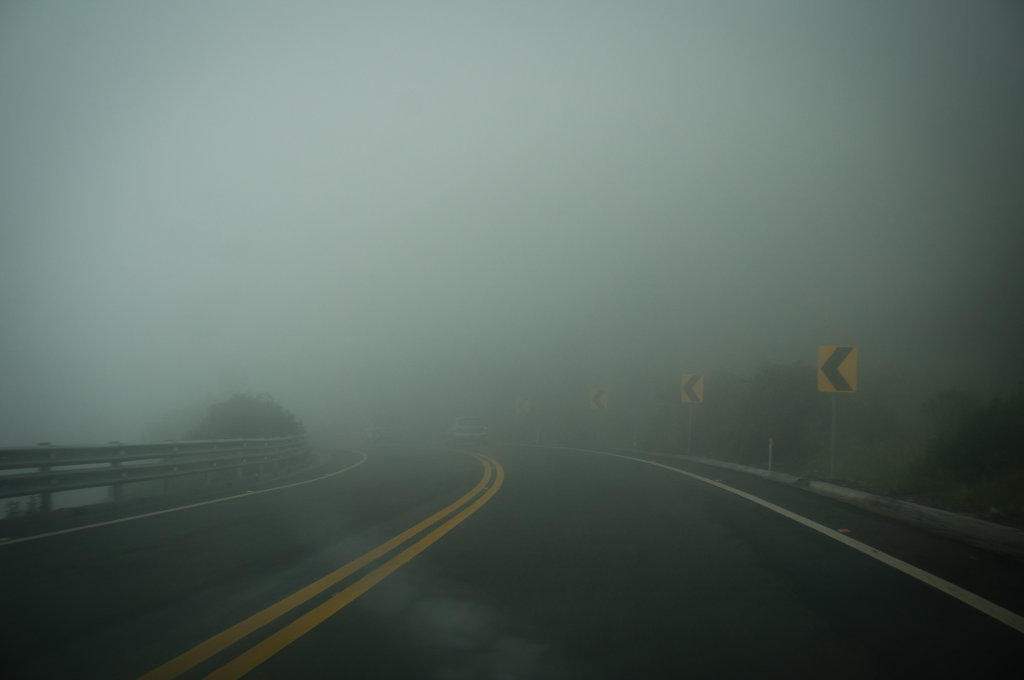 Night fell fast, and pretty soon we had some serious level-12 driving conditions. In addition to the darkness, the rain, and the fog, there had been landslides that ate away at the edges of the road. We even saw a big excavator parked in the middle of our lane, with no lights or reflectors to alert us to its presence.
We stopped in Babahoyo and got dinner for $2.50. I replaced Raunak at the wheel, and we continued driving for a bit. I was fine with driving a manual as long as the car was moving, but if I stopped, I inevitably stalled the engine. This was especially entertaining when I stalled in the middle of the highway, trying to make a left turn... After going through a few small towns without hotels, we found one in Pedro Carbo, and stopped there for the night. In the past few hours, we had come down from an elevation of 4400 meters to about 14 meters.
Day 9: Playa de los Frailes
In the morning we continued driving towards Puerto Lopez. There was a promising road going through the Parque Nacional Machalilla, but we found that the pavement only went as far as the village of Julcuy. A friendly villager warned us that we couldn't pass through the park, because the rio was alto from the recent rains. Of course, we had to try anyway. We had two warning signs, in the form of big puddles of water on the road, where Raunak told me to go fast and get enough momentum to avoid getting stuck in the mud. Then we got to the rio proper: there was no bridge, and the water running across the road seemed at least chest high. There was no way our little car could make it through that, so we turned back.
On our way back we hit the boss level of the driving game. To avoid one of the puddles we had plunged through earlier, we steered off the main dirt road and into an area that looked drier. It only looked that way though, because our car quickly got stuck in mud. We got out and tried to push it from behind, but all that did was to sink our feet and our tires deeper into the mud. We picked some rocks and put them under the wheels, hoping to get more friction, but all we got was the smell of burnt tire. For about half an hour we were stuck in place, revving the engine like crazy, with streams of mud spurting from the rear wheels and falling all over the place.
We finally figured out that we could inch forward by turning the wheel all the way left and then all the way right, and revving the engine. When we got out, our car had chunks of mud clinging to every surface. Raunak decided that his shoes were beyond salvaging, so he just left them there. Mine were so filthy that I put them in a plastic bag and kept them in the trunk. We spent the rest of the day in flip-flips.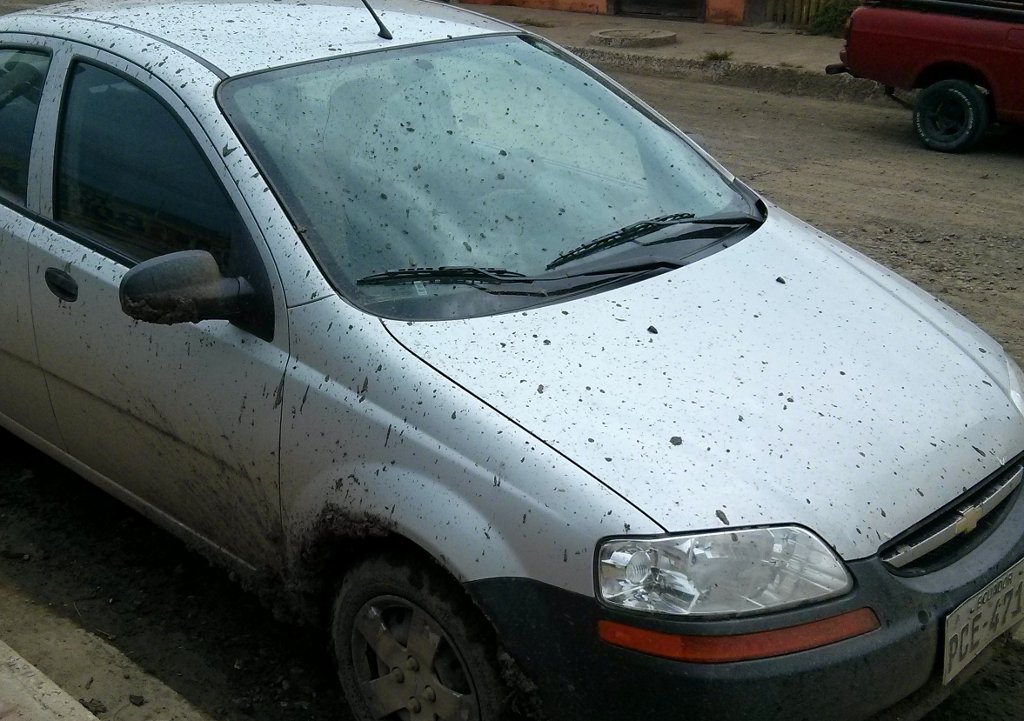 Cured of our desire to take dirt roads through national parks, we reached Puerto Lopez by highway. We ate lunch (at US prices), watched the auto rickshaws / mototaxis that were so popular here, and booked a tour of Isla de la Plata for the following day. Raunak bought new shoes. And then we drove to the nearby Playa de los Frailes.
For me, this was one of the highlights of our trip. I normally can't handle beaches in the daytime, because I get sunburnt in about five seconds. But on this day, there were thick clouds shielding us from the sun. The water was warm, almost as warm as the air. The beach was beautiful and nearly deserted. No seashells to cut your feet on, no seaweed or jellyfish to wade through, and no commercial development, since it was part of the Machalilla national park. The waves were pretty high, and we played the game of breaking them before they broke us. The hour and a half we spent in the water is inscribed in my memory as a time of undiluted joy, the kind I used to feel when I was a kid.
After that we headed to the village of Agua Blanca, hoping for another way to enter the Machalilla national park. The village had an observation tower with glorious views of greenery all around. But when we tried to take the trails into the park, the same rio thwarted us again, the amount of water making passage impossible. We ended up camping in the village, under a special wooden structure they had for visitors.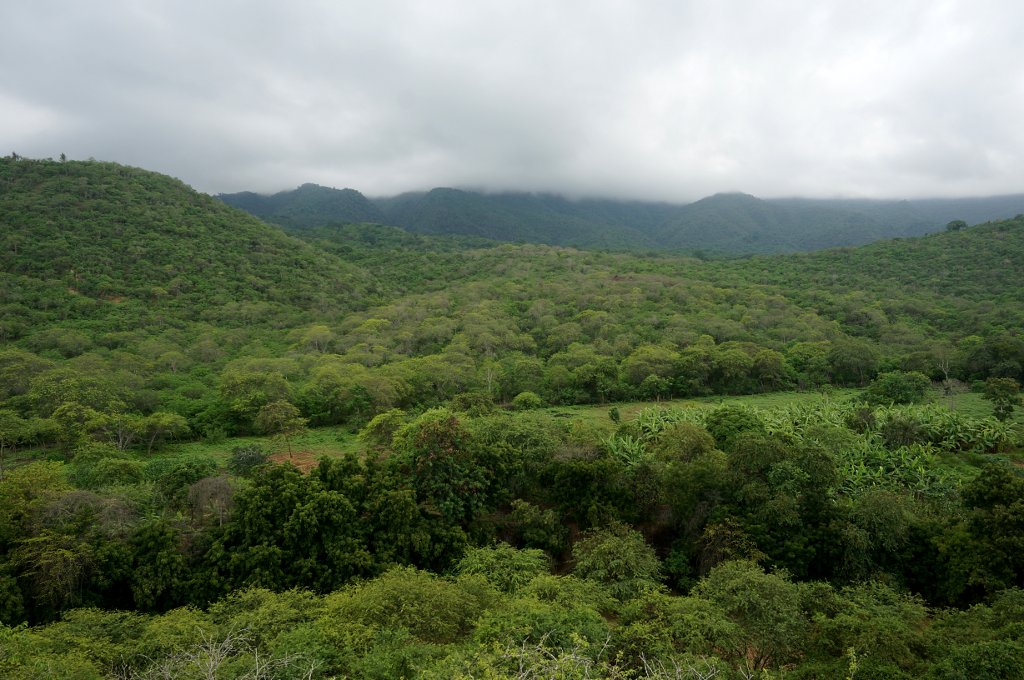 Day 10: Isla de la Plata
Agua Blanca was quiet... except for the roosters crowing, dogs barking, pigs grunting, mules neighing, goats bleating, people chatting, and motorcycle engines revving all night. In the morning we wanted to go to the Los Frailes beach again, but the entrance road was closed. So we went to Puerto Lopez, had piña coladas for breakfast, and waited for our boat to Isla de la Plata.
We ended up getting separated for the tour. After 90 monotonous minutes on the boat, we reached the island. I was surprised at how dry it was, not at all like the lush mainland. My group went on a frustratingly slow hike, with a guide who stopped too often to tell us about the folk-medicinal properties of every plant there. (I understood just enough of his Spanish to know what was going on, but not enough to ask any questions.) The island had plenty of interesting birds: elegantly shod blue-footed boobies and obscenely tumescent magnificent frigatebirds.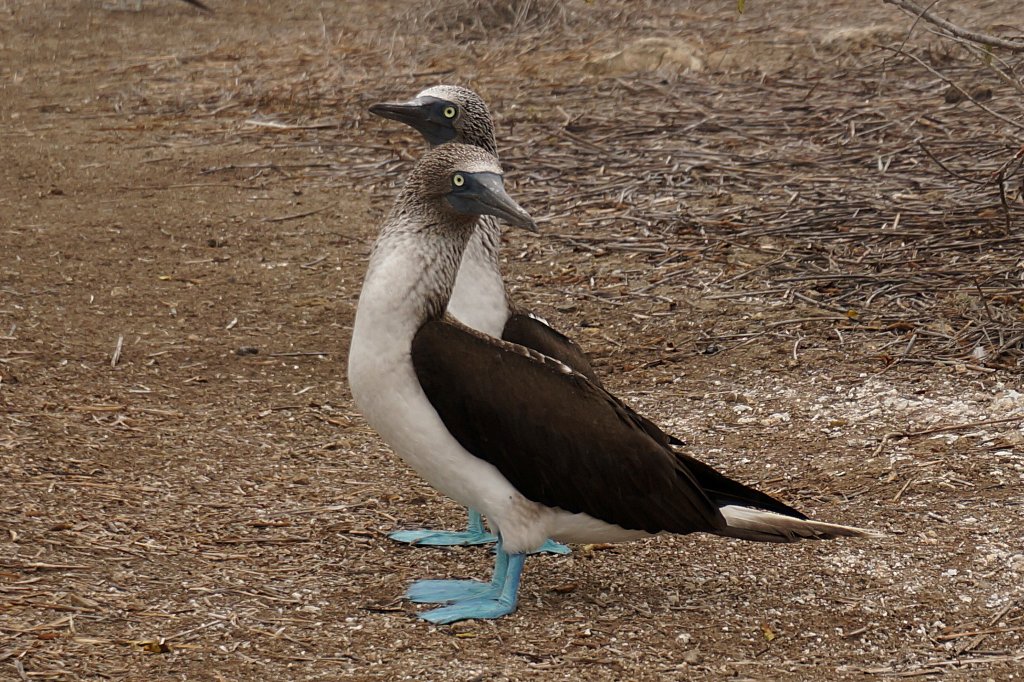 After the hike we went snorkeling. The water was clear and warm, and there were colorful fish swarming underneath. When I dove fast enough I could almost grab one by the tail. I kept getting stung by tiny jellyfish that I couldn't see. The bites weren't too painful, until one of them stung me on the lip.
When we got back to shore, it was time to say goodbye to the coast and head back to Quito for our flights the following day. We stopped at a hotel in Portoviejo for the night. The guy at the front desk said we could park in front of the building, but when he actually saw our car, he did a double take. And then he offered to have someone wash it for us for $1. By the time that was done, there were four little mountains of mud underneath the fenders.
Day 11: Don't go to Quito
With less than 12 hours until our flights and more than 500 kilometers left to go, we gunned it straight towards Quito. We were worried about potential last-minute delays, especially when we hit a stretch of highway that was under construction and full of potholes. But even with Level Potholes, Level Mist, and Level Cocoa Beans (drying on the road because it was the only available flat surface), we made it to the capital in plenty of time.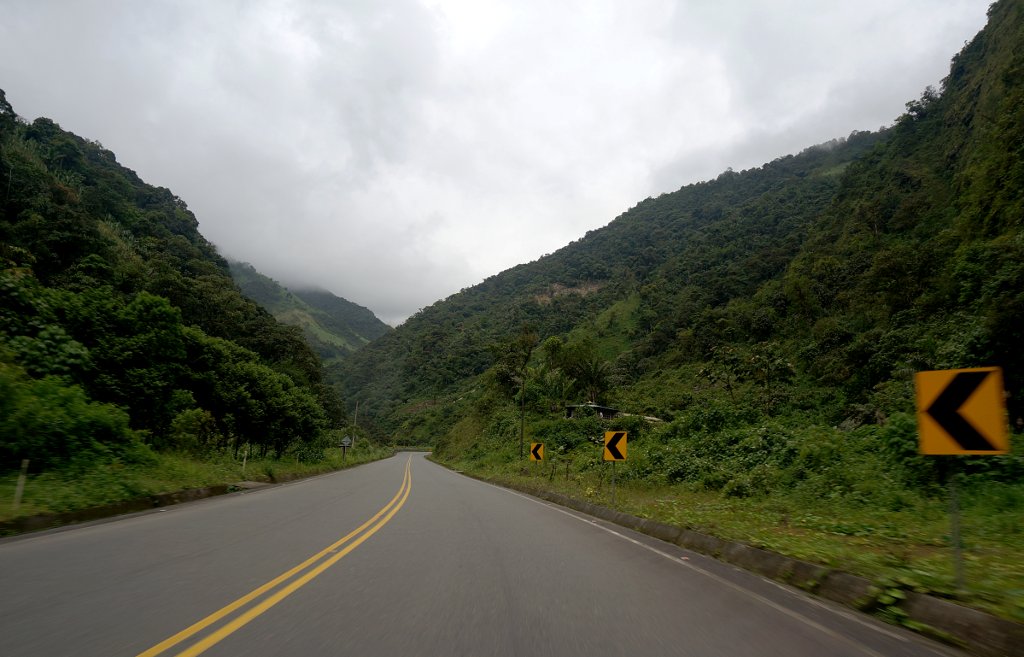 We stopped at the Metro del Sur Park just south of Quito, but there was little to see there in the chilly drizzle. So we decided to go to the Old Town and check out some of the architecture. After so many days spent in wide open nature, the city felt cramped and claustrophobic, like a shirt that's too tight and won't let you stretch. Some of the narrow cobblestone streets were so steep that we thought our car would start rolling backwards at any minute.
After walking around the Old Town for a bit, we headed towards the airport. Traffic was miserable by this time, and the exhaust from all the idling cars was suffocating. (It made me appreciate the strict air quality standards in California.) Quito's roads are a merciless maze of roundabouts and underpasses, and even with the help of Google Maps, it took all of our attention to stay on course.
After eleven days and 2335 km (1,451 miles) traveled, we couldn't quite believe that our trip was over. From the endless greenery of the rainforest, to the thin air of the highlands, to the beautiful beaches on the coast, Ecuador has made a place for itself in my heart. I hope to be back someday. As for Raunak, he's already signed up for Spanish classes.