Bikepacking from Pittsburgh to DC
Trip dates: 2019 Aug 31 - Sept 8.
Trip report date: 2020 May 4.
Amount of procrastination in between: award winning.
I learned about this bike route while researching the longest rail-trails in the US. Armin had just moved to Pittsburgh, and Sunil had some time off between jobs, so it was the perfect time for an adventure! Credits to them for some of the photos below, especially the better ones.
Overview
If you want to ride this route yourself, here are the main things you need to know. The way from Pittsburgh to DC is about 334 miles (537 km). It starts from 720 ft (219 m) of elevation in Pittsburgh, climbs over the Eastern Continental Divide (2,392 ft, 729 m), and then descends to sea level in DC. The gradient is very gentle, never above 2% or so. But the route is unpaved, so you will go a bit slower than on roads.
The first half of the route follows the Great Allegheny Passage (GAP) trail from Pittsburgh to Cumberland, MD. This trail is about 150 miles, with a surface of crushed limestone that you can ride quite fast on. Here is a trail map and a list of campsites nearby. Most of these campsites are paid, but some of them come with luxuries such as laundry machines and hot showers!
The second half of the route follows the Chesapeake and Ohio Canal (C&O) Towpath from Cumberland to Washington, DC. This trail is about 184 miles, with a surface of hard-packed dirt with lots of roots and rocks. This trail is much bumpier than the GAP, and you will go slower. Here is a map and a list of campsites along the way. There is a free hiker-biker campsite every 10 miles or so, which makes planning easy. These campsites are very basic, with no trash bins and no running water. Most of the time there is a well with a pump, but this water is treated with iodine and has a pretty strong taste. So in practice you will want to replenish your water supplies in nearby towns as much as possible.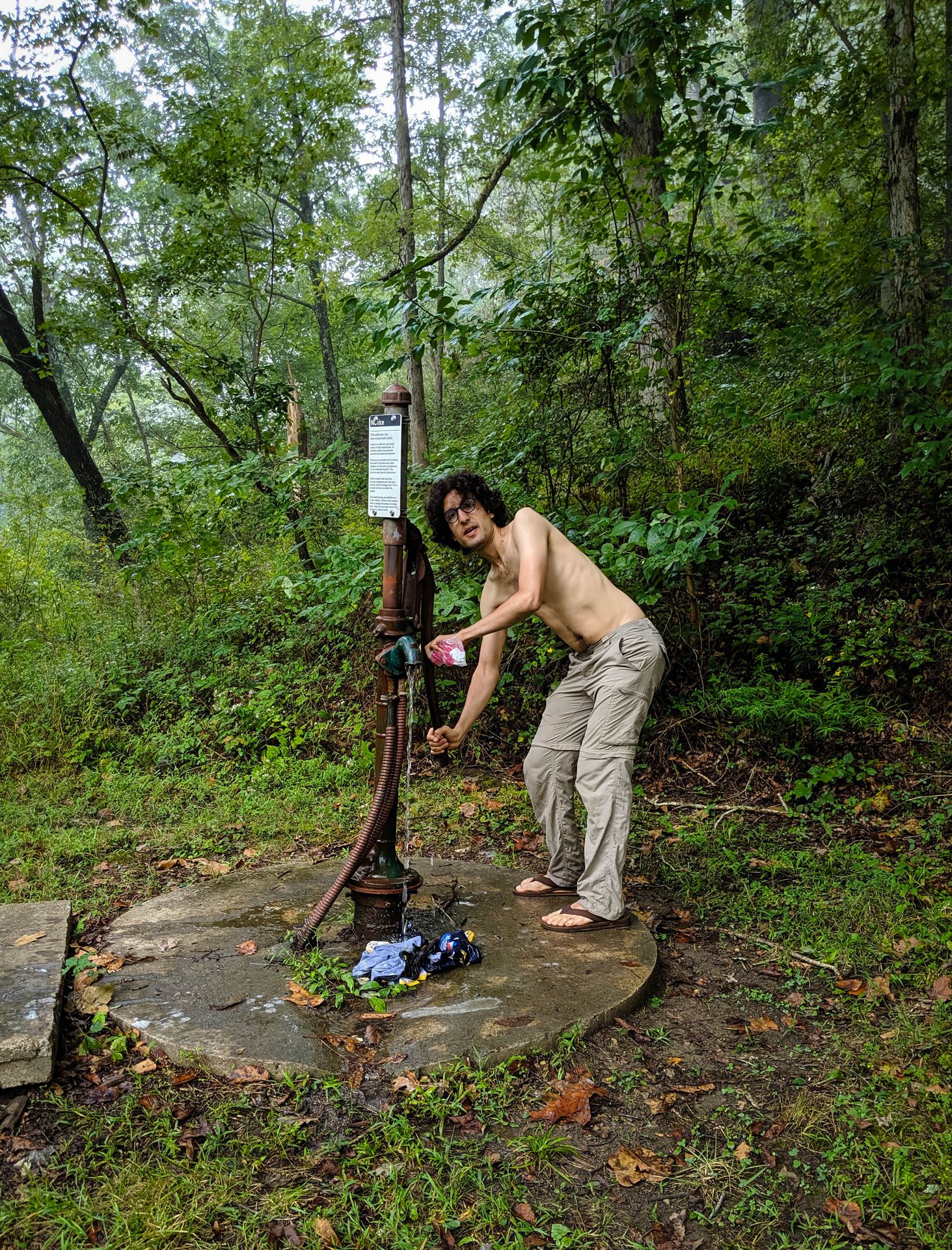 While the GAP trail would be doable on skinny road tires, the C&O demands wider tires if you want to be comfortable. I had a 35mm in the front and a 38mm in the back, and I got a single flat on the entire ride, mostly because I didn't listen to my own advice and I started the trip with old tires. Sunil had brand-new 32mm touring tires and he didn't get a single flat. Armin had 28mm road tires and he got an unfortunate number of flats.
Carry insect repellent. I didn't think to bring it, and I got some of the worst bug bites of my life. But it was a small price to pay for the adventure.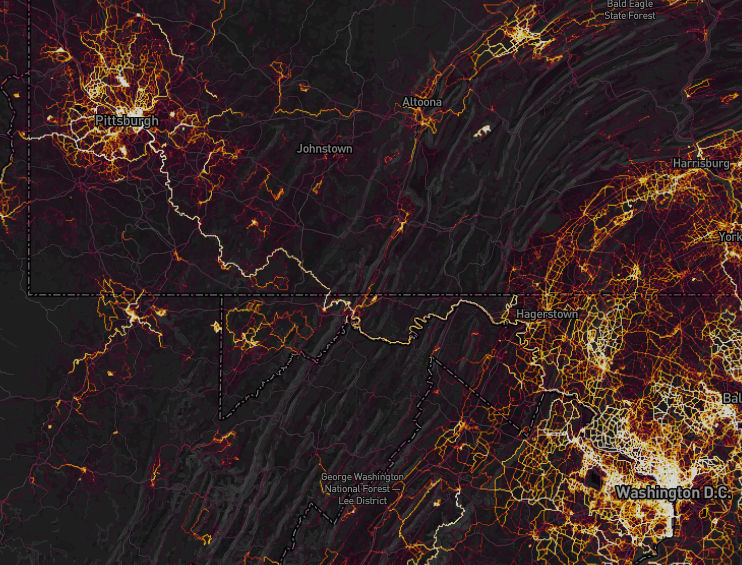 As you can see from the Strava Global Heatmap, this route is quite popular with cyclists! There are many towns along the way with bike shops, grocery stores, and restaurants. So you never need to carry large amounts of food, and if something goes wrong, it should be pretty easy to bail yourself out.
The entire route is on a rail trail and towpath, so you never have to worry about cars. Most of the time you're just riding through beautiful forest.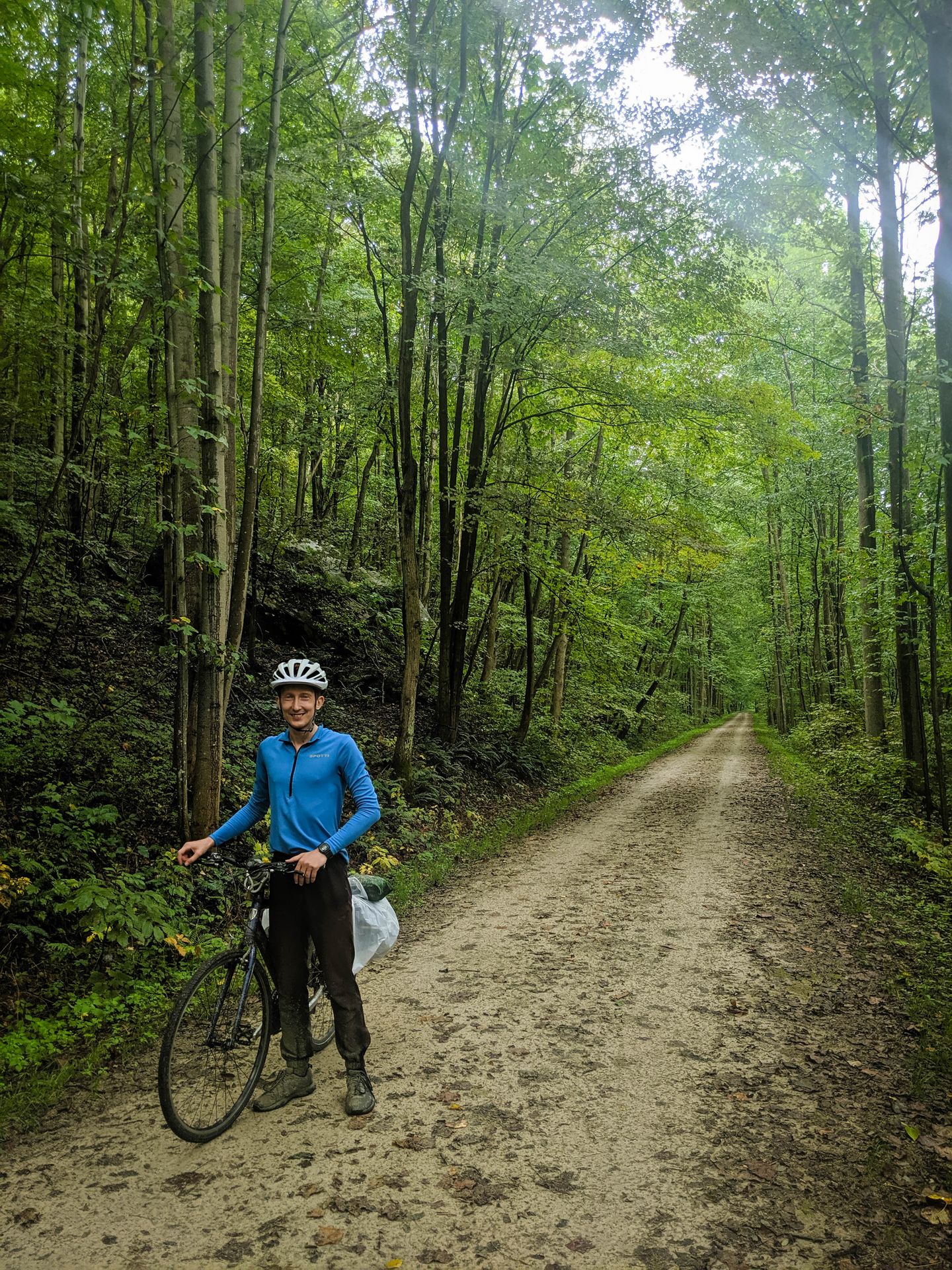 I shipped my bike from California and back using BikeFlights, paying a little over $100 each way. I salvaged a cardboard box from a local bike shop, and managed to stuff all my camping gear into it as well. This was cheap, but disassembling the bike and padding it with foam and bubble-wrap took a long time. Next time I might just fly with my bike in a dedicated case, like Sunil did.
We took six days to ride from Pittsburgh to DC. The plan was to then rent a car and drive back. Armin and Sunil did the responsible thing and stuck to the plan. I was a little less reasonable and decided to ride back to Pittsburgh in the remaining three days, which would still get me back in time for work on Monday. So the itineraries below offer two ways to divide the trip: a reasonable one (6 days, 55 miles / 88 km per day) and an ambitious one (3 days, 110 miles / 177 km per day). Thanks to the abundance of campsites, many other variations are possible.
Day 1: That was easy
(From Pittsburgh to Roundbottom campground.)
Here we are, still clean and fresh, setting out from Pittsburgh.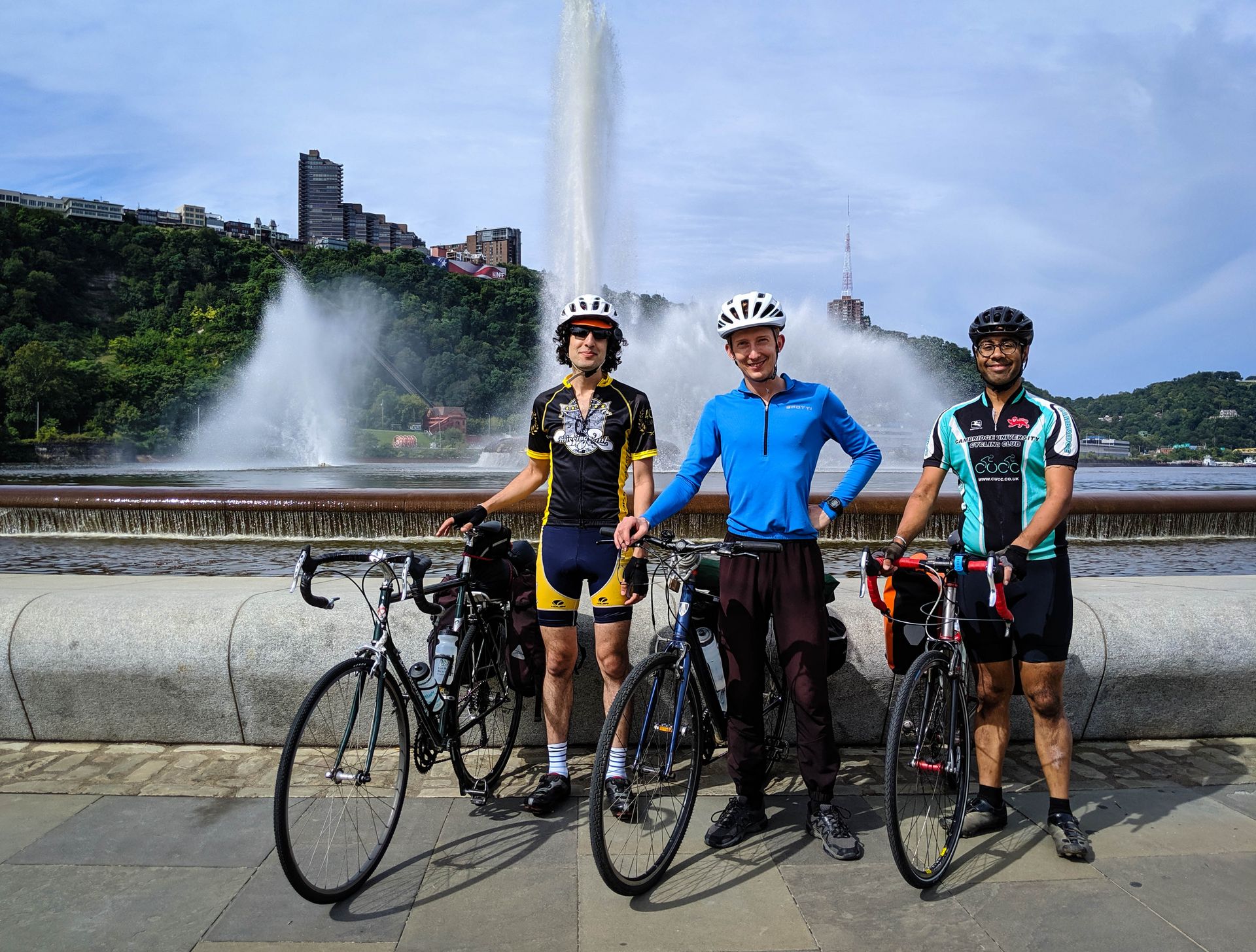 The trail is paved at first, and a little busy. We cross a few bridges over rivers and railroads.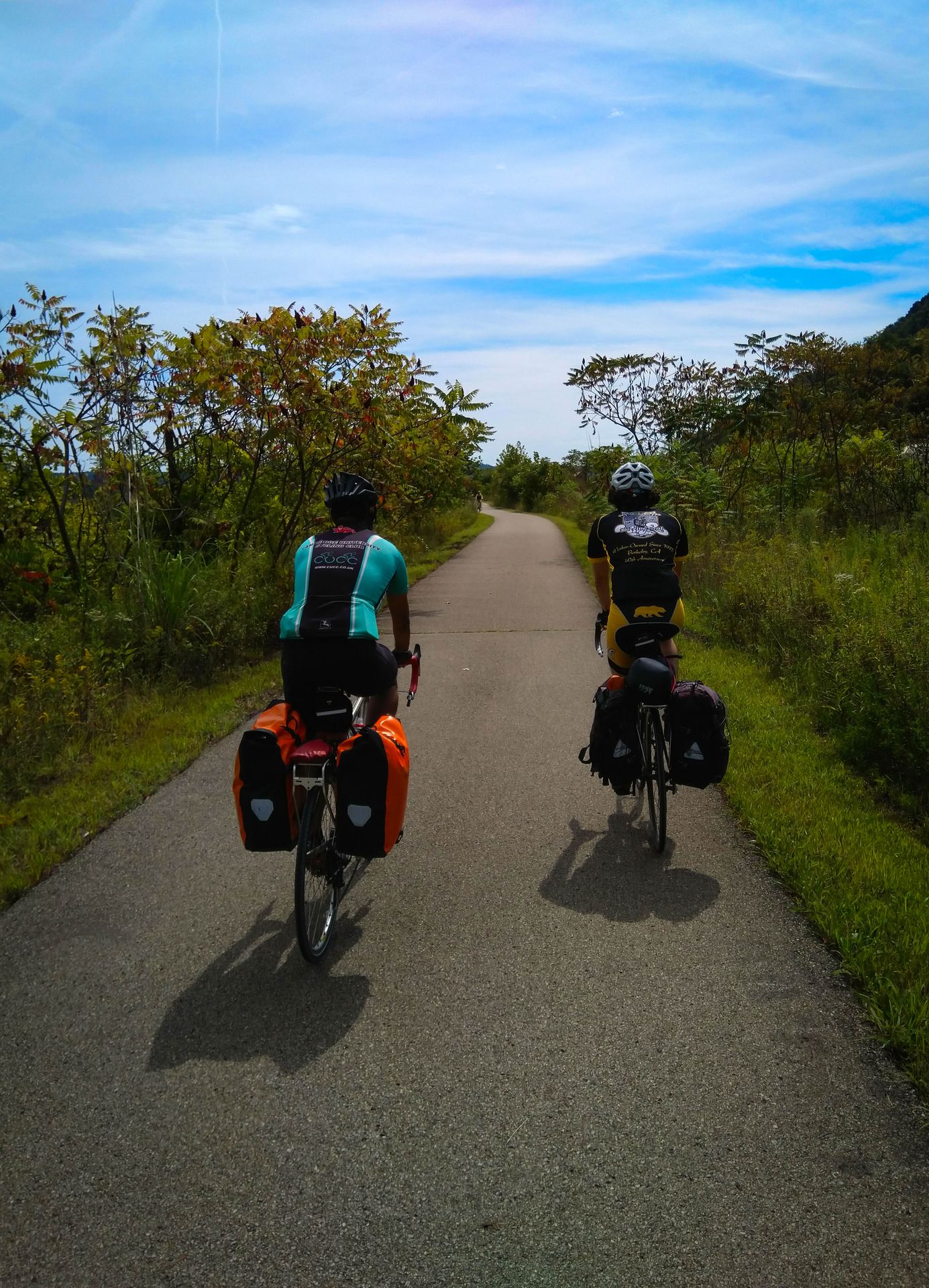 An hour later, we are out of the metro area and into the forest. The trail is now unpaved, but still very easy to ride. The greenery is luxuriant. We see and hear long freight trains on the other side of the river.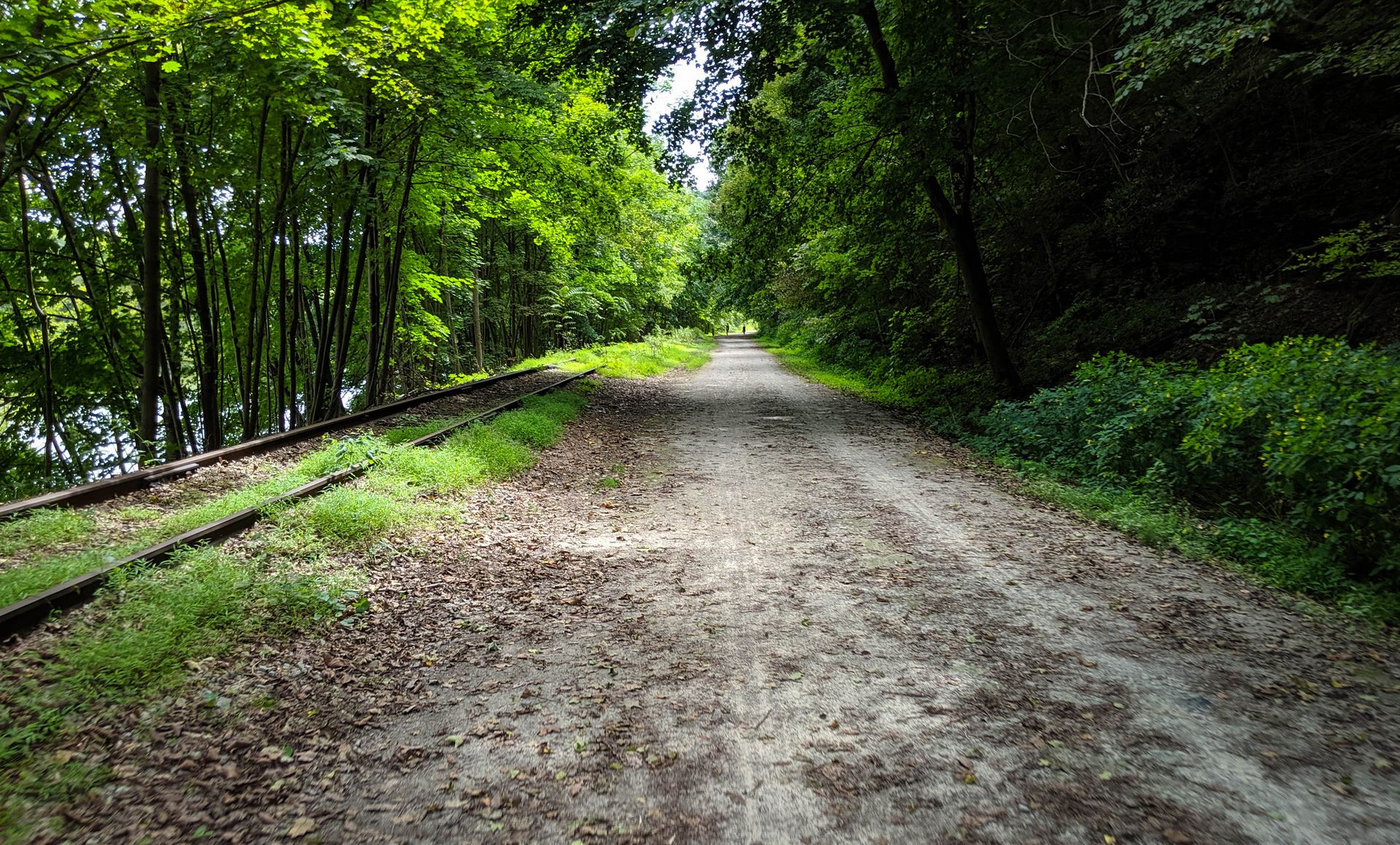 We stop at The Trailside in West Newton and devour some sandwiches for lunch. The place is bustling with cyclists.
Shortly before we reach Roundbottom campground, we detour through Perryopolis to get some groceries for the evening. The supermarket is called Save a Lot, and our total bill is $23. We spoil ourselves with some Creme Betweens, the first of many such Totally Not Oreos that we are to experience on this trip.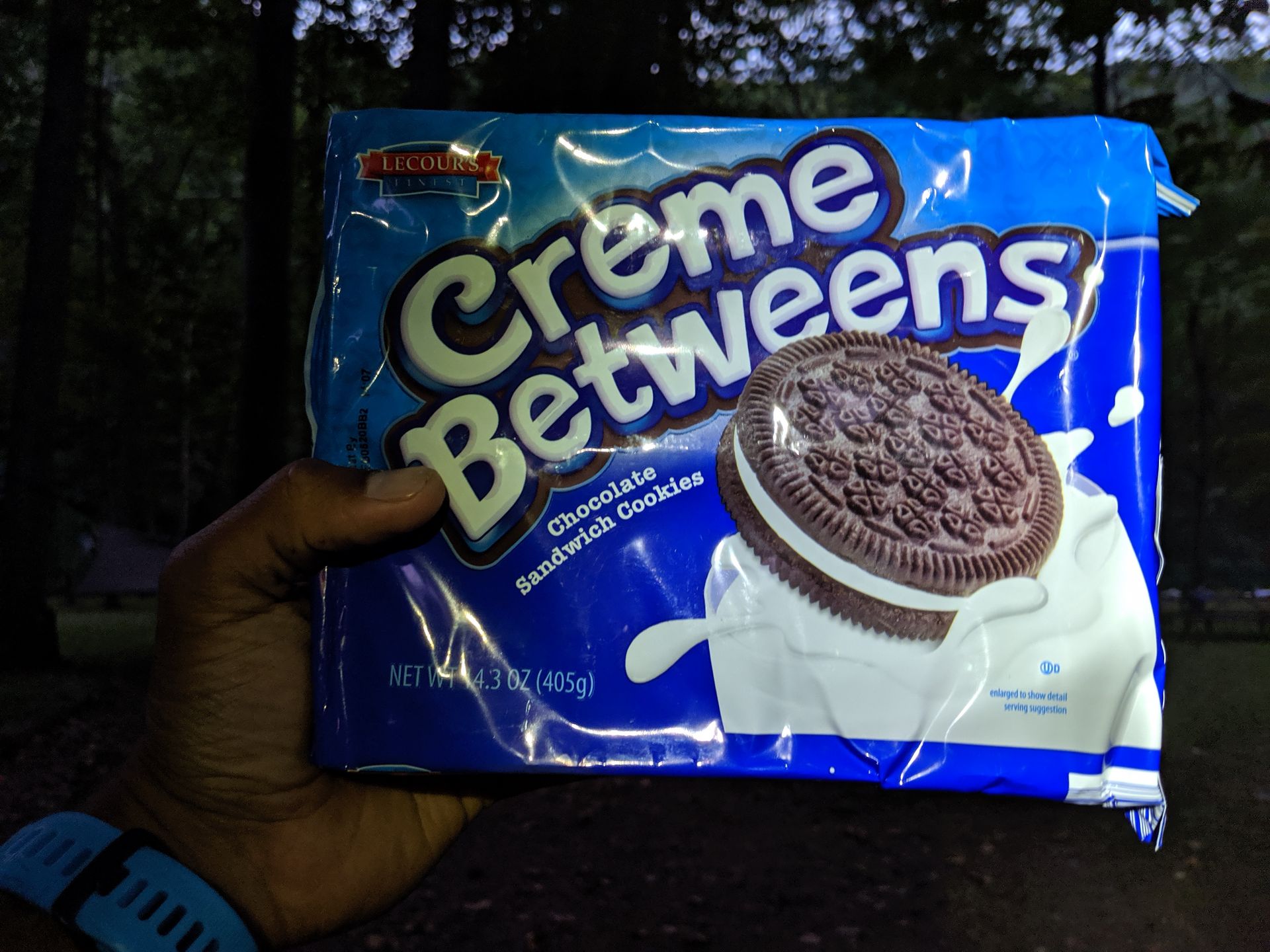 At the campsite, Armin cooks a delicious pasta dinner with mushrooms, onions, squash, and sausage for the non-vegan. We use the rind of our watermelon as makeshift bowls.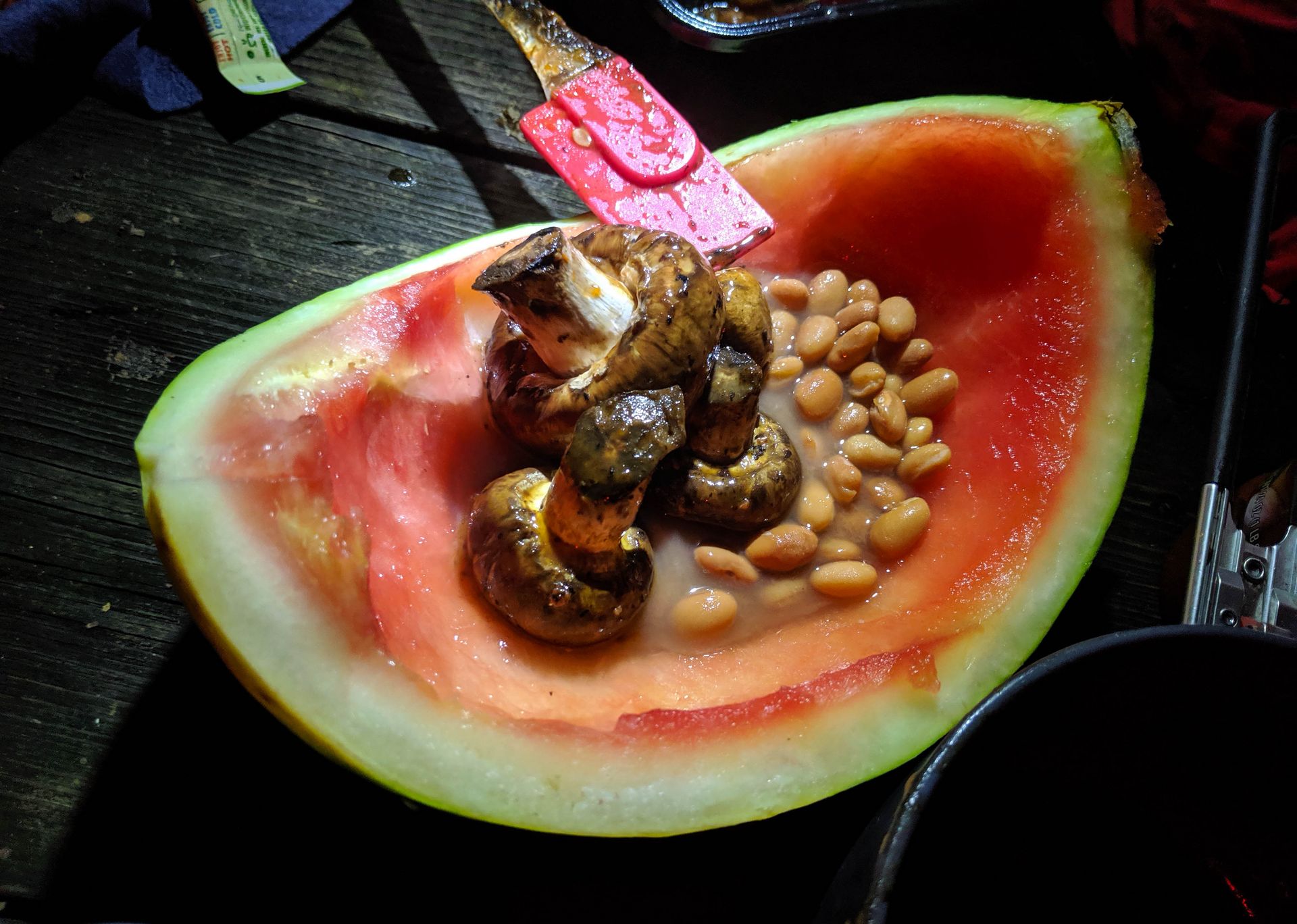 The campground has a water pump, but the water that comes out of it is brown and only useful for rinsing dishes. Armin takes a dip in the river. The weather forecast promises a thunderstorm for tomorrow. There are a few wooden shelters, but they are already taken. So we set up our tents under the trees and the sky.
Day 2: Things get wet
(From Roundbottom campground to Husky Haven campground.)
The night brings little more than a drizzle. I wrap my non-waterproof panniers in trash bags, and we continue onwards. The scattered rain makes the trail very wet, and by the time we get to Connellsville, we are covered in mud.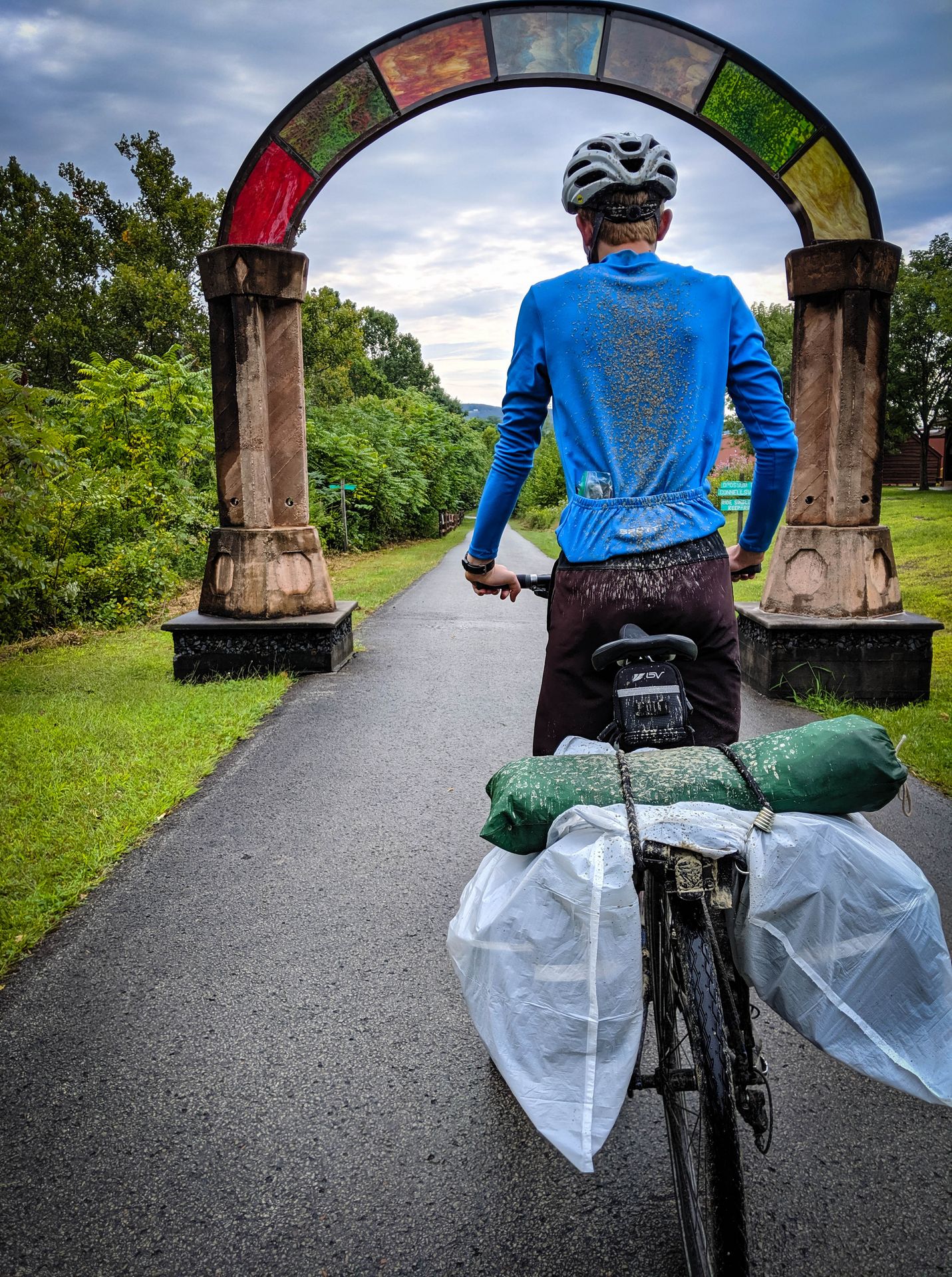 Despite the rain, the temperature remains comfortable, and riding under the trees is as beautiful as ever.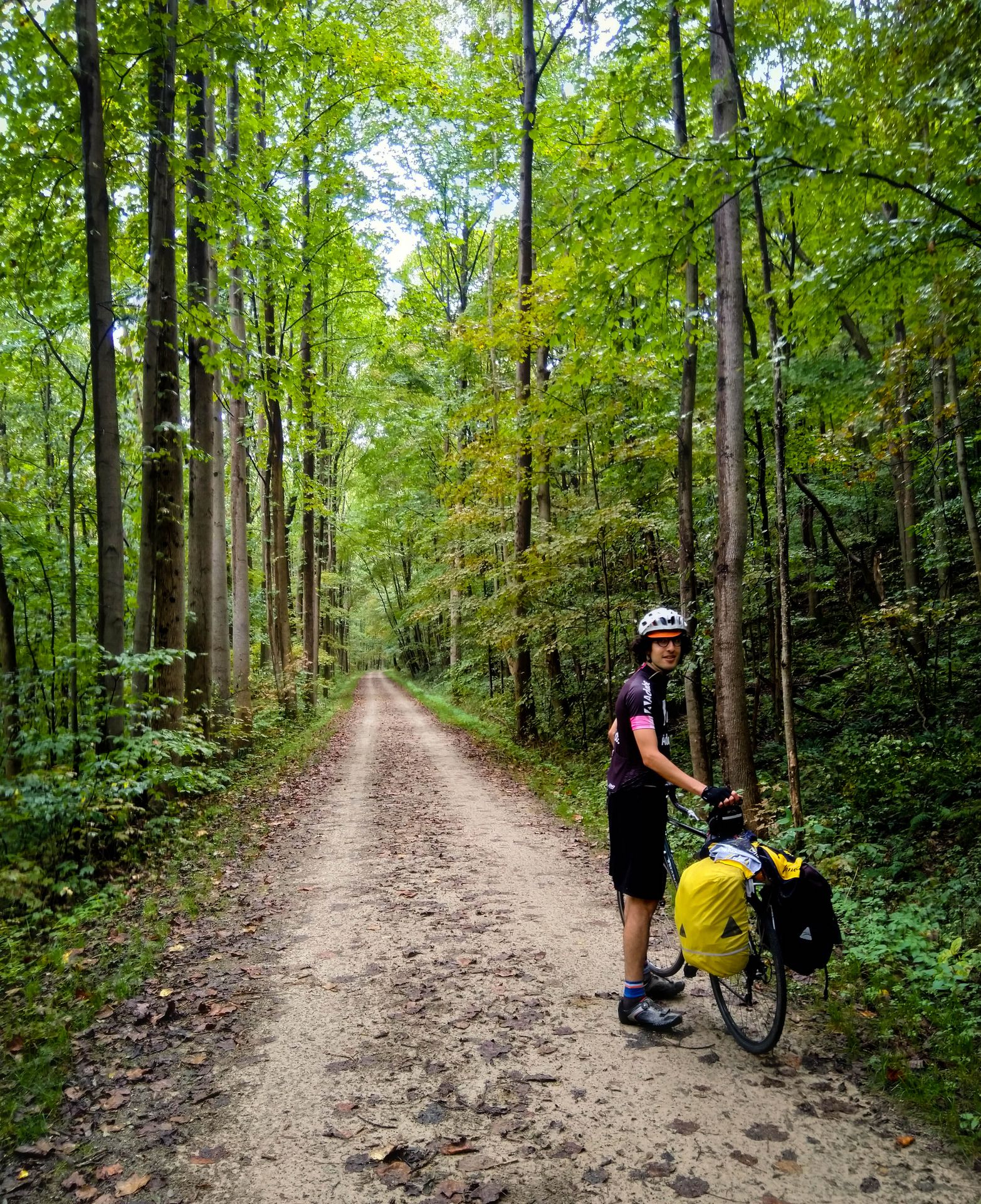 We decide to save some time and skip the side trip to Fallingwater, which would involve some additional climbing. Ohiopyle State Park is buzzing with people. We linger on the bridges and watch the kayakers on the river below.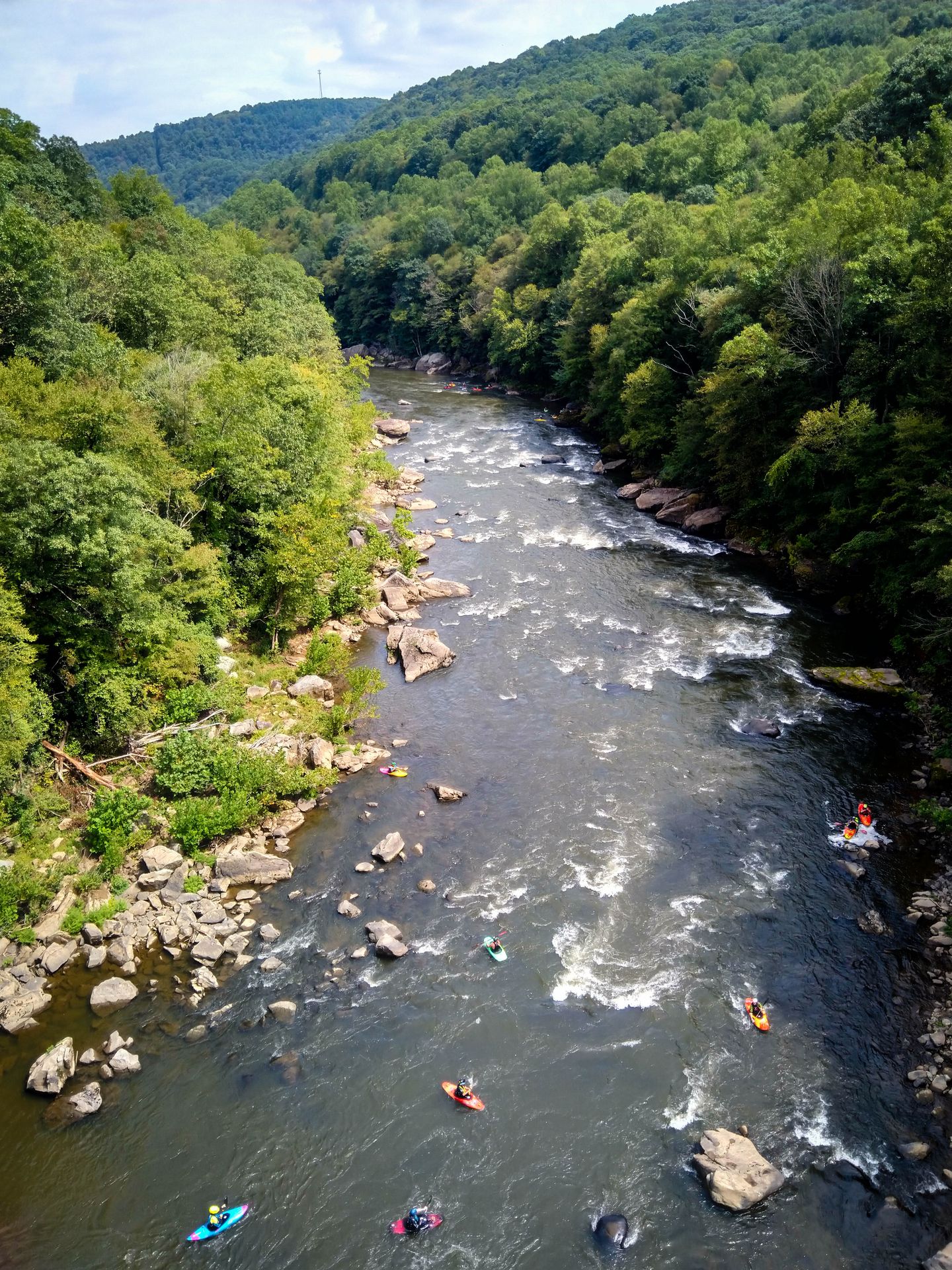 After our lunch stop in Ohiopyle, the trail starts to dry out again. We stop to check out the lake and dam near Confluence, and Armin gets his second flat. Sunil and I rush to the town's bike shop and score some chain lube five minutes before they close.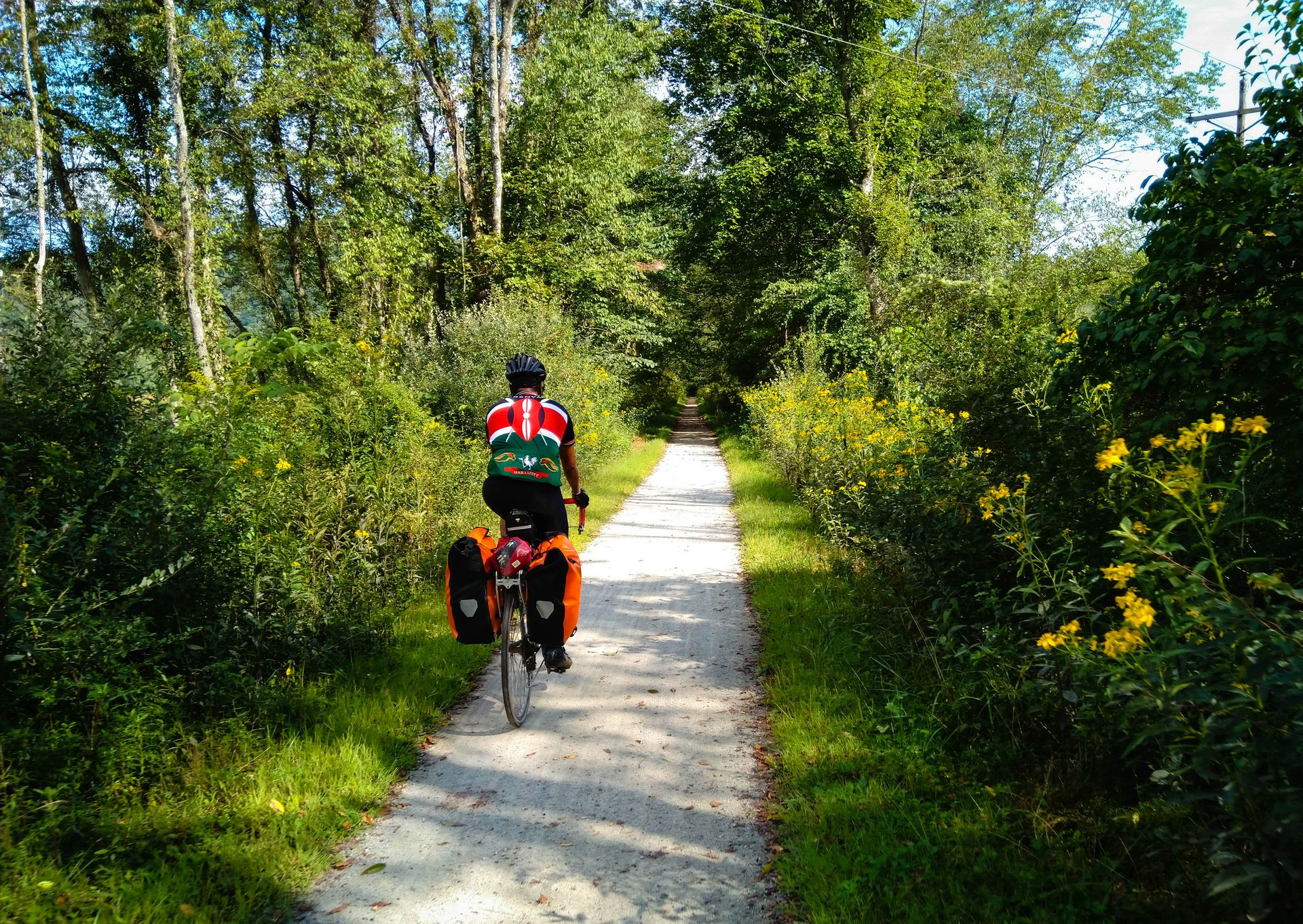 We pass through the Pinkerton tunnel, the first of our trip so far. Inside it's dark and it smells like my grandma's cellar. Lights would be a good idea next time.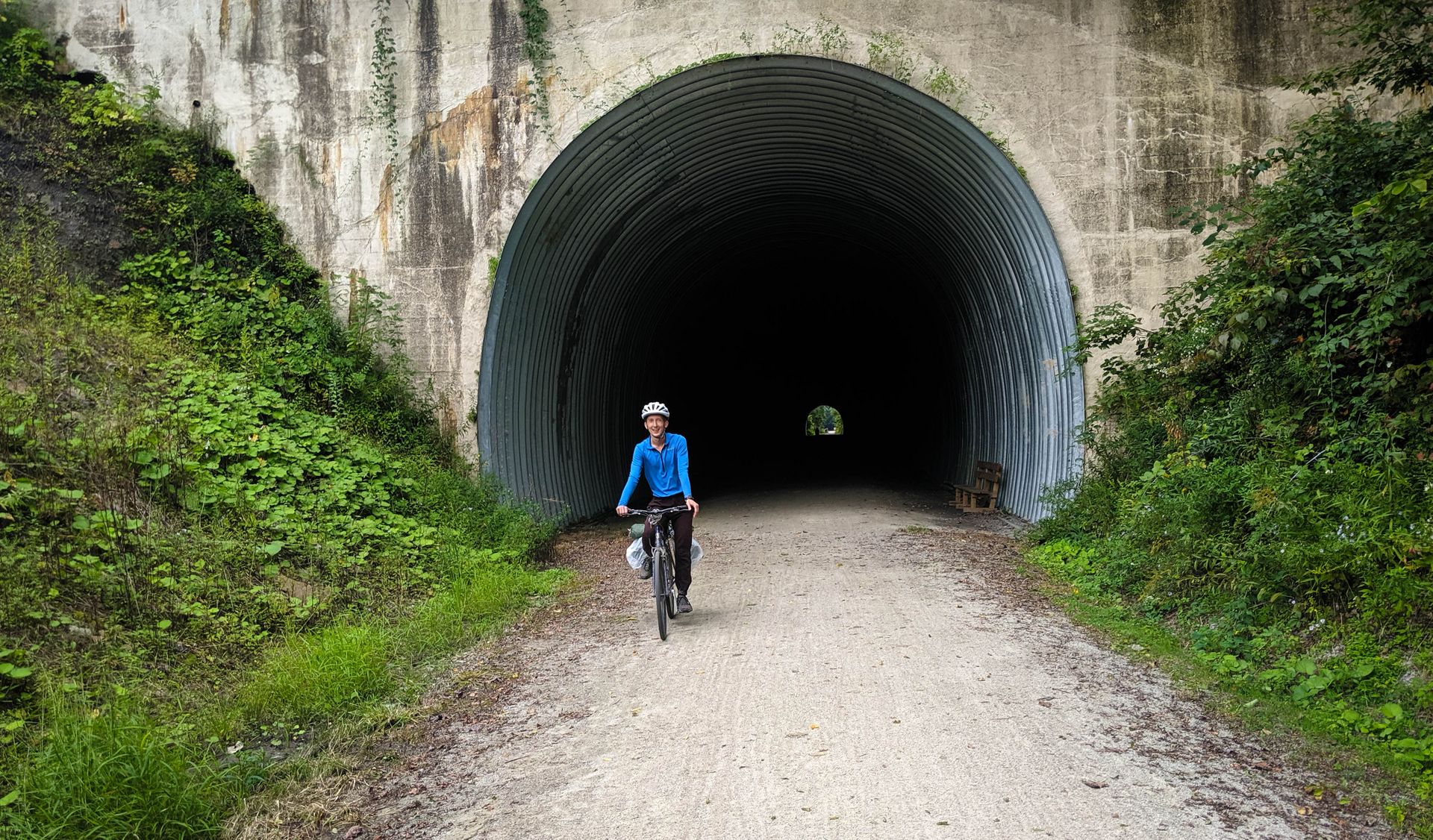 We arrive at Husky Haven, our only paid campsite on this trip. We get what we pay for: hot showers, laundry machines, and a high-pressure water hose that erases all the mud from our bikes (oddly satisfying). The one cafe and the one pizzeria in town are both closed. We resign ourselves to eating Clif Bars for dinner, but then we are rescued from this fate by a gas station convenience store that's still open.
Day 3: Big Savage
(From Husky Haven campground to Potomac Forks campsite.)
At night the thunderstorm arrives in earnest. The sky cracks up with lightning, and heavy rain hammers down on our tents. My cheap single-wall tent starts leaking, and the slow drip-drip-drip of water on my head and feet keeps me awake. In the morning the rain lets up and I finally manage to get some sleep. When I get up, my sleeping bag is completely soaked, and the air pad beneath it is an island in a puddle of water that has accumulated on the base of my tent. In what is probably the luckiest coincidence on this trip, this is our one night at a campground with a dryer machine available.
After about an hour of riding, we cross over the Salisbury Viaduct and admire the wide-open views below. There are wind turbines on some of the surrounding ridges.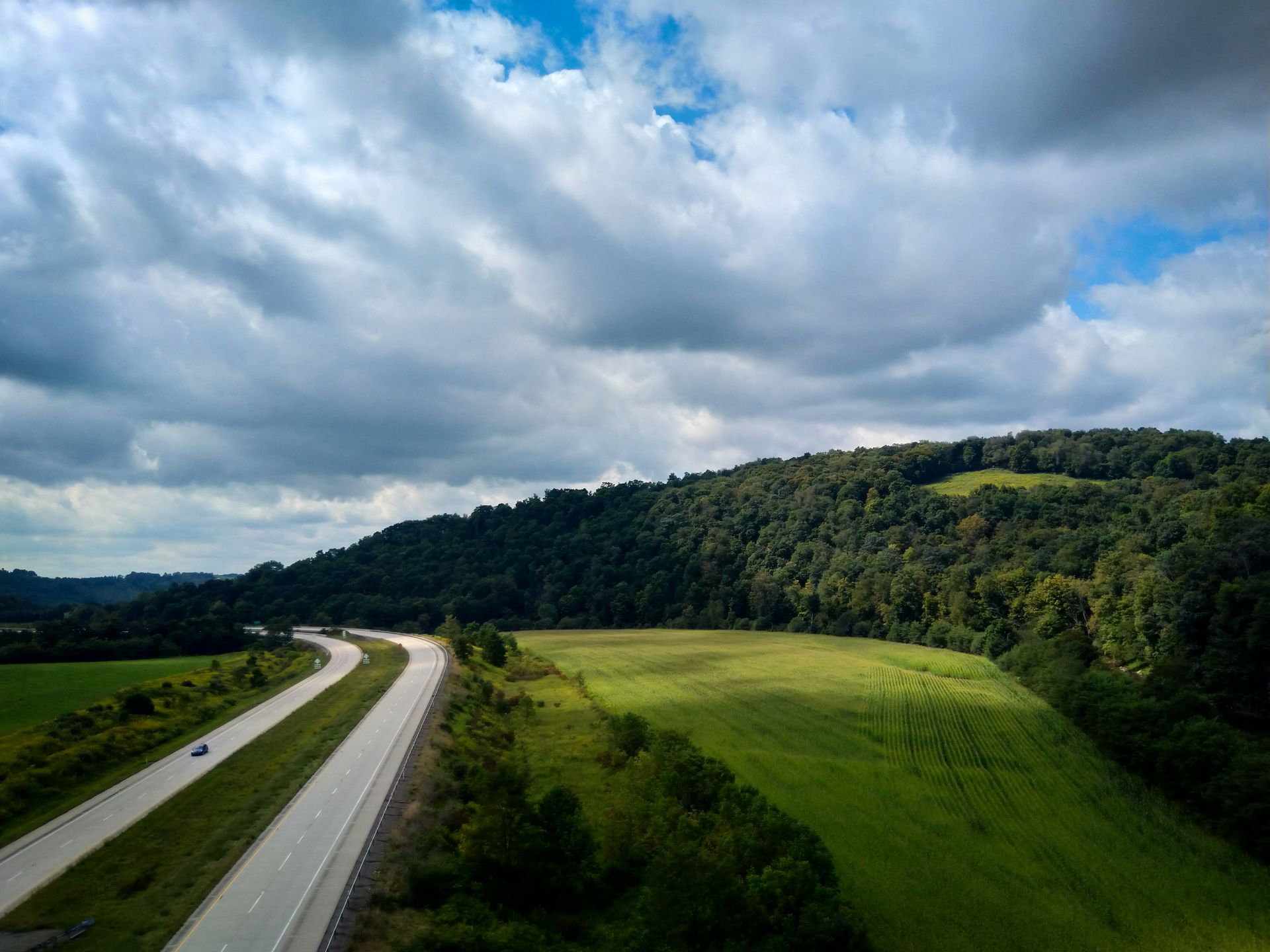 In Meyersdale there is a small railroad history museum. They even have a few model trains running. We treat ourselves to some ice cream.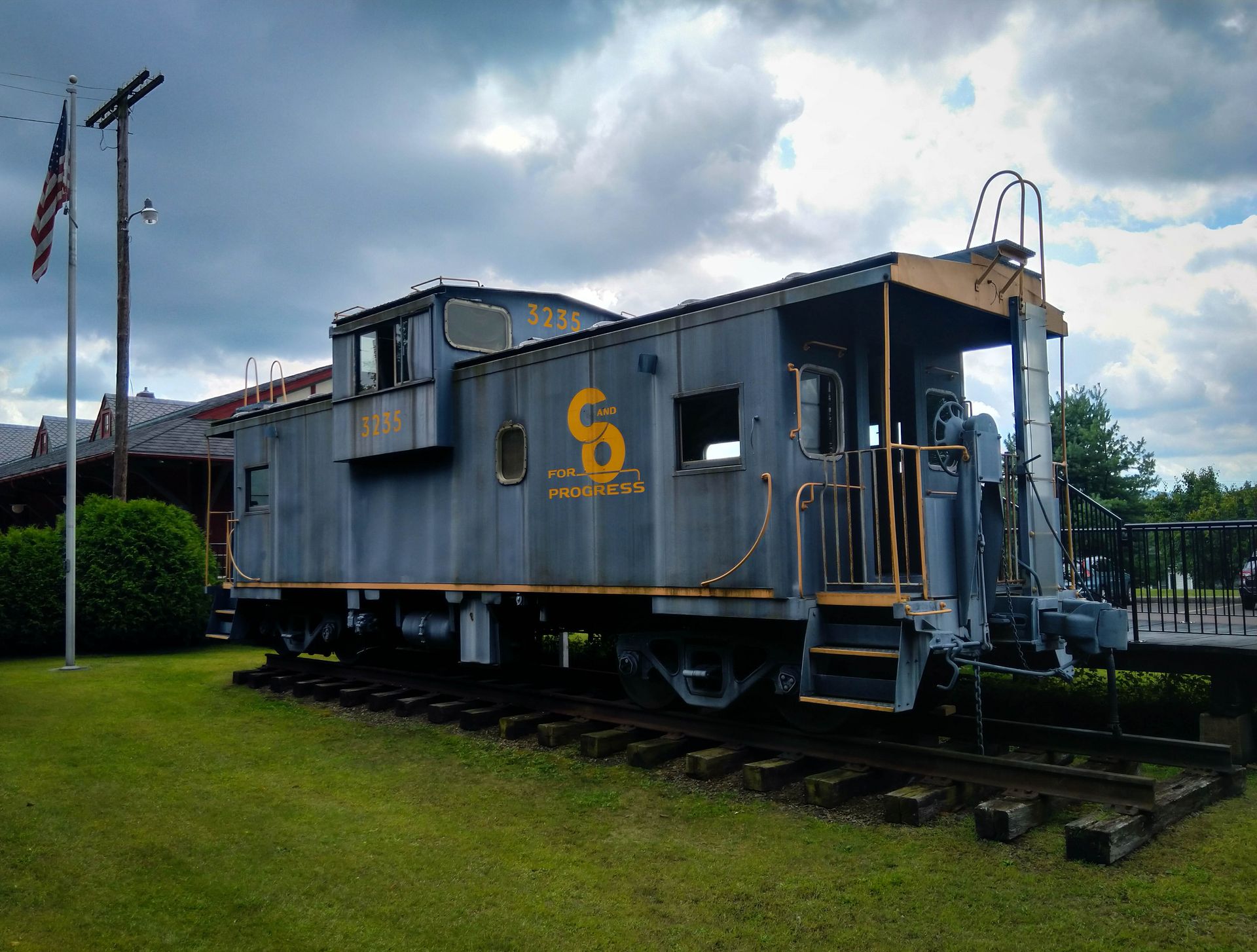 A bit later we reach the Eastern Continental Divide, the highest point on our trip at 2,392 ft (729 m) above sea level. It's all downhill from here.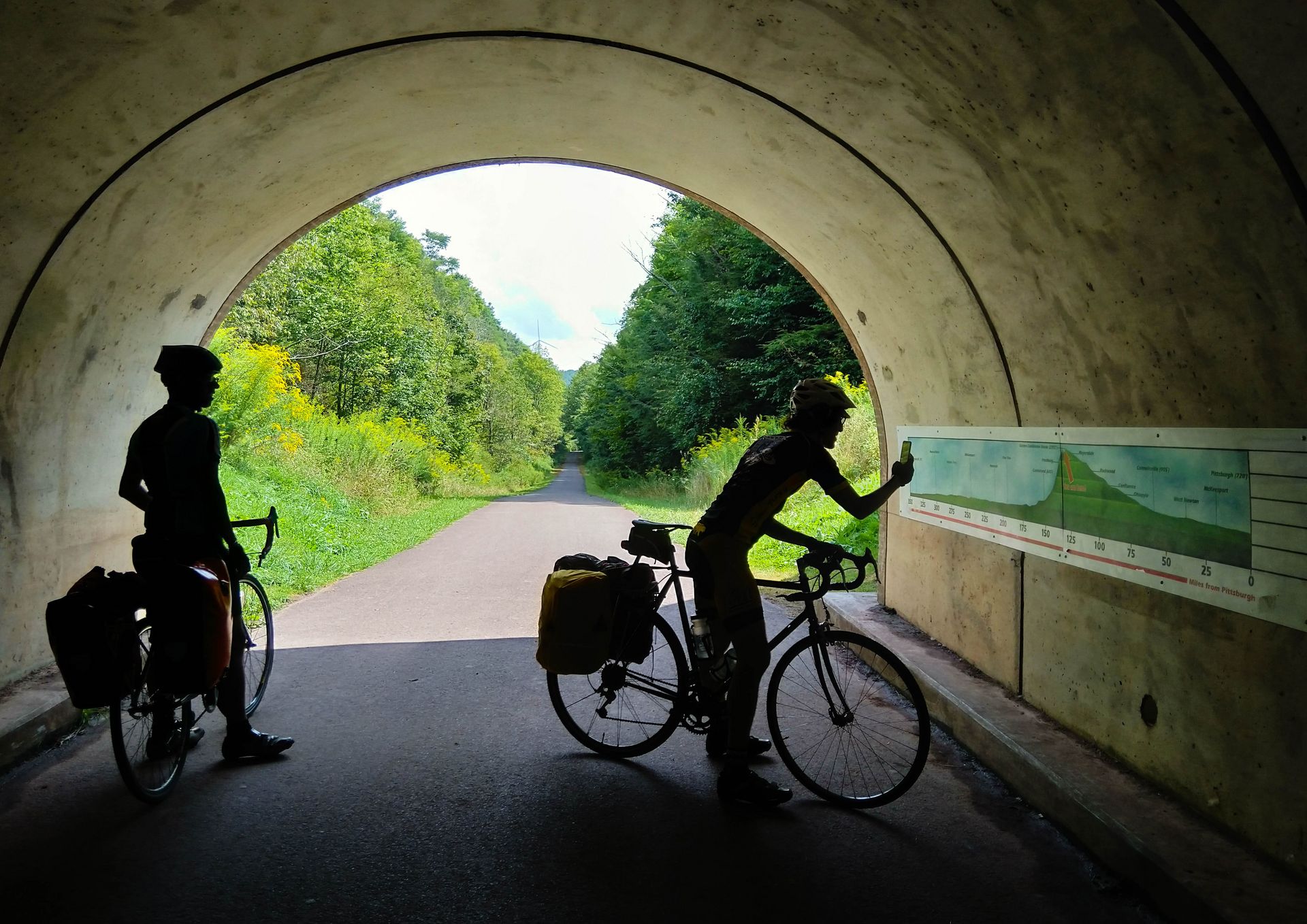 The next few miles are rich with landmarks. First we pass through the Big Savage tunnel, which is just over one kilometer in length. The temperature drops significantly inside. I am just marveling that such a cool structure was restored and made open to the public, unlike some other tunnels I can think of.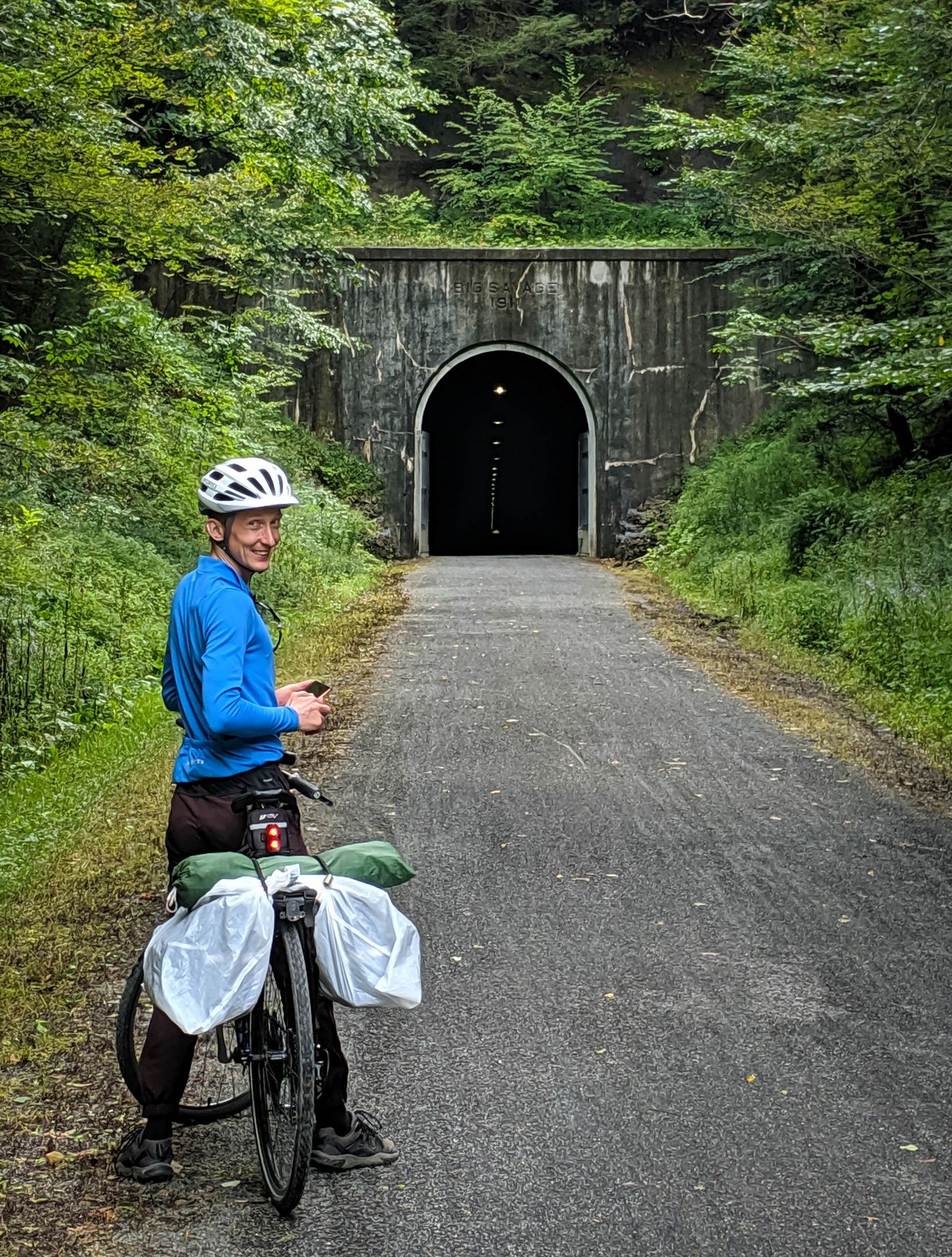 Shortly after that we cross the Mason-Dixon line, which I have to look up on Wikipedia.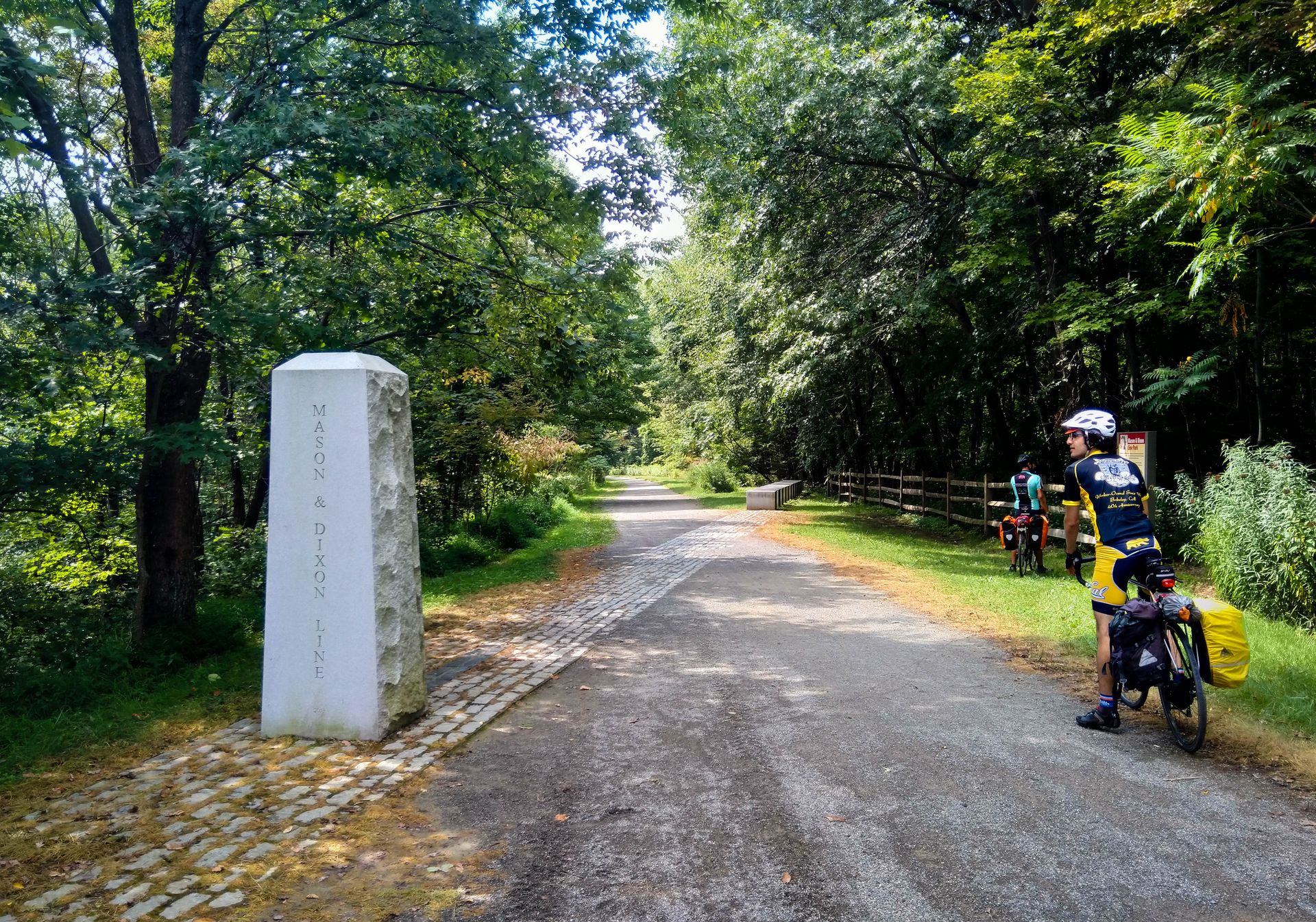 From there we are on a sweet and steady descent all the way to Cumberland. Six miles before town, my old front tire finally gives up the ghost. After patching and pumping, there are two alarming bumps visible on the tire, and I give them the duct tape treatment like last time. I get a new tire at the bike shop in town. We also stop for a hearty lunch.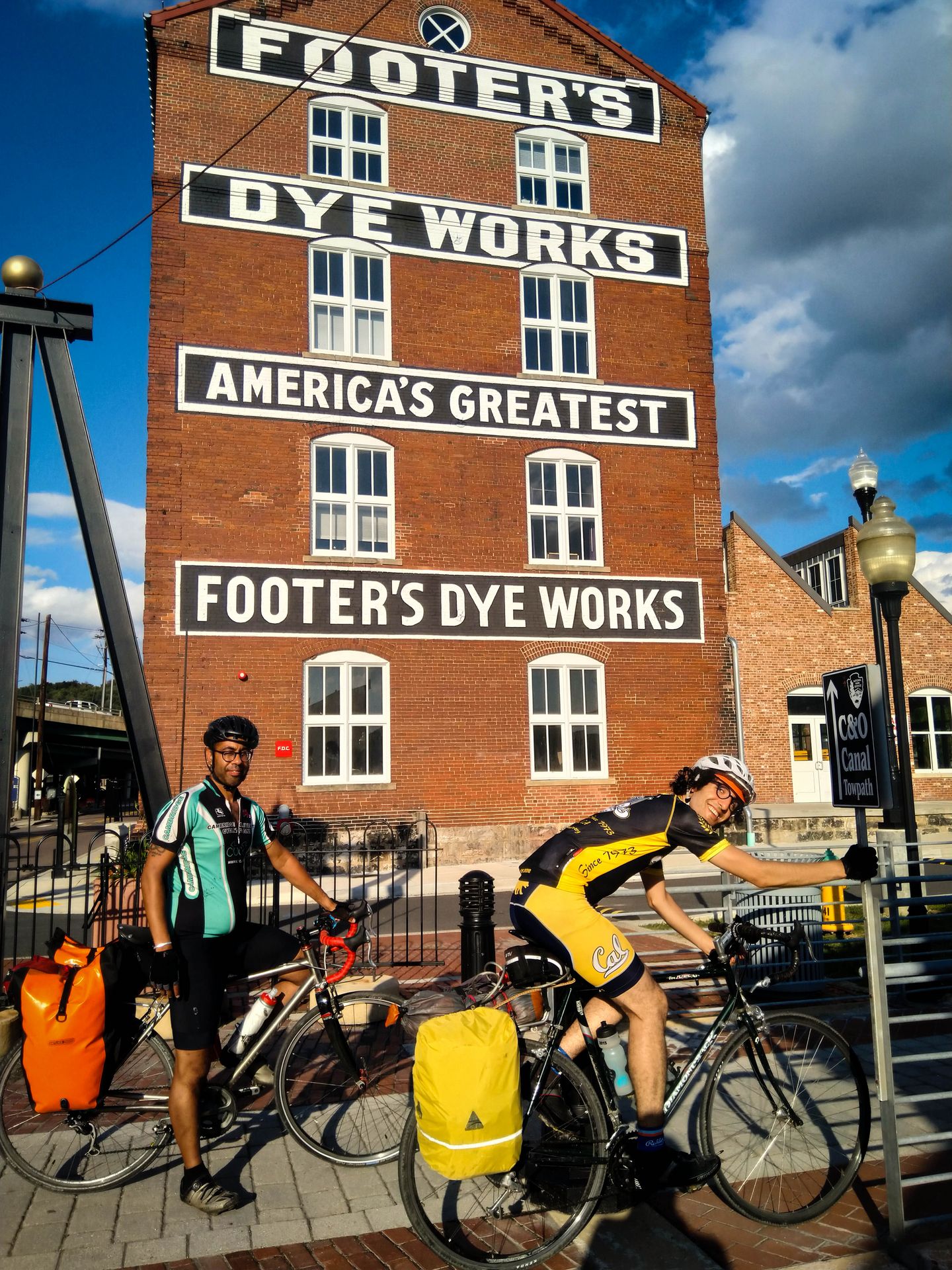 Cumberland marks the end of the GAP trail and the start of the C&O towpath. The downtown area near the trail junction looks stylish and recently built. I am surprised to learn from Wikipedia that it is one of the poorest areas in the US.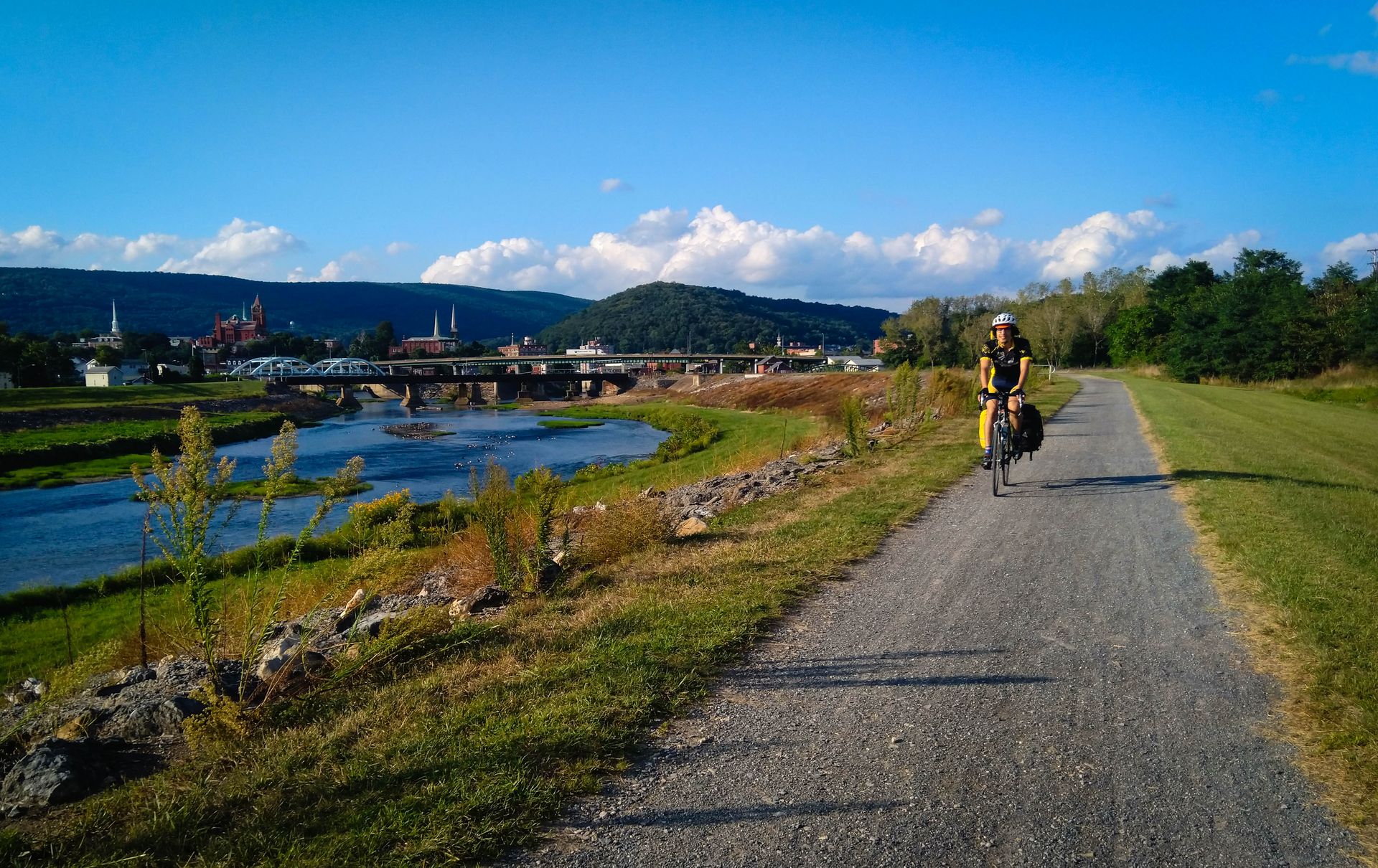 The trail is smooth and dry initially, but pretty soon it turns into a bumpy mudfest. I start to understand why people recommend MTB tires for the C&O. Sunil says he is energized by the newly technical terrain.
When we reach our campsite, it's already getting dark. The mosquitoes are vicious. We devour some DIY burritos and debate where to set up our tents. The best spot, next to the one picnic table, is already taken by another cyclist. Sunil and I choose the north side of the trail, where we will be sleeping on a slope. Armin chooses the south side of the trail, where he will be sleeping next to a creepy boarded-up lockhouse.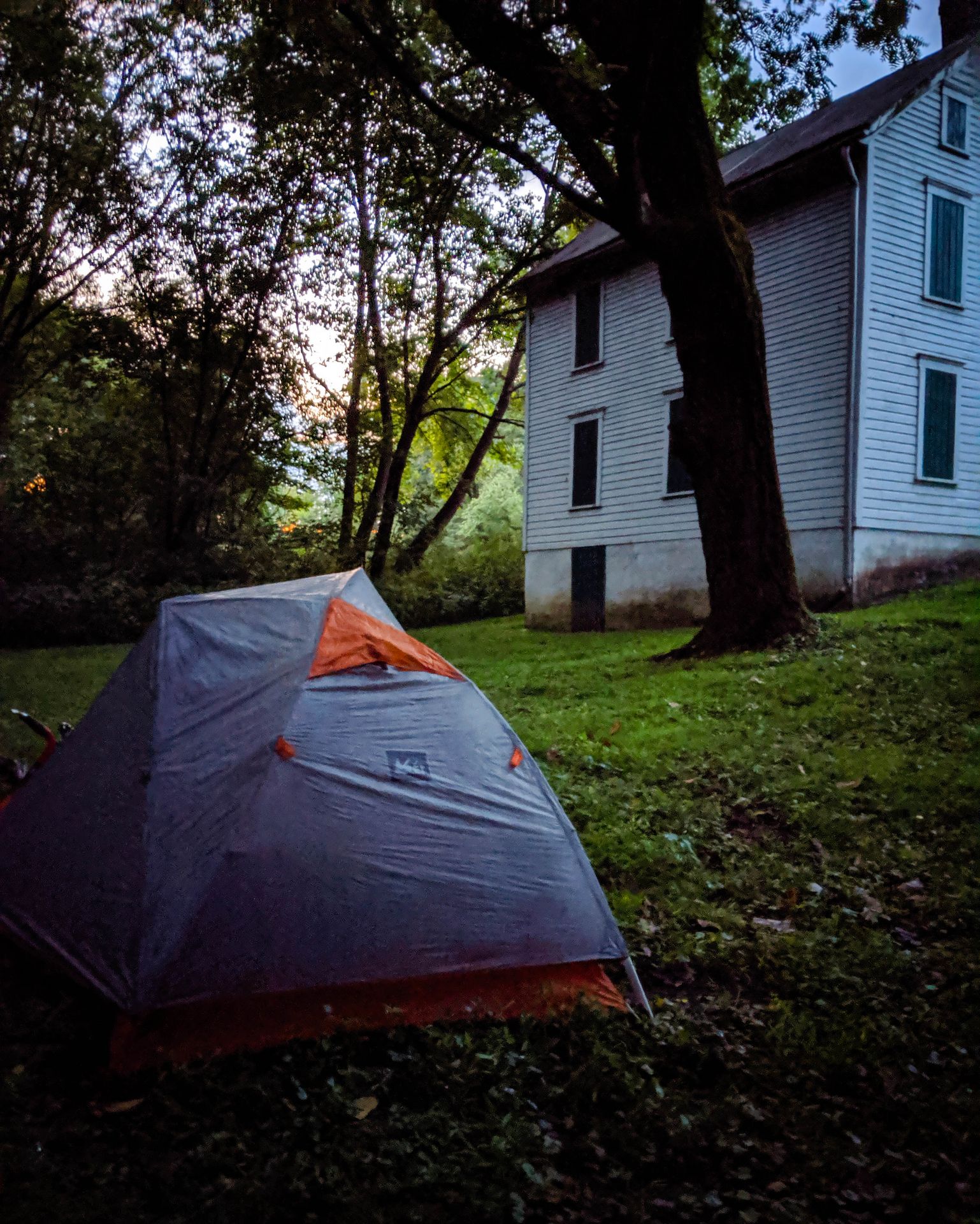 Day 4: River swim
(From Potomac Forks campsite to North Mountain campsite.)
I hear some noises at night, and I worry about rats finding the garbage bag that we left outside. But when I get out of my tent to check, there's nothing there. Just water dripping from the trees. Everything is shrouded in a mysterious mist in the morning. It feels like we are very far from civilization.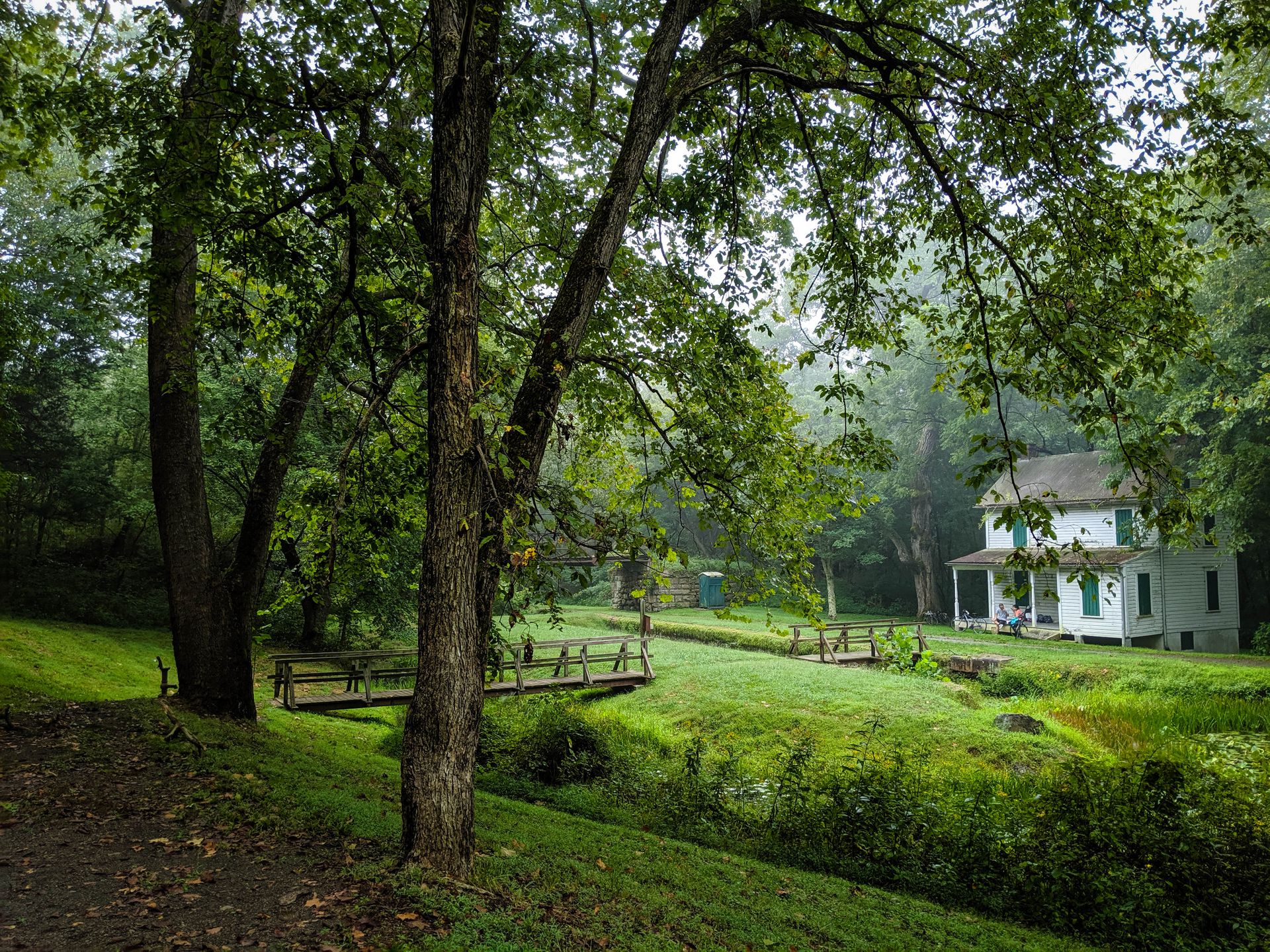 The box of Cremes from last night gets turned into a makeshift fender, which works surprisingly well to keep my rear wheel from spraying mud all over my back.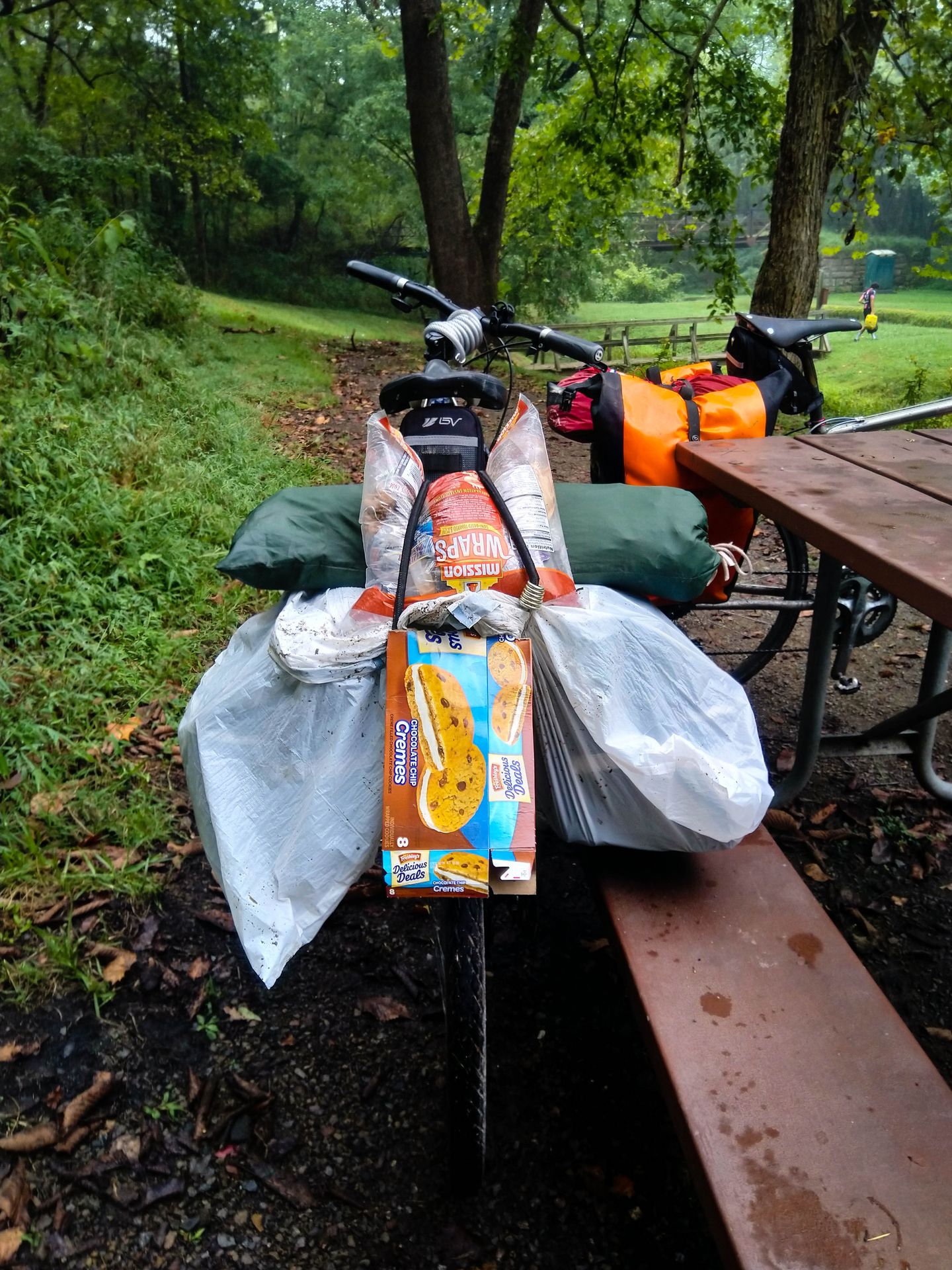 We ride through the Paw Paw tunnel, which is almost as long as Big Savage. The air inside smells ancient, the trail surface is treacherously uneven, and cold water drips from overhead in a few spots. On the other end, the mouth of the tunnel looks like something out of Tomb Raider.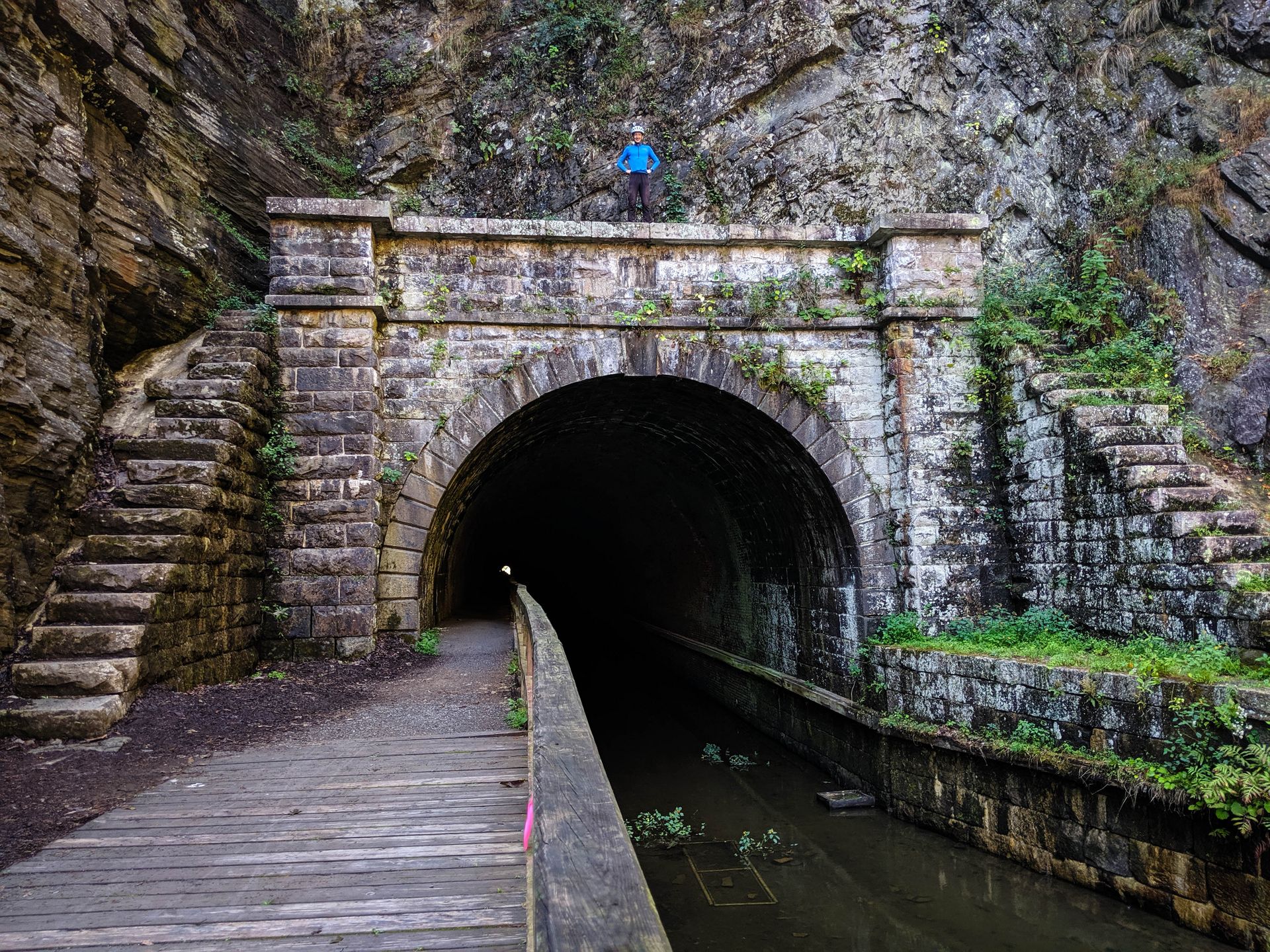 Later in the day, the trail finally starts to dry out. We stop for a big lunch in Hancock, and top it off with a decadent amount of ice cream.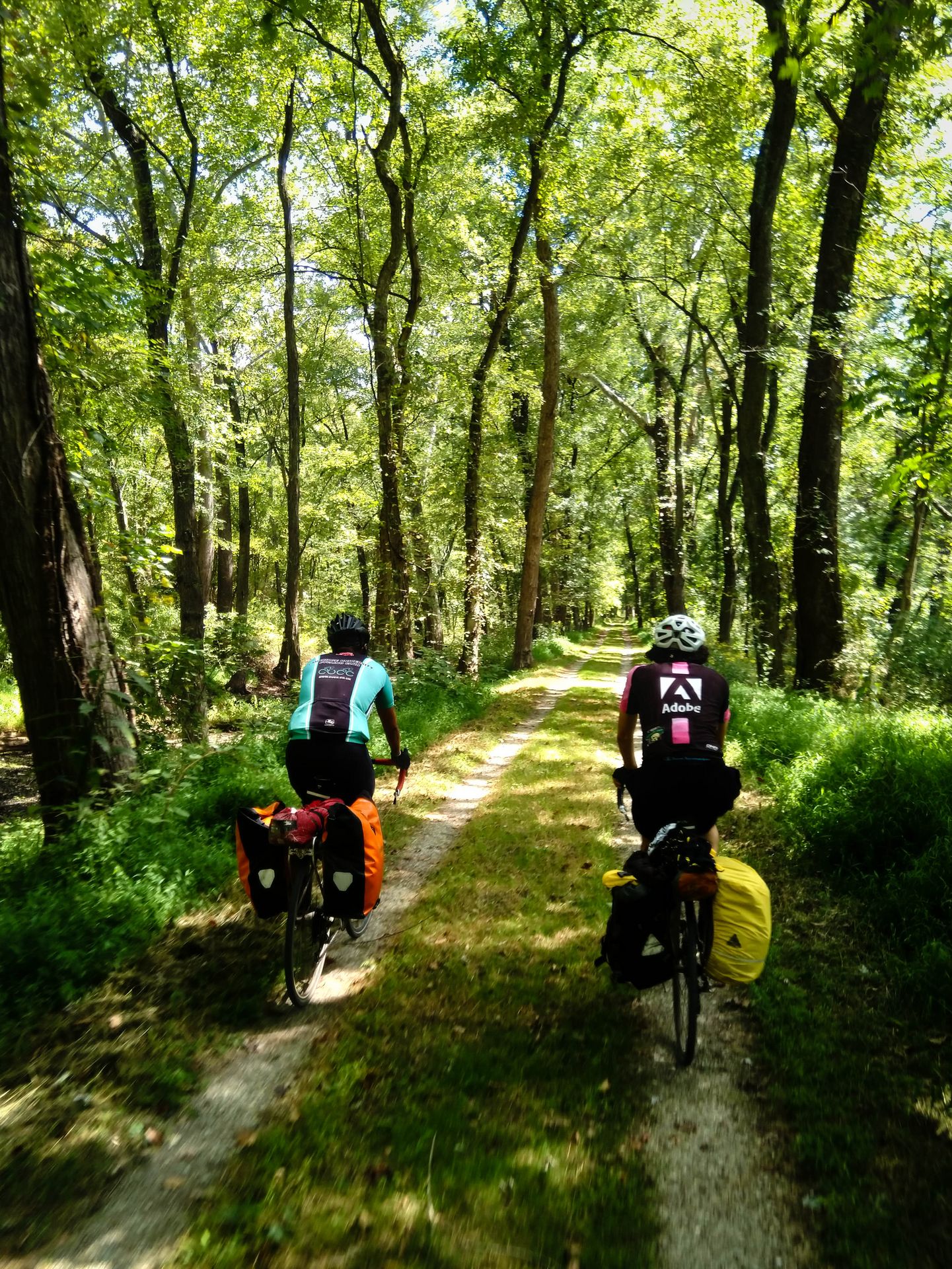 A few miles before our night stop, we take a detour to see Fort Frederick State Park. There's no one else there. The walls of the fort are 5 meters high (17 feet), but unfortunately there are signs not to climb them. The coolest feature is the shape of the fort: a square with a single entrance and four bastions in the corners, designed to allow shooting at anyone trying to climb over the walls.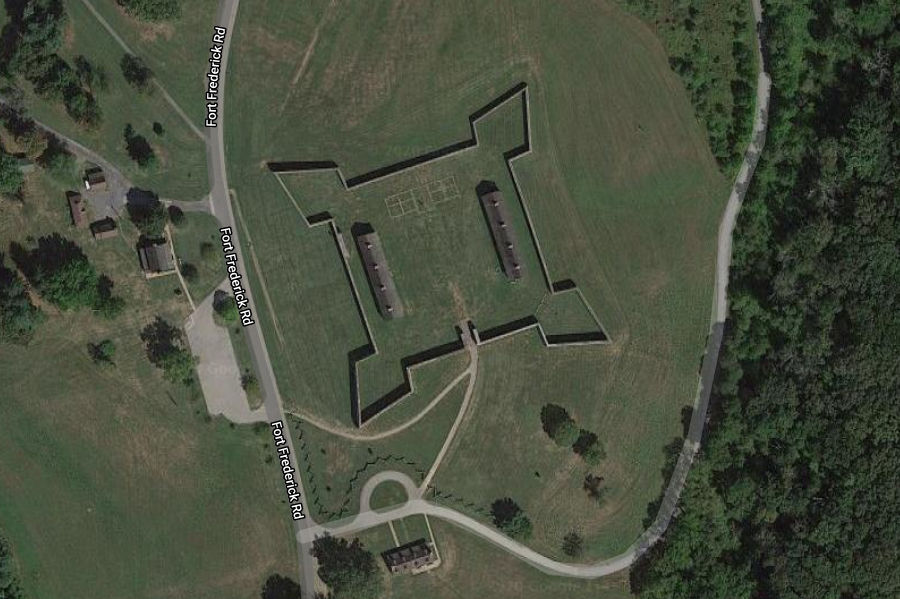 Our campsite is right on the Potomac River. We find our way to the water and take a dip. The sun bathes the trees on the other shore in soft light as it sets. The air fills with the sounds of frogs and cicadas. We collect some dead wood and make our first campfire. Our dinner tonight comes in the easy form of freeze-dried meal pouches.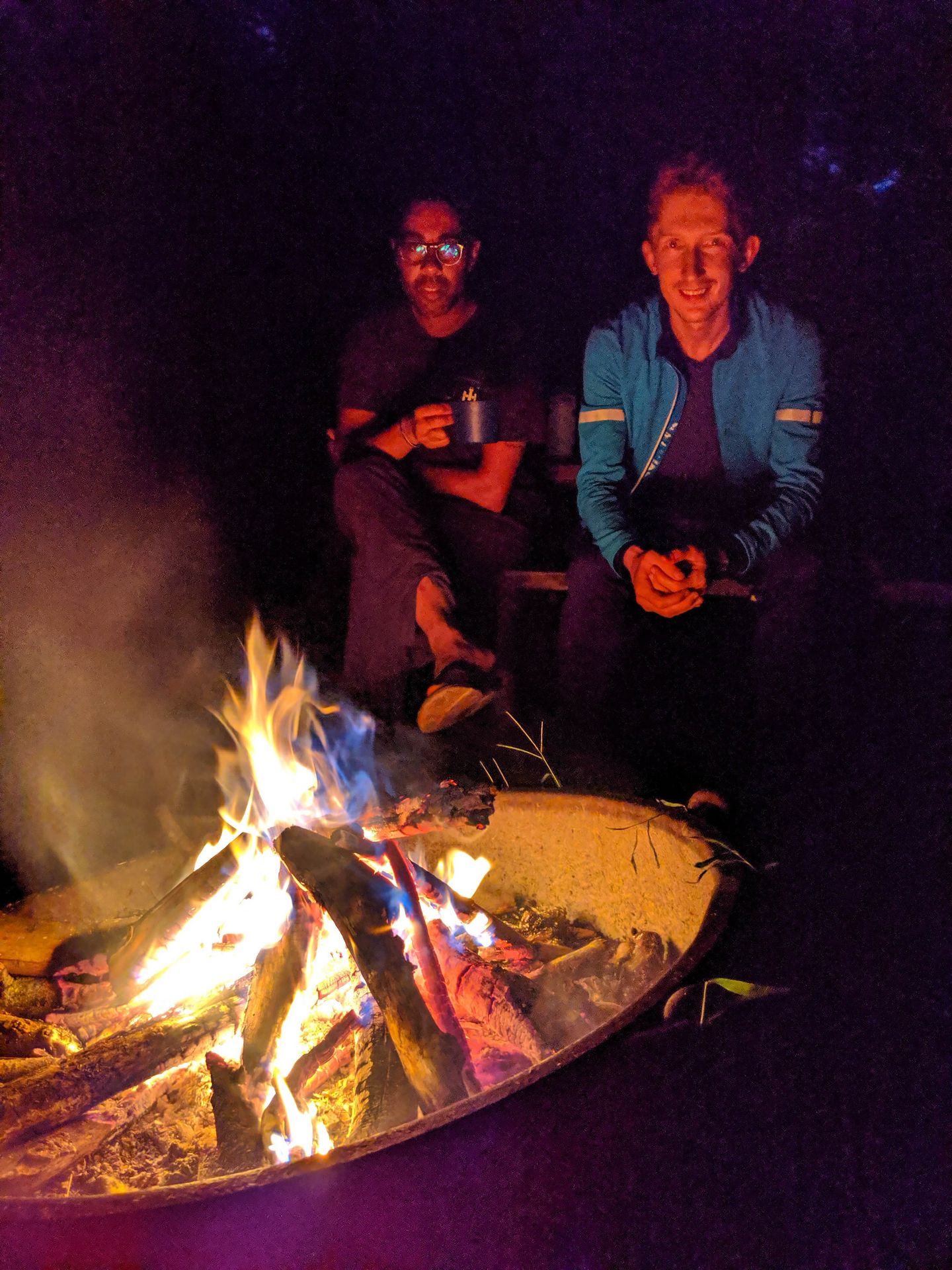 Day 5: Pawpaw
(From North Mountain campsite to Calico Rocks campsite.)
A lot of freight trains pass us by at night. With only 200 feet between us and the railroad, approaching trains sound like they're coming straight at us. In the morning we reluctantly fill our bottles with iodine water from the well. As we start riding, the trail joins the river for a while and gives us some ample views.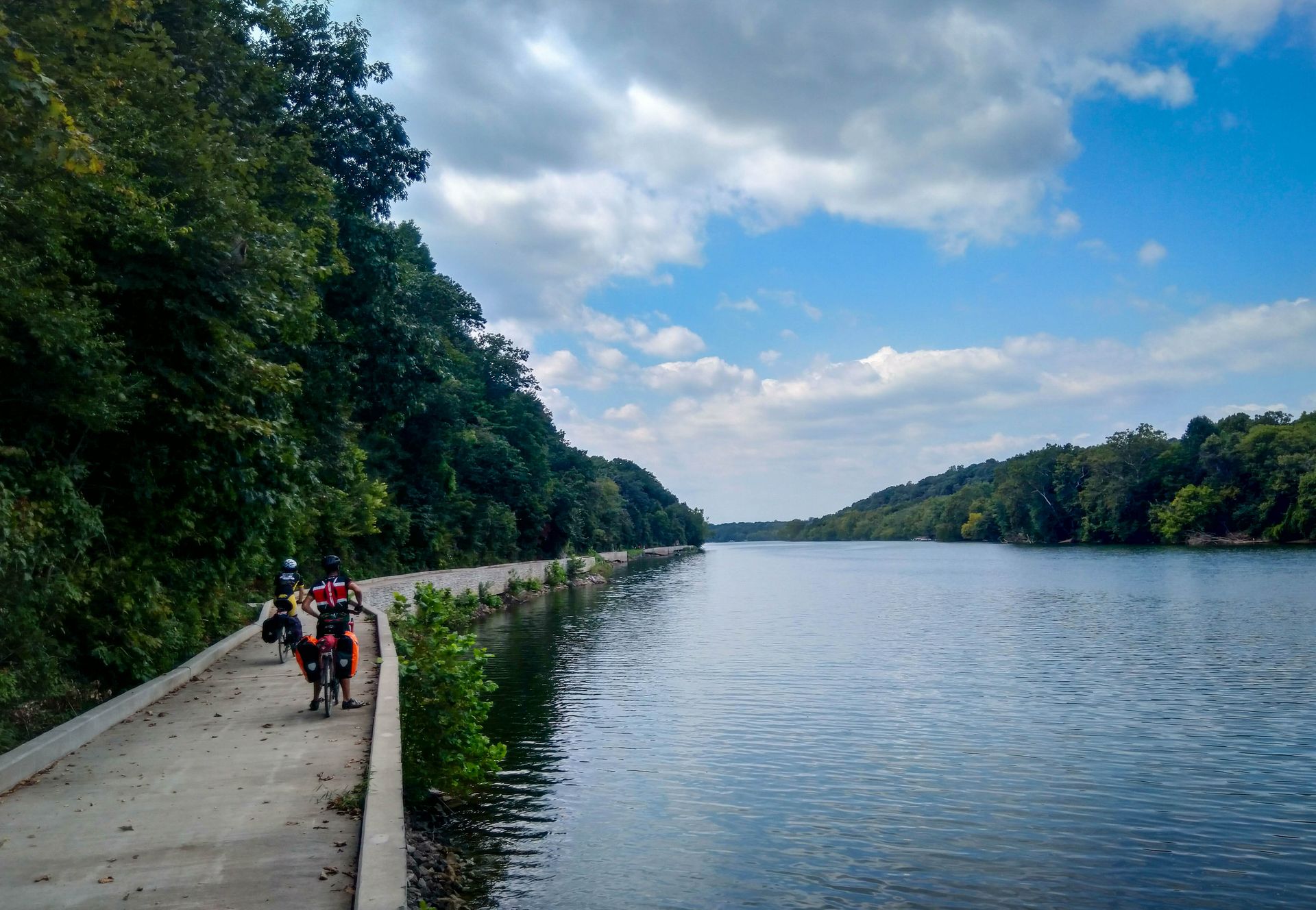 We take a detour over some unexpectedly steep hills to see the Antietam National Battlefield. There's an air-conditioned museum there, where I do a very Moldovan thing and bail at the $7 entry fee. Outside in the heat, among the cornfields, there are monuments to the various states that fought in the Civil War. New York's is the most imposing.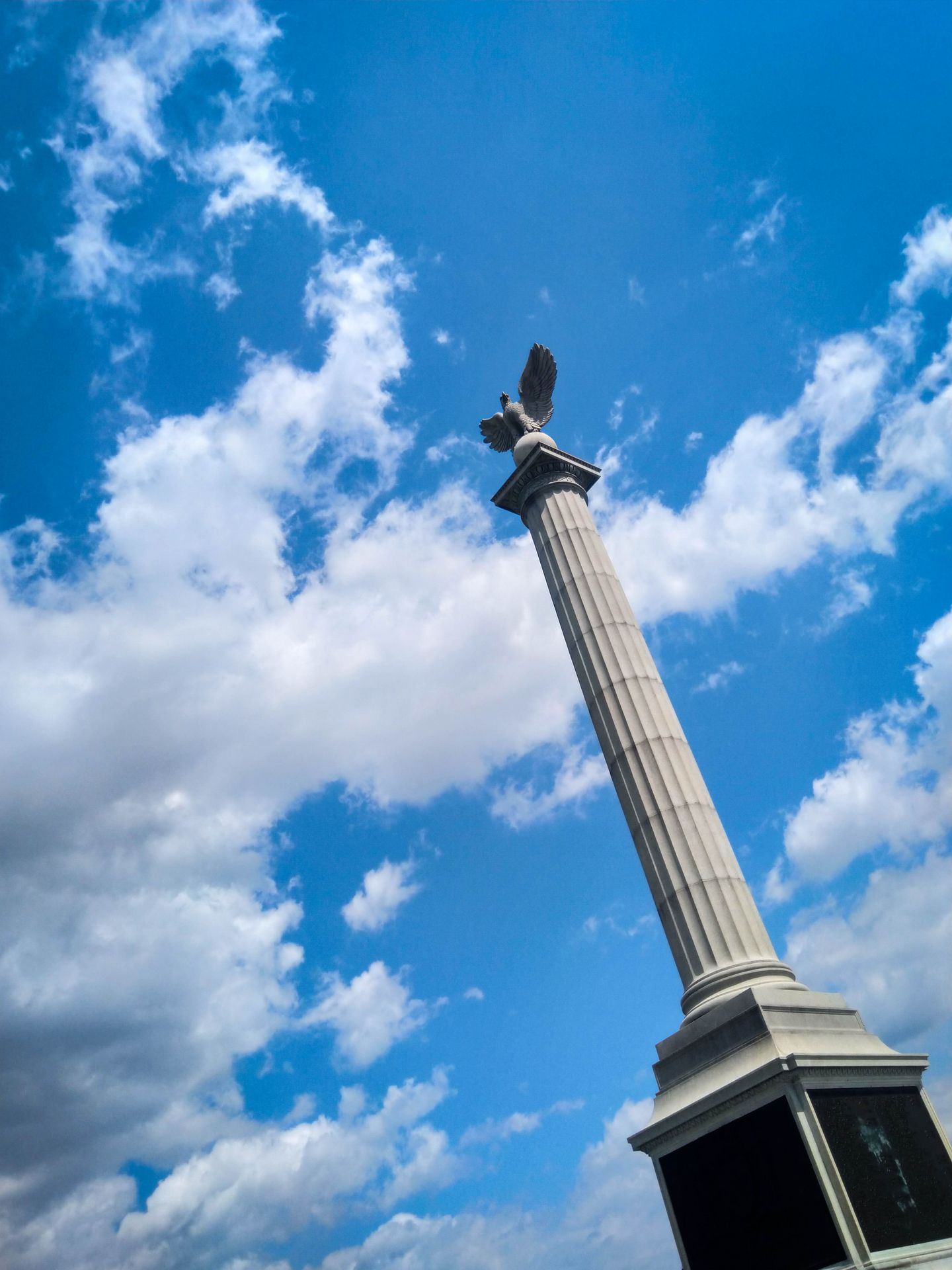 We cross the river into West Virginia and eat lunch in Shepherdstown.
Back on the trail, another cyclist gestures at us in alarm and says "please stop." His bike is leaning against a tree, loaded with about four times more stuff than our bikes. We ask him if something is wrong, and instead he says, "Can I offer you some fruit?" He opens a bag full of the bruised, yellowish-green blobs that we've been seeing on the trail lately, and says that these are pawpaw, the state fruit of Ohio. We are hesitant to try them because the guy seems kind of weird and we've never heard of such a fruit before. He asks us where we're from and exchanges a few words in Farsi with Armin. This establishes a bit of trust, and Armin and I eventually try the fruit. Despite their questionable appearance and slippery texture, they taste quite good, a bit like bananas with a hint of citrus.
As we are saying our goodbyes, the guy stops us with another off-the-wall question: "Can I tell you a joke?" "Sure." "A man walks into a psychologist's office wrapped head-to-toe in Saran wrap. The doctor takes one look at him and says, I can clearly see you're nuts!"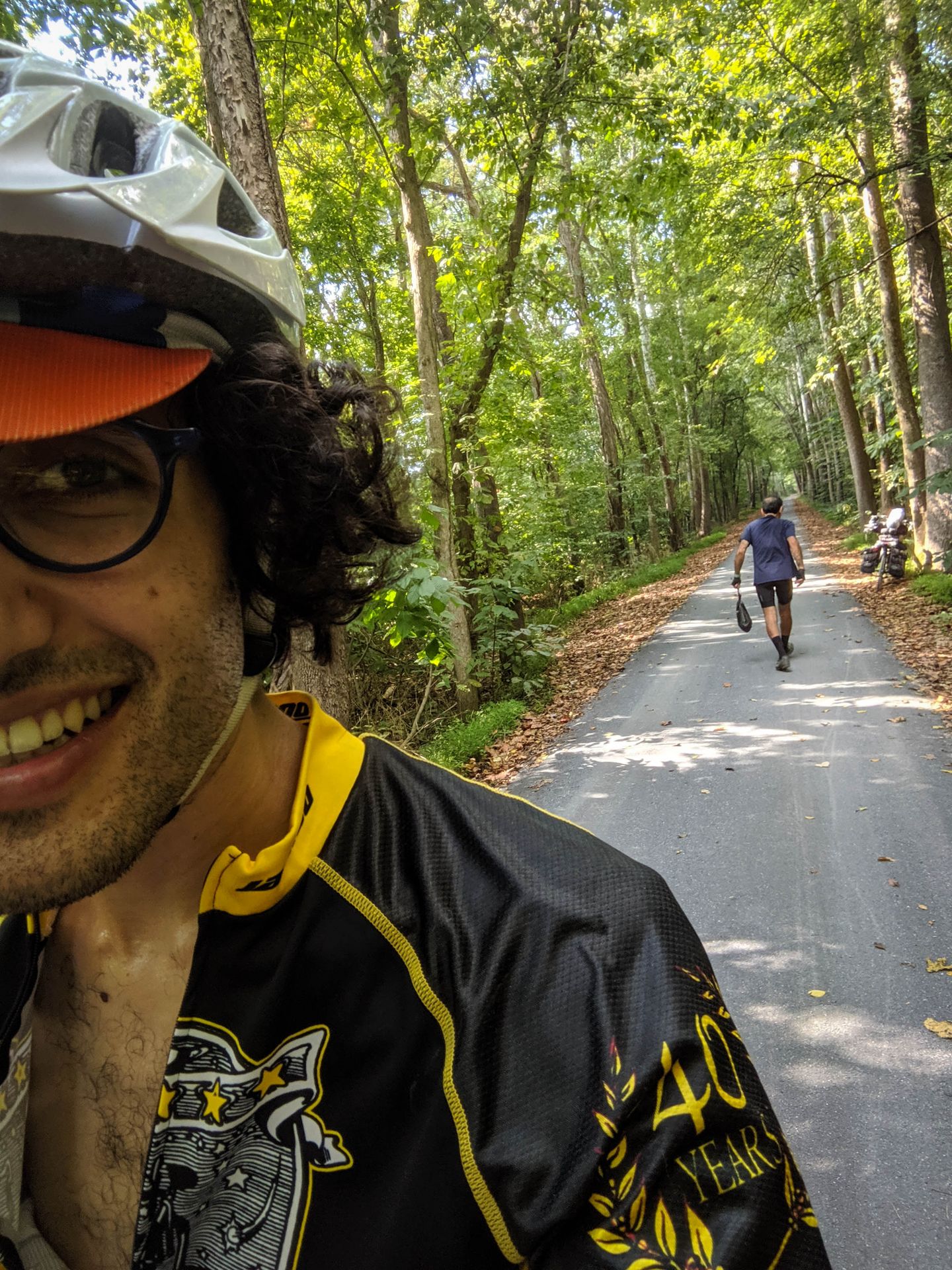 Where the C&O meets the Appalachian Trail, there is a cool viewpoint called Weverton Cliffs. Unfortunately the hike there involves a few hundred feet of climbing, and it's already late in the day, so we leave it for another time. The scenery from the trail itself is plenty.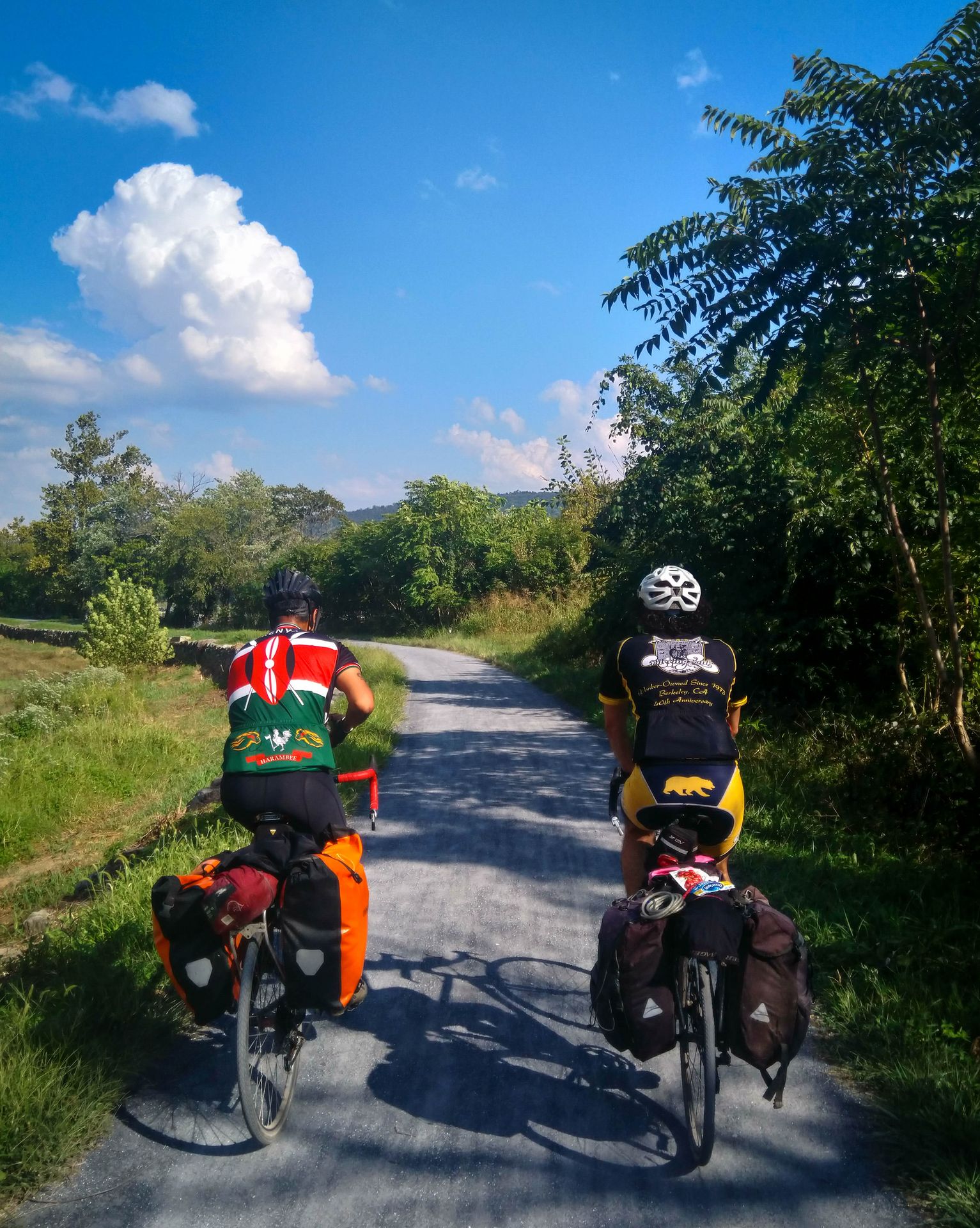 In Brunswick we climb away from the river to the supermarket. The trail takes us through a park, where we cross no fewer than 11 bridges. We score another box of Oreo knockoffs.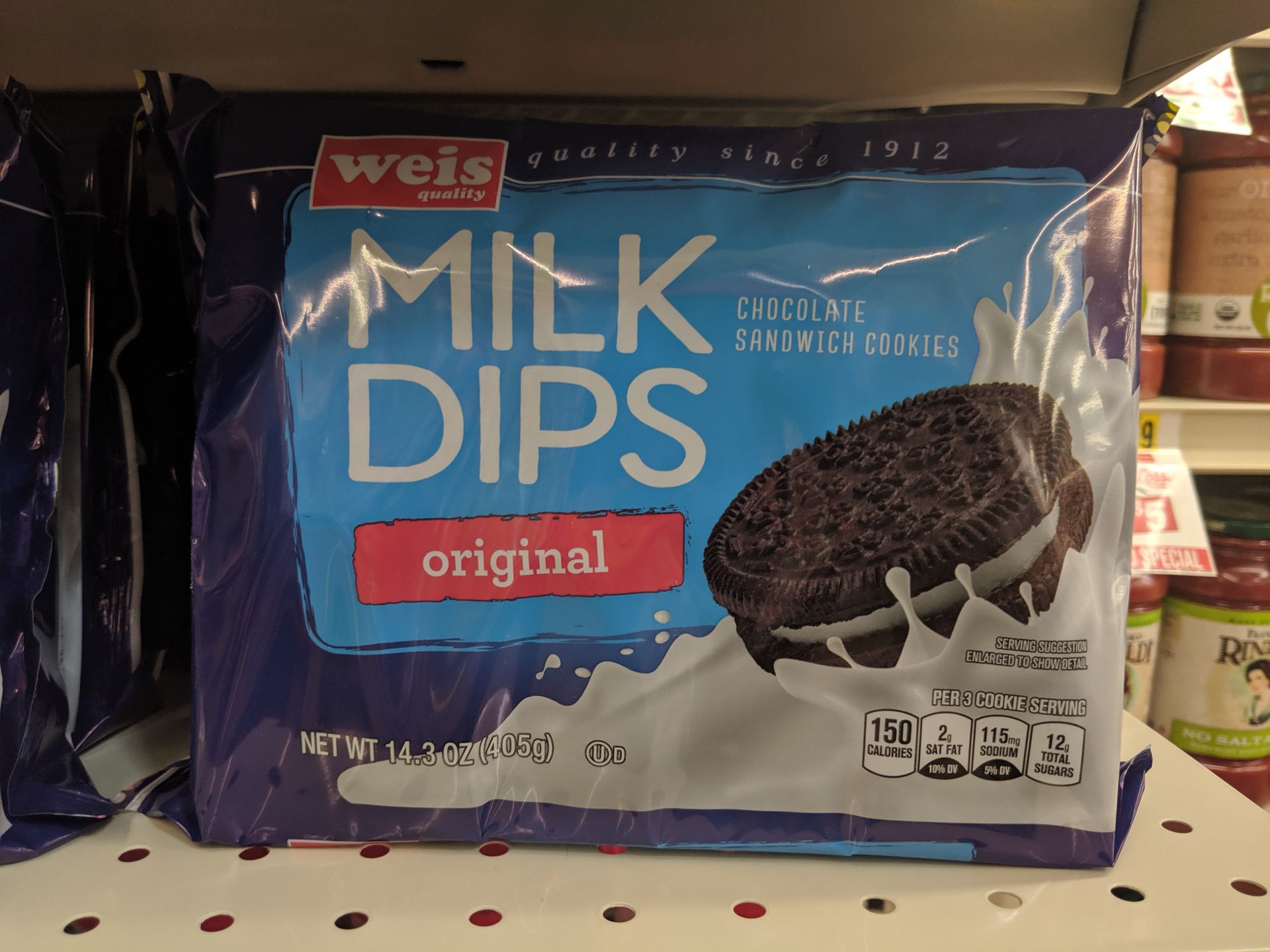 At our campsite, the bugs are ferocious as usual. We meet a Texan who says he's been backpacking for four months. He has a giant tent and looks like he's been living there for a while. Our day ends with one more rinse in the river, and one more extravagant dinner prepared at our campstoves under Armin's direction.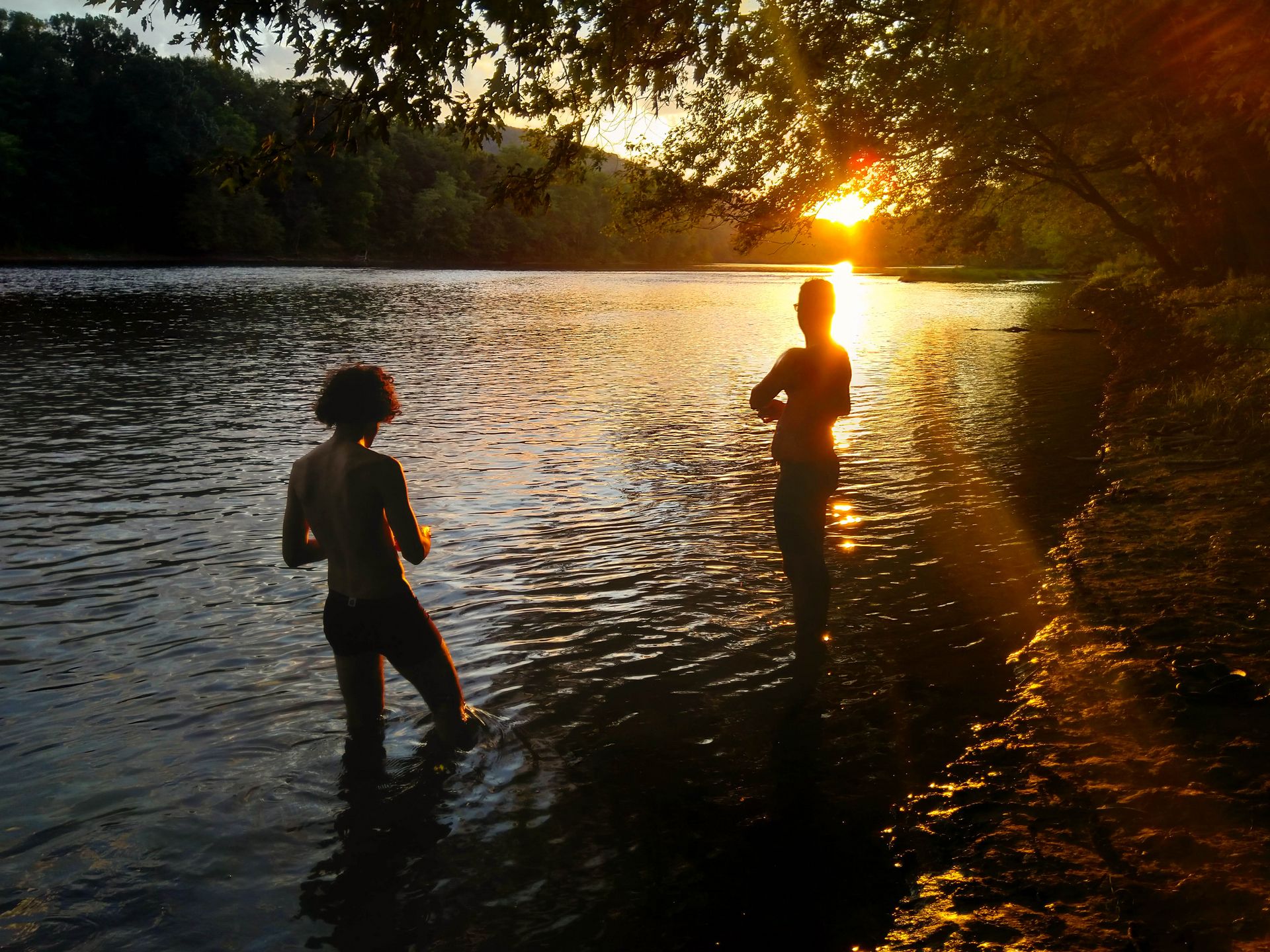 Day 6: Mission accomplished
(From Calico Rocks campsite to DC.)
Today we enjoy our last miles of forest before entering the DC metro area. After another explosive flat, we detour through the town of Potomac to get Armin a new tire. We pass a succession of enormous mansions that are, upon further research, still cheaper than a condo in the Bay Area.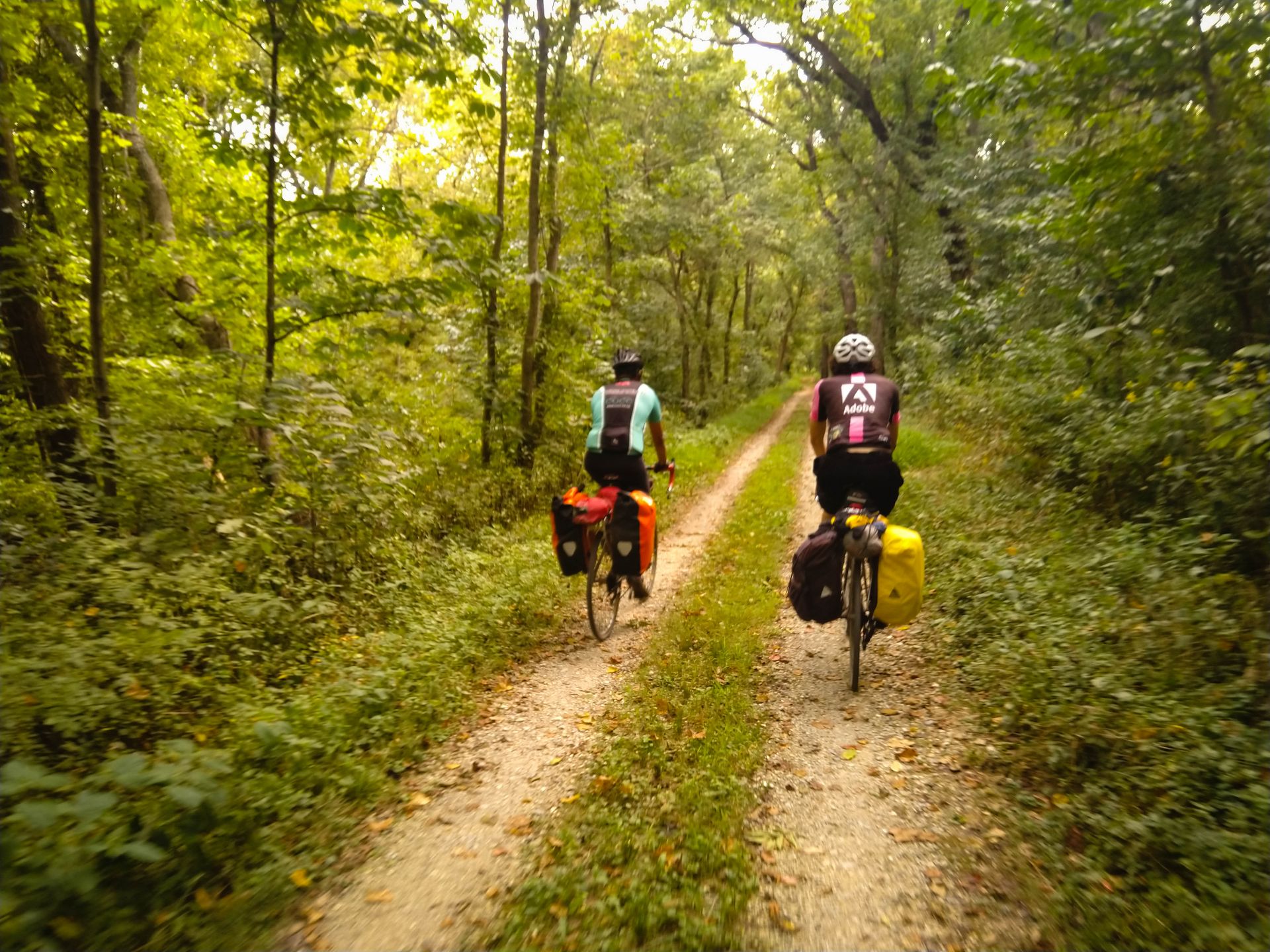 Locating the C&O Mile 0 marker proves tricker than expected. We finally find it, with help from Google Maps, after weaving through a crowd of rowers moving their very long boats.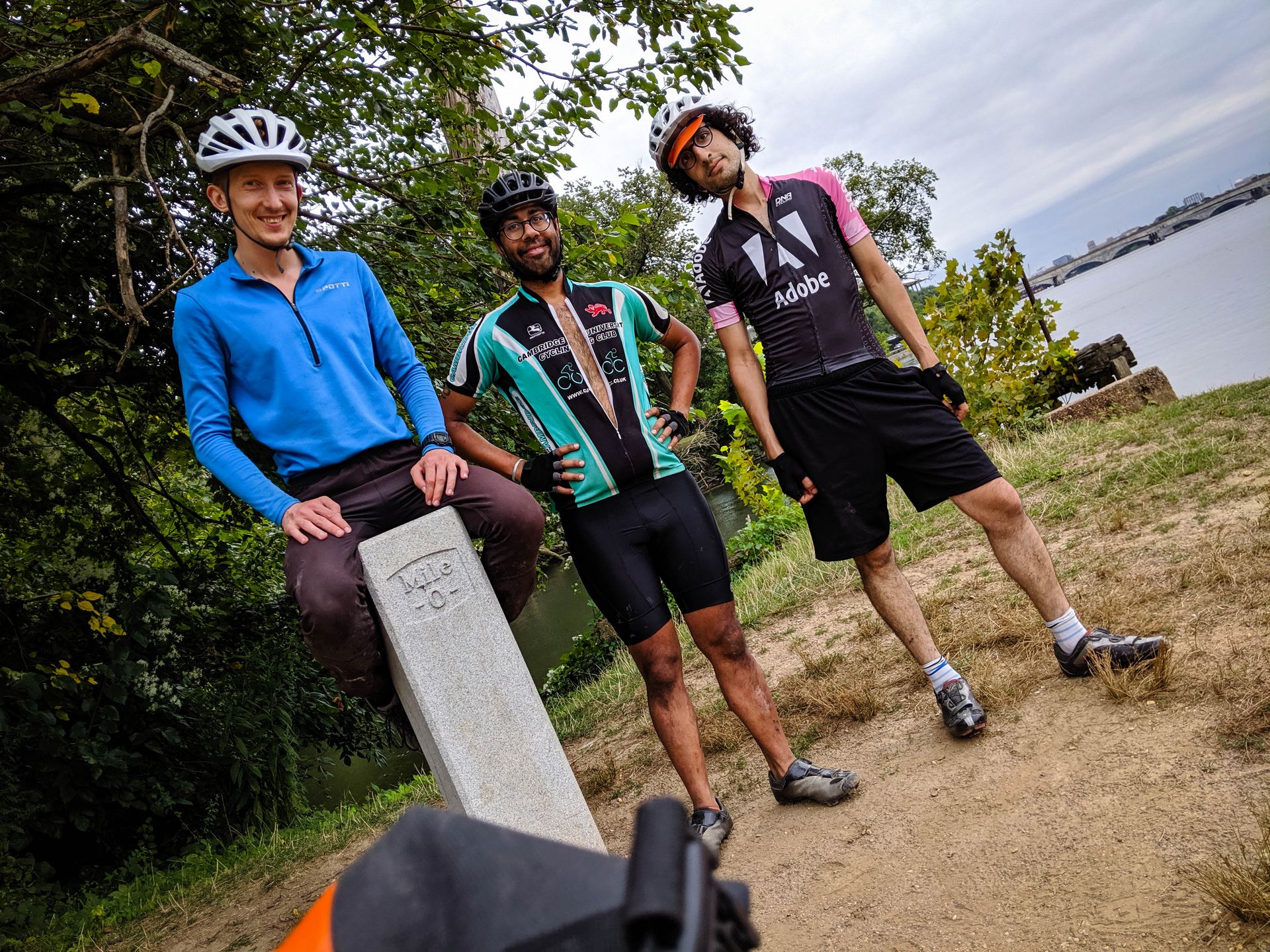 Our final stop is at the National Mall, where we take a final picture to go with our starting one in Pittsburgh. After that we head over to meet Sunil's friend, who has graciously allowed us to crash at his apartment for the night.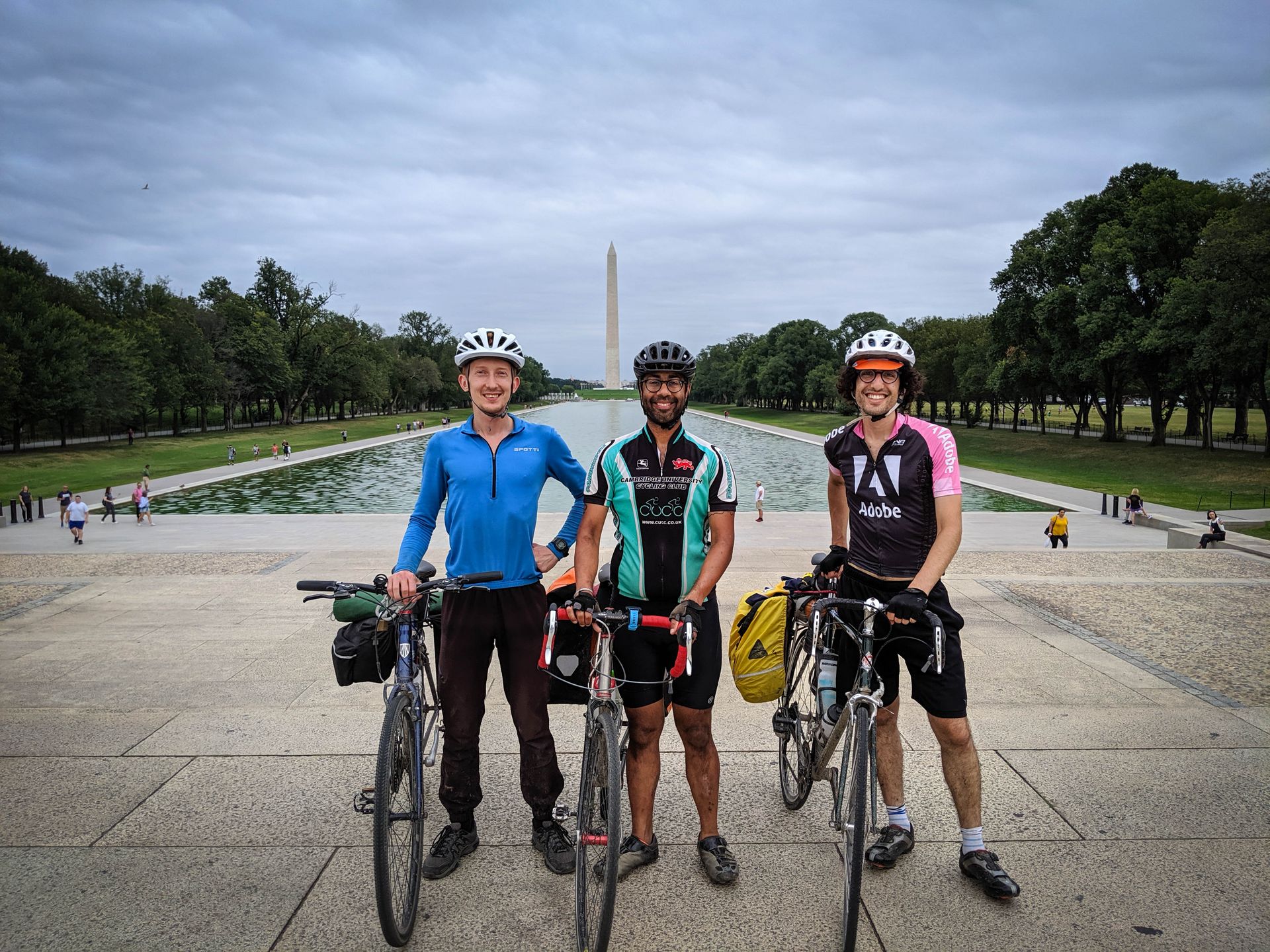 Day 7: Speedrun!
(From DC to White Rock campsite.)
On the first day out of Pittsburgh, I was having so much fun that I already fantasized about riding back. Bikepacking solo is a little more intimidating than doing it with friends. But now that I know how flat the trail is and how easy it is to get supplies in the towns along the way, I'm kind of looking forward to being alone among the trees with nothing but my bike and some music. I'm planning to reuse some of the same stops as before, so I don't need to do much additional research. I decide to buy my lunch and dinner each day, so that I don't even have to carry a campstove. If I have to bail before reaching Pittsburgh, I can find a train or a rental car to take me back.
Sunil graciously lends me his USB battery pack and a few extra Clif bars. I'm out before 8 AM. I opt for the paved bike trails out of DC, trading some C&O bumpiness for a bit of unexpected climbing. I find myself pushing too hard early in the day, which I will pay for later. Finally I'm back on the C&O near the Great Falls Park, which we skipped on the way to DC because we went looking for a bike shop near Potomac. I snap a few pictures of the whitewater and hurry on.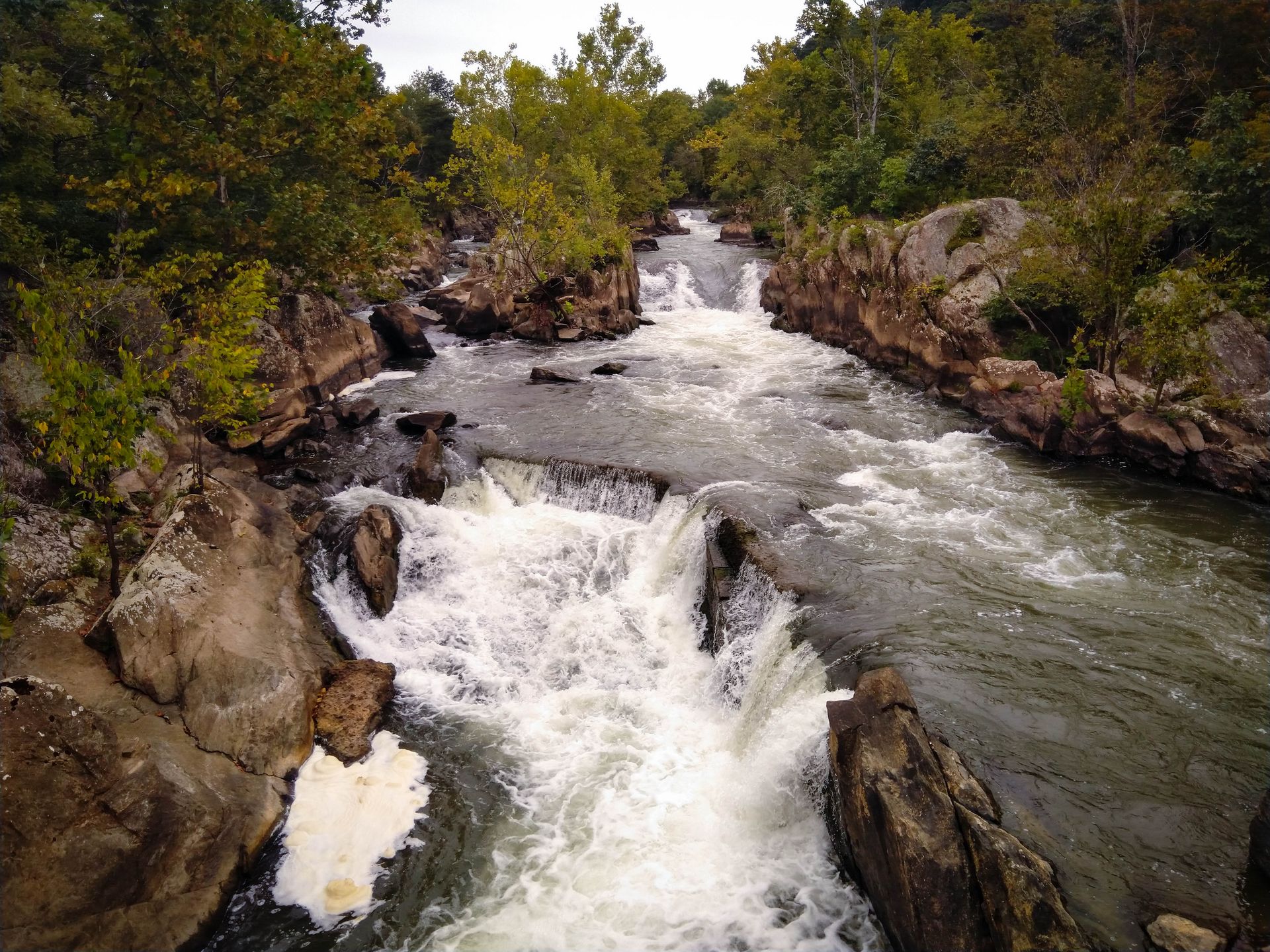 To bonk means to hit a wall of fatigue because you've run out of glycogen (although the British apparently think it has something to do with discussing Uganda). I want to avoid this fate, so I gobble a Clif bar at the slightest sign of hunger. Before lunch I've already eaten two. I reach Brunswick on time, just after noon, and reward myself with a big burger. (Sorry, but what did you expect? Bike trip reports are usually about very long miles and very delicious calories.)
Around Antietam I venture inland again, aiming to bypass a particularly sinuous stretch of the Potomac river and save 14 miles. This turns out to be a mistake, as the peaceful shaded river path is replaced by a hot hilly grind that makes my eyes and knees hurt. On this detour through Jesusland I see lots of Trump flags in people's front yards. I stop at a gas station to get a cold drink, and spot a pick-up truck full of bumper stickers such as "A liberal is someone so open-minded that their brains fell out."
Worst of all, Google Maps takes me through a section of Hwy 68 that is closed for road work in my direction of travel. There is no way to get where I'm going without another lengthy, hilly detour, so I take my chances on the wrong side of the road and walk my bike on the non-existent shoulder.
A few miles out of Hancock, I ditch the C&O for the paved West Maryland Rail Trail. Everything hurts at this point, not just the usual aches in my back and bottom, but actual soreness in my leg muscles, which I haven't experienced from biking in a long time. On the other hand, I made it to my intended destination just after 6 PM! This is by far the longest I've ridden in one day.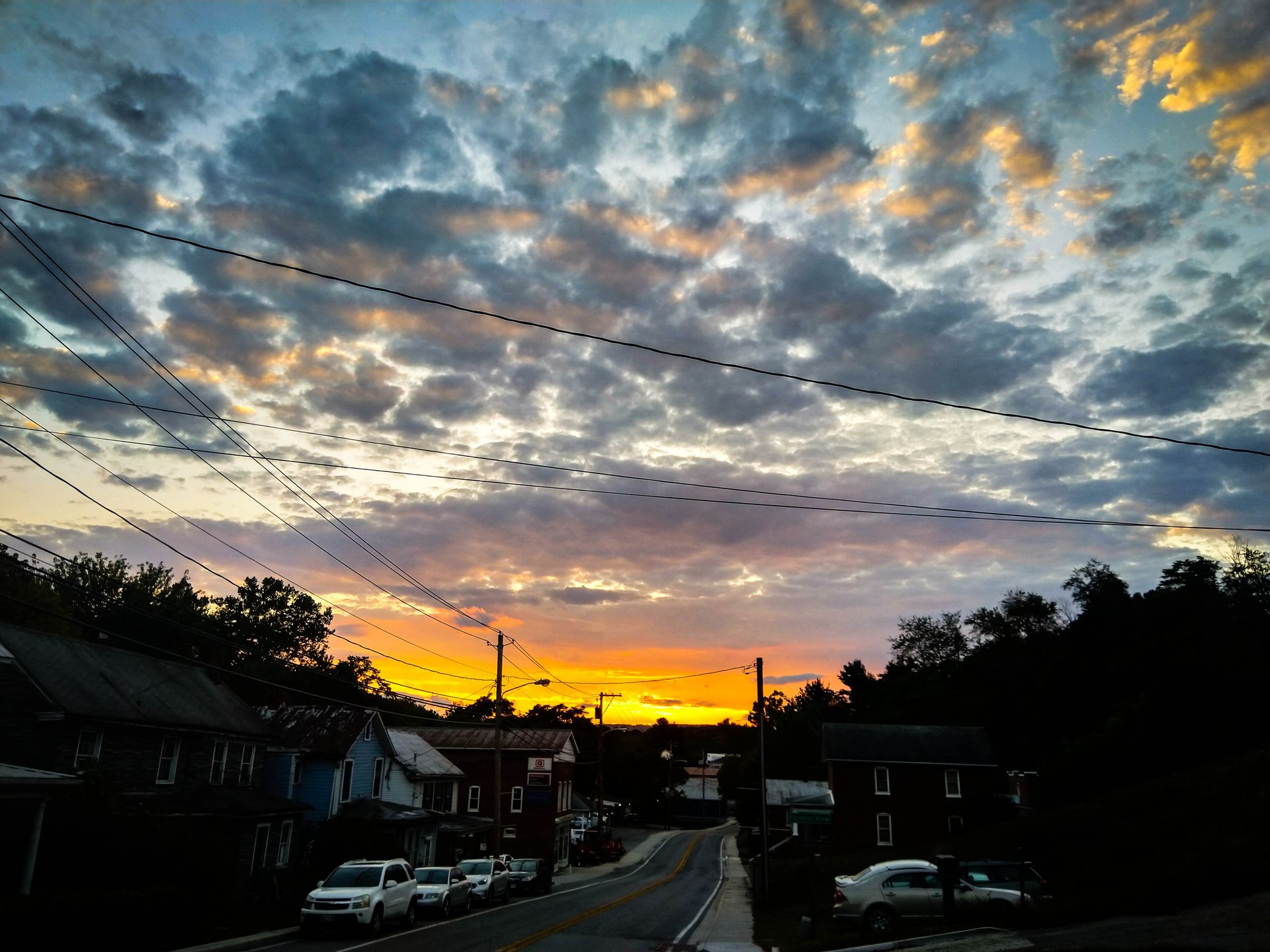 I walk into a local restaurant and confirm that yes, I want all those toppings on my pizza. I get cold from the AC before it finally arrives. After that, it's just a few minutes to the nearest C&O campsite, where I set up my tent just as it's getting dark.
Day 8: Fixie
(From White Rock campsite to Husky Haven campground.)
The morning is humid and a bit chilly. I scarf down my usual camp breakfast of cheese and crackers, and get back on my bike before 8 AM. It's a relief to find that my legs still work!
About 20 miles into the day, my rear derailleur cable snaps when I try to shift into a lower gear. This serves me right for not replacing it sooner -- I had noticed that shifting was getting harder and harder for a while, but I didn't do anything about it because I was planning to buy another bike anyway... Without any tension in the cable, the chain is on the highest gear in the back, which is way too hard to pedal comfortably on this dirt trail. After much cursing and improvisation, I manage to tie and adjust the cable so that it keeps the chain on a middle gear. I still have my front derailleur, but it gets little use on this flat trail. So I ride the next 40 miles like a fixie.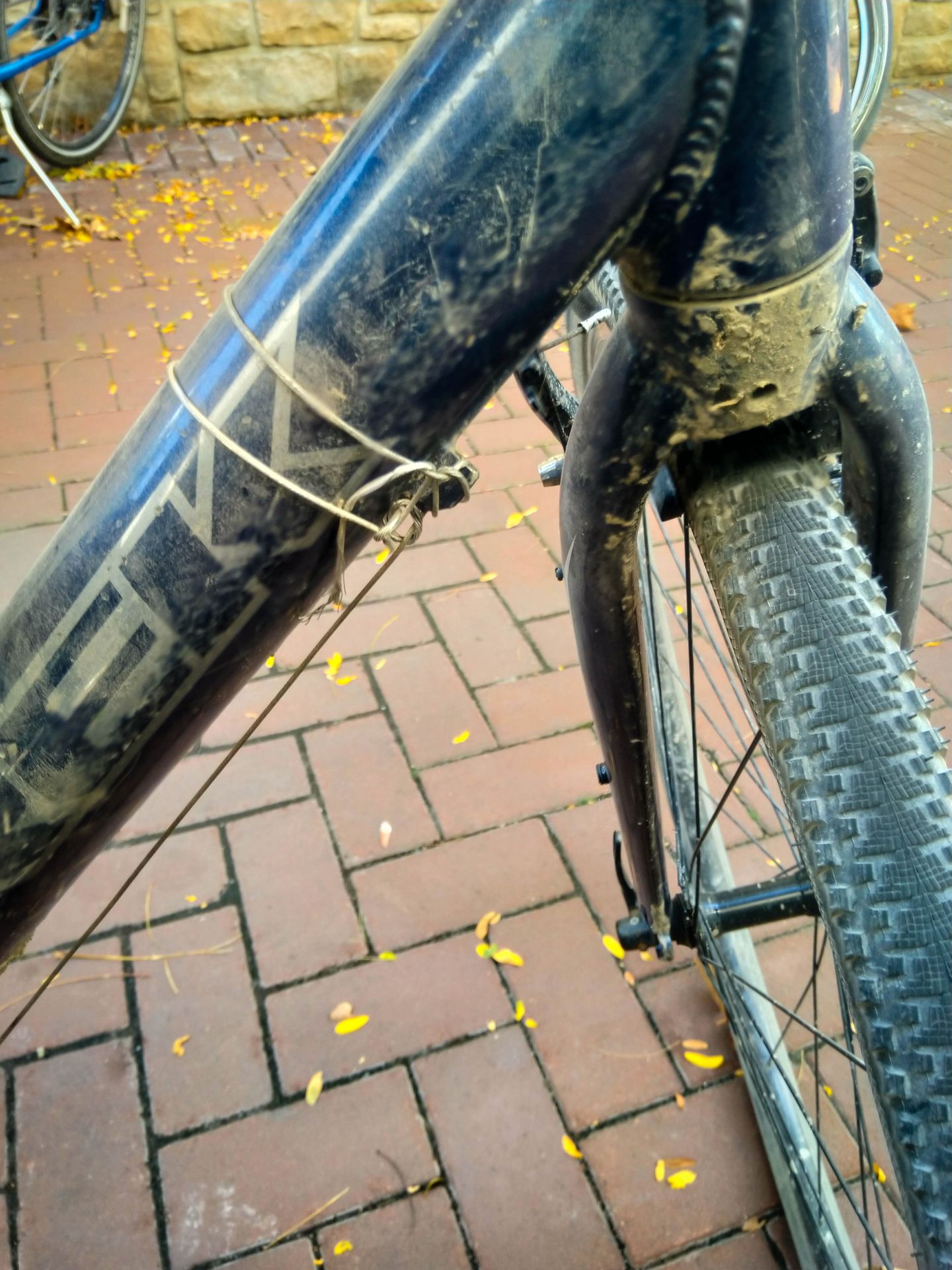 Cumberland is just as pretty as I remember, with its brick buildings and pointy spires against the forested Appalachians beyond. I entrust my bike to the Cumberland Trail Connection, the same shop where I got a new tire just a few days ago. Meanwhile I go to find lunch, and gulp down three glasses of the most divine iced tea I have ever tasted.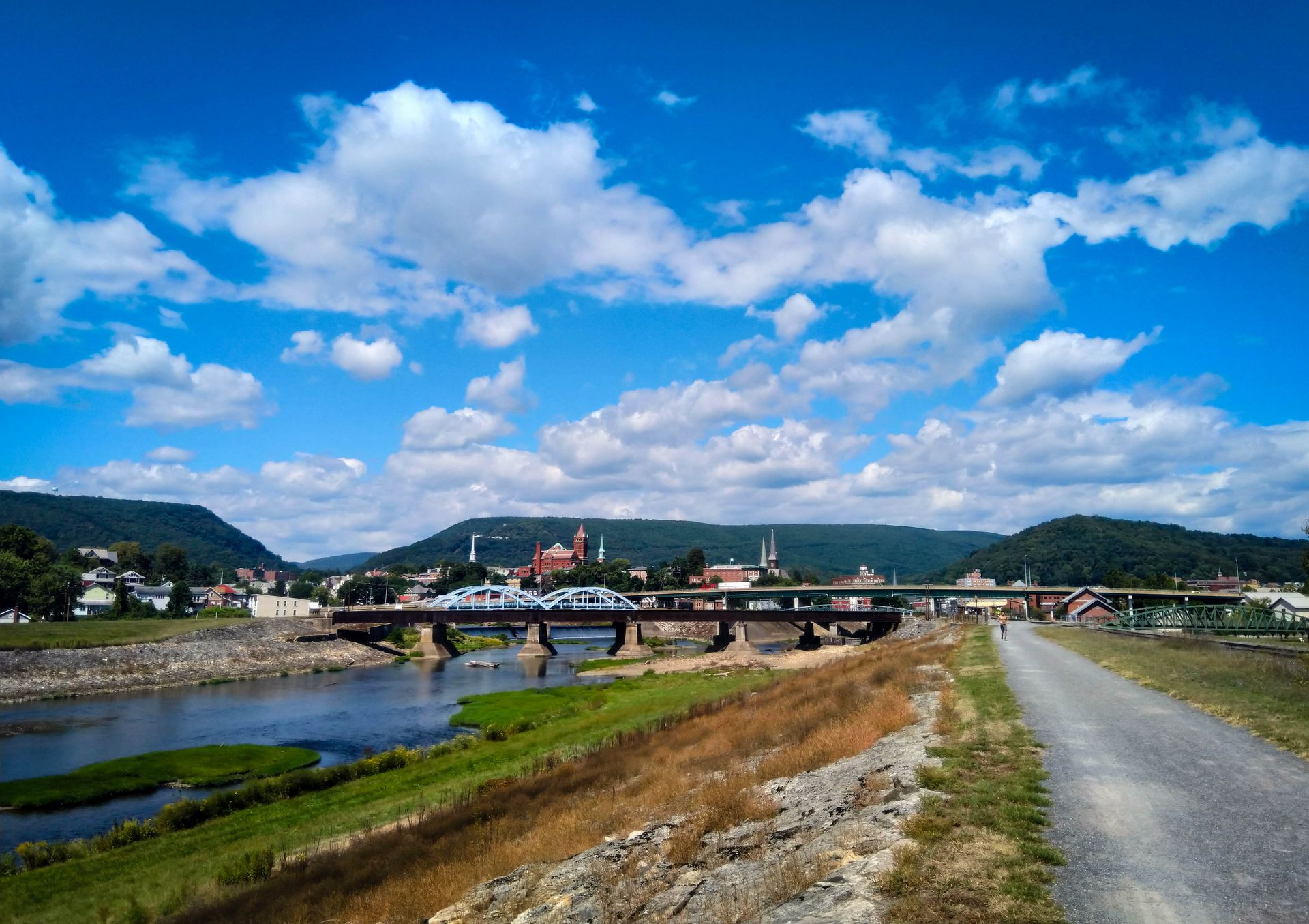 The shifting is so much easier with the new cable. The fix comes just in time, too, for climbing over the Continental Divide. The less-than-2% grade is a lot gentler than my usual climbs in the Santa Cruz mountains, so even with a loaded bike, it's not too bad. The Borden and Big Savage tunnels are just as cool as they were the first time. Exhaustion catches up to me eventually, but the views from the Salisbury Viaduct make up for it.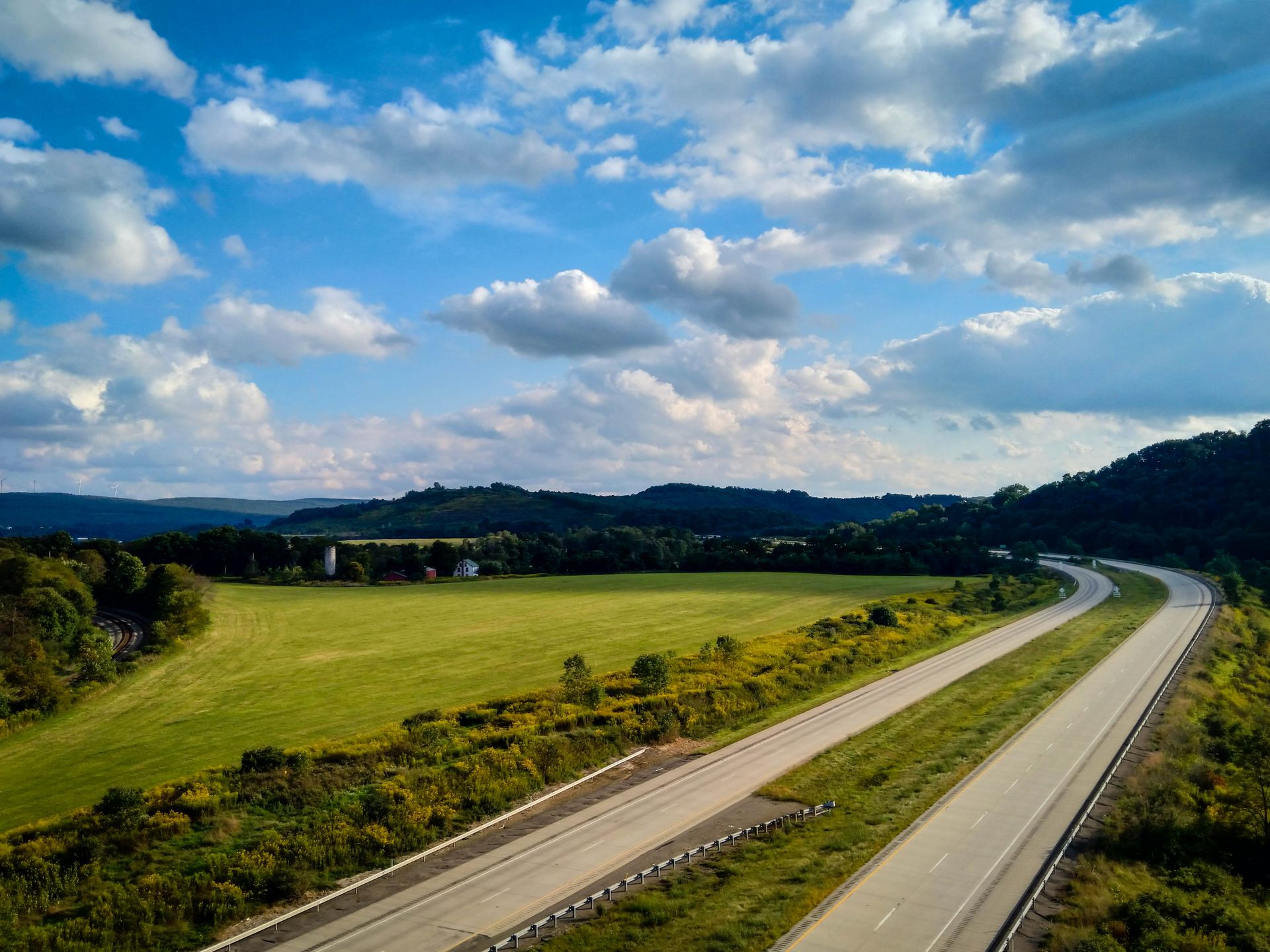 Back in Rockwood around 7 PM, my only option for food is the gas station convenience store again. But that's OK; their pasta salad and chocolate milk go a long way to satisfy a hungry cyclist. One more long day tomorrow, and I'm done!
Day 9: Home
(From Husky Haven campground to Pittsburgh.)
The morning is cold and foggy. I start riding shortly after 8 AM, and put my gloves on for the first time. For almost half of the day, I feel like I'm flying. At first I suspect a tailwind, or maybe the magical regenerative properties of the chocolate milk I had last night. Later I realize that I'm just on a long downhill. It's amazing what even a 1% slope can do.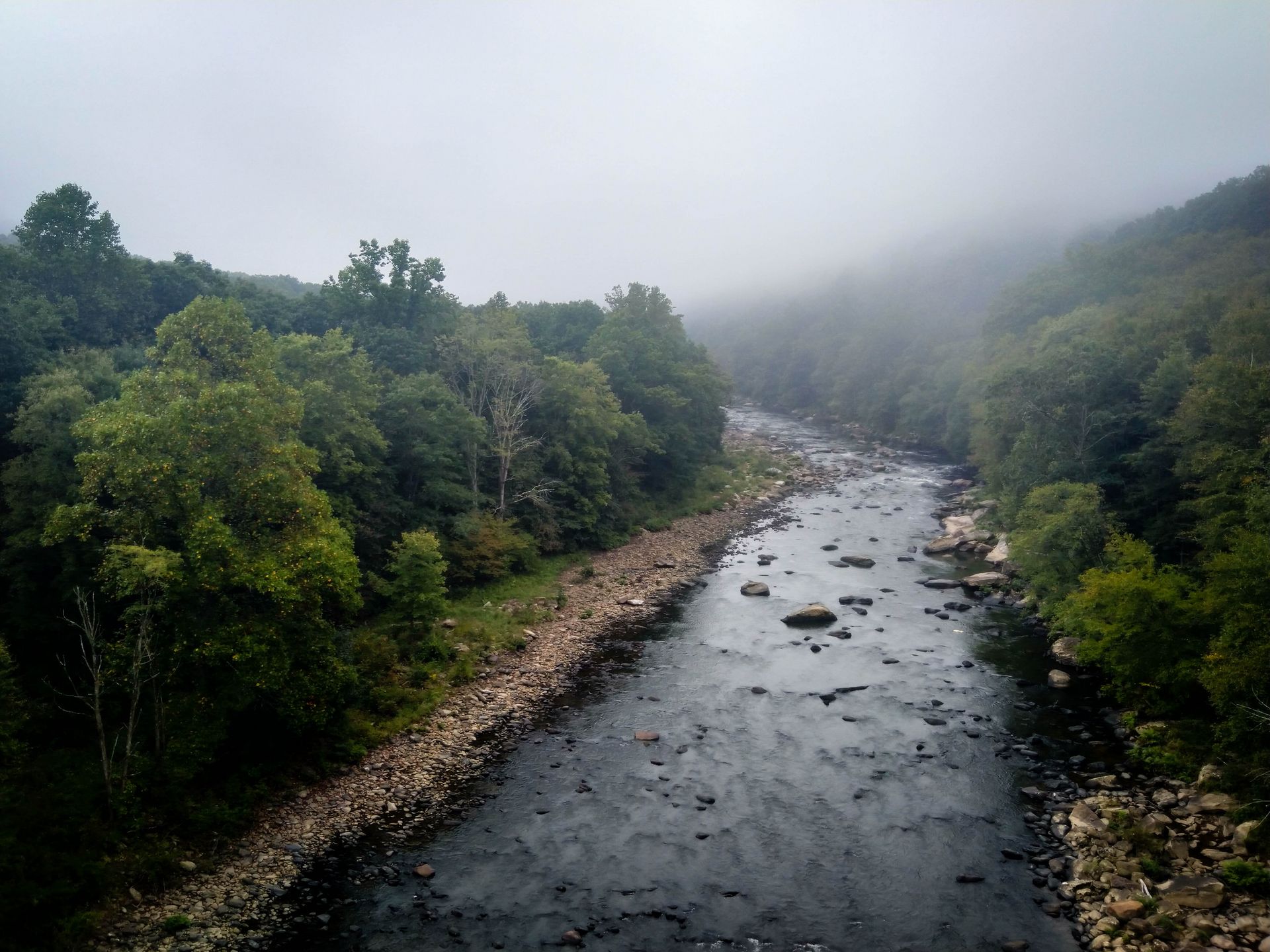 This is one of the best days of the entire trip. Riding on an endless rail trail under the trees near Ohiopyle, I enter a kind of trance state that captures everything I love about bike touring. Life seems so clear and simple: just cover some miles, get to the next town, find food and water. Revel in the easy trail, the absence of cars, the rejuvenating green of the forest. It's this hard-to-articulate feeling that I will miss the most in the coming weeks, when I'm back into the fray at work, with all the complexities and ambiguities of the modern world.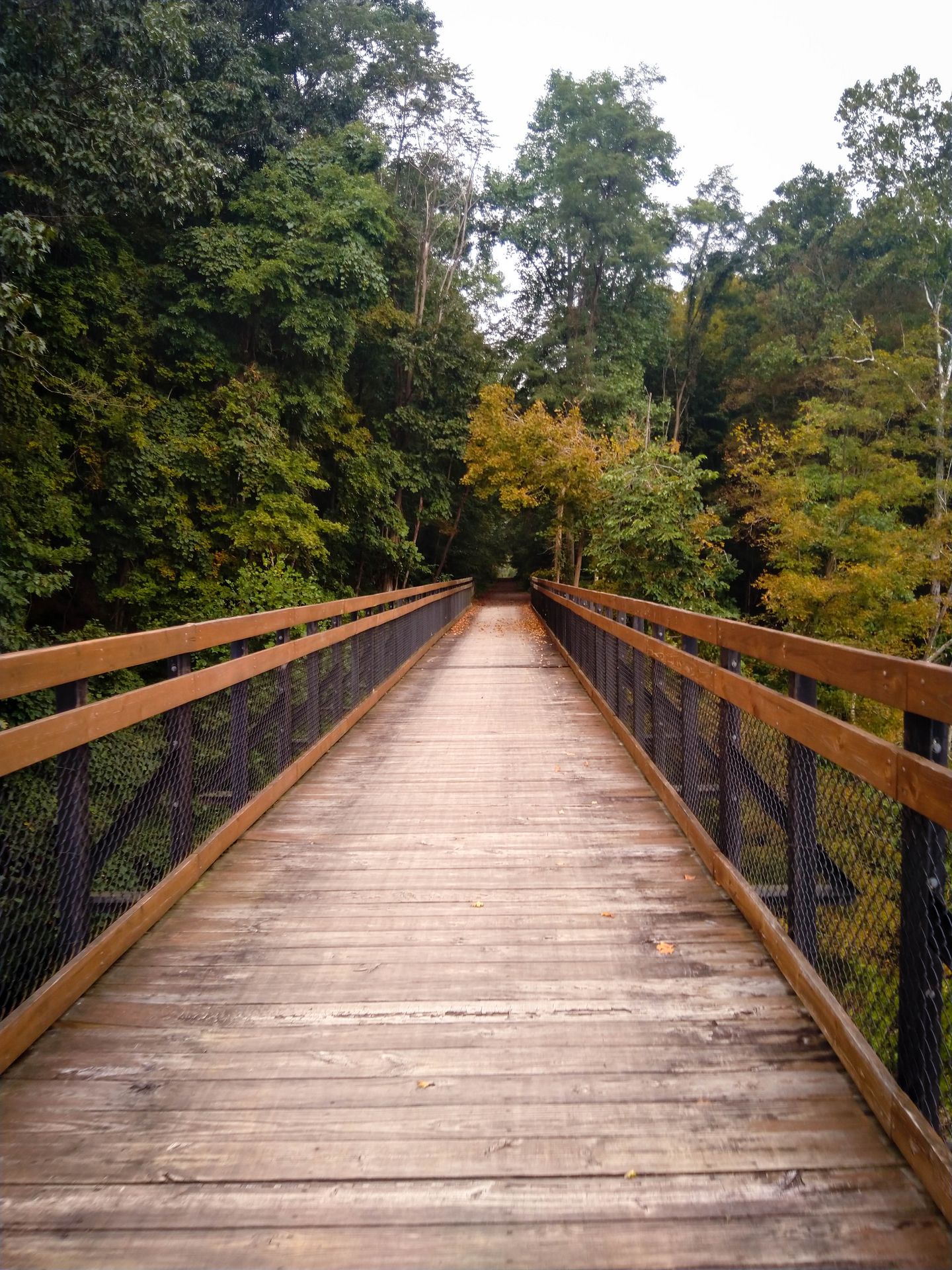 Would this magic last if I were to do this all the time? Or does it only feel so amazing because it's rare, a vacation from reality? I wonder about the people who choose to opt out of the rat race, radically cut their expenses, live in a van in a perpetual search for the next great trail. Is their every day like this, or does it also get mundane after a while?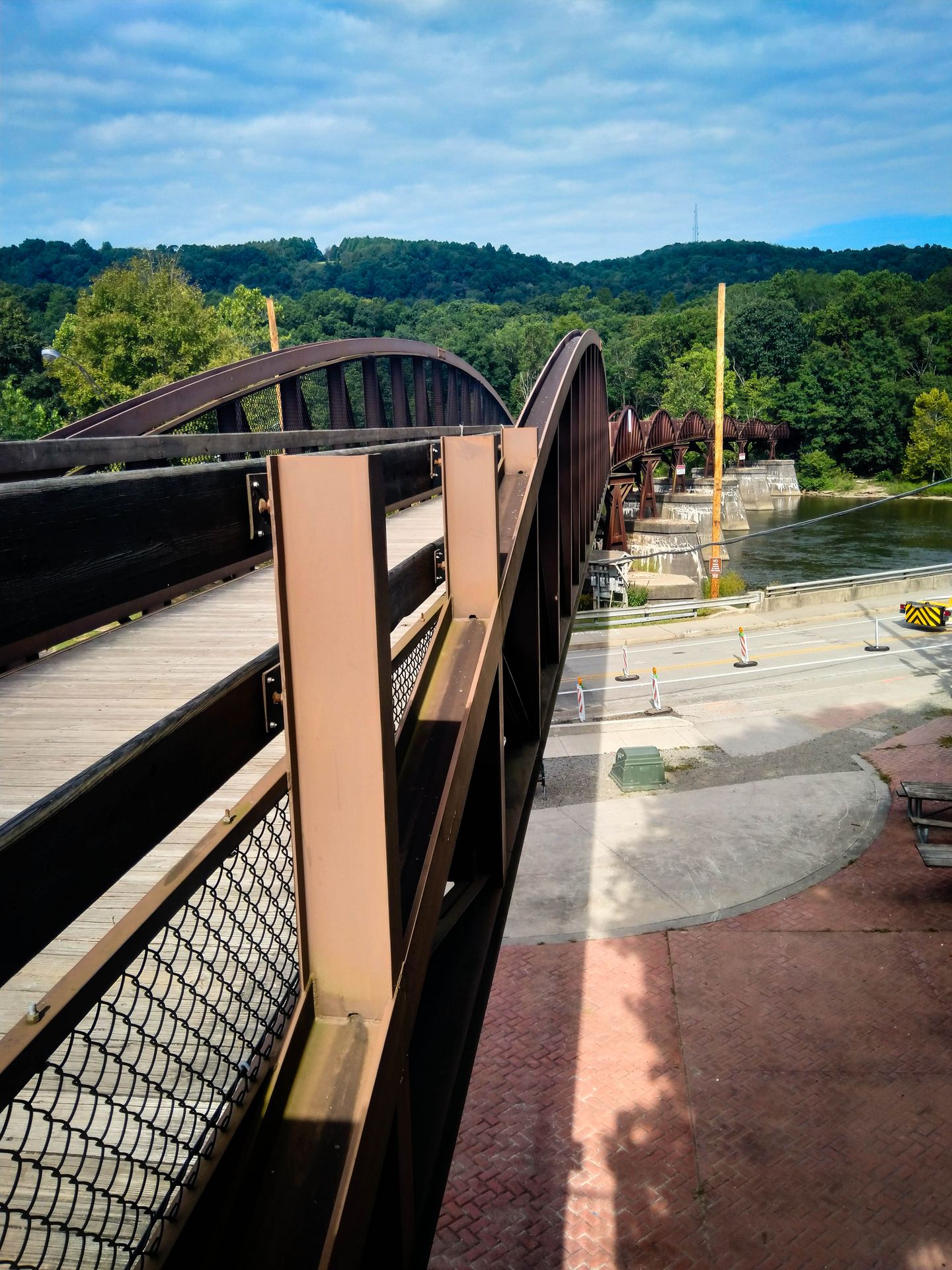 I reach Connelsville around 11:30, still too early for lunch, so I decide to push to West Newton. A bit later, I stumble into a colorful car show in Buena Vista. Soon after that, I'm back in the Pittsburgh metro area. The trail becomes paved, and I have to check the map more often. A few bridges and a few hills later, I'm back at Armin's place. He's out of town, but his cat Zooey seems happy to see me.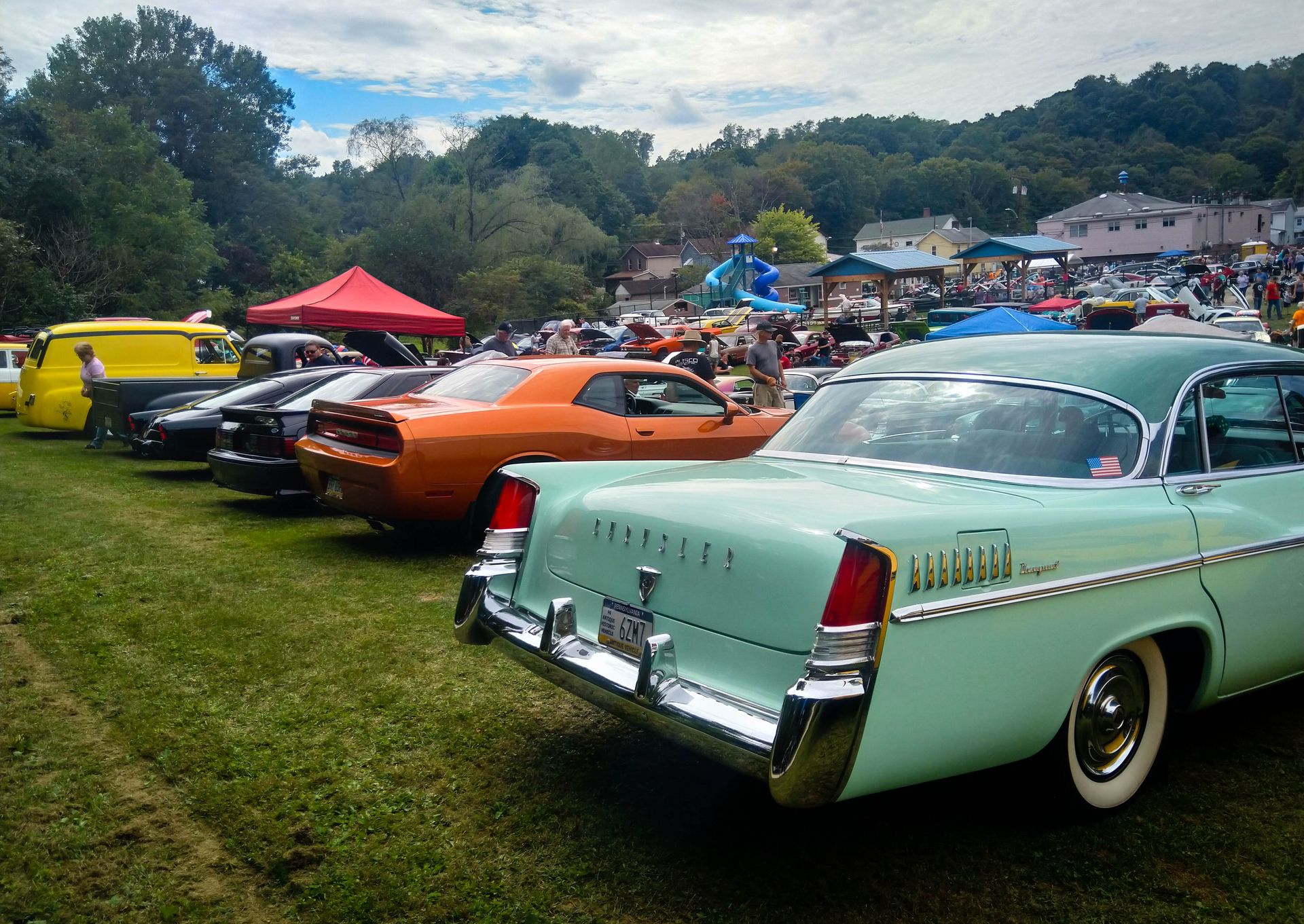 Do I recommend this century-a-day touring style? It was a fun challenge, made possible by the unusual flatness of the trail. But it was also hard on my knees, and I'm lucky that I made it all the way back without injuries. If I didn't have to go back to work so soon, I'd probably choose a more fluid schedule, and stop more to hike and explore interesting places along the way. As long as I have to count PTO days though, this is as good as any vacation can get.